What's What 9/3-9/9
Mostly status quo, but what is the status quo? Also, cars.
Inked Right Now
Pilot Quatro with Colorverse Delicious Sleep

Pilot Decimo with Callifolio Gris de Payne

Waterman (Unknown Model) with Robert Oster Fire on Fire

Karas Fountain K with Sailor Ink Studio 460

Parker 25 with Parker Quink Black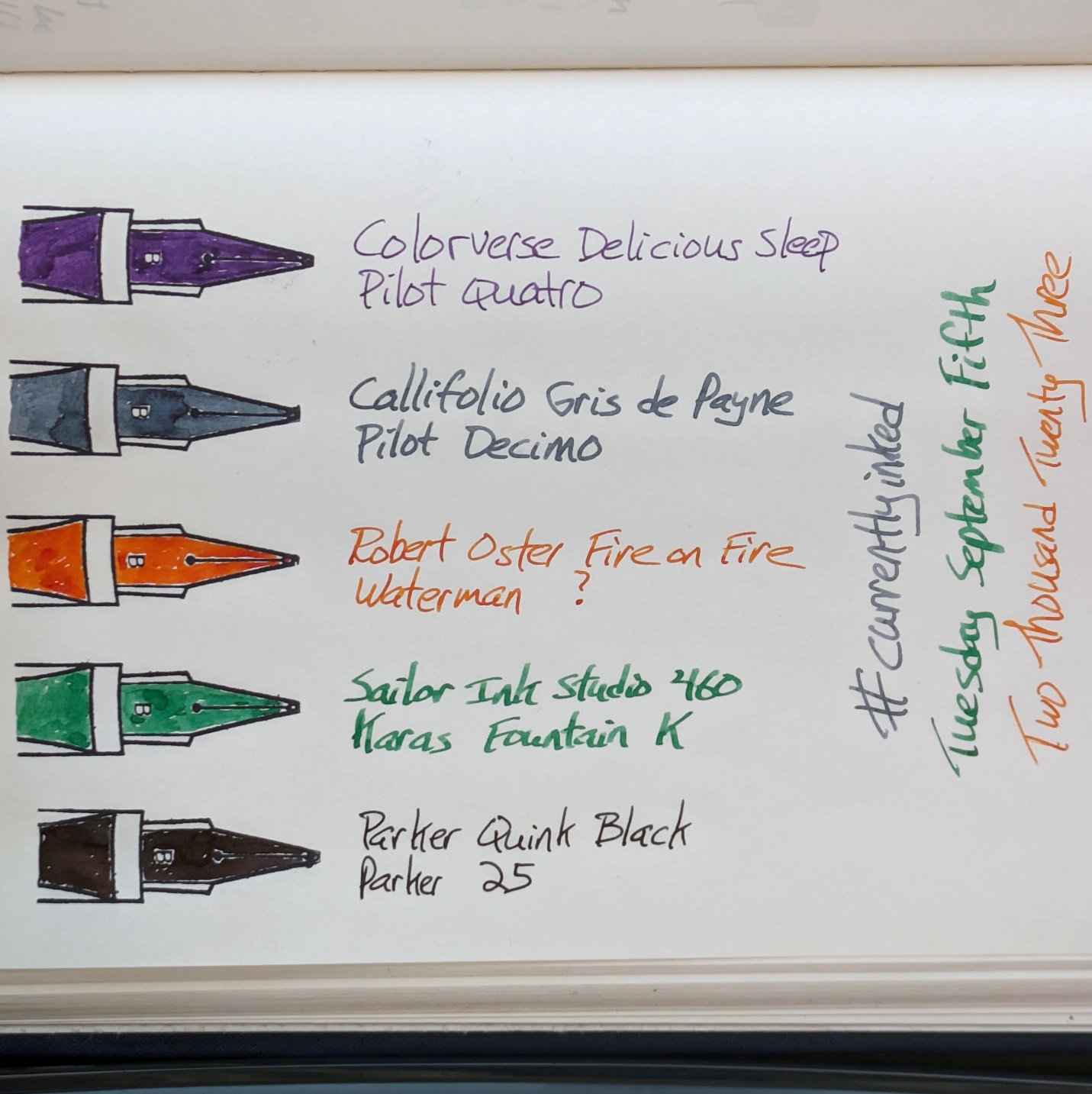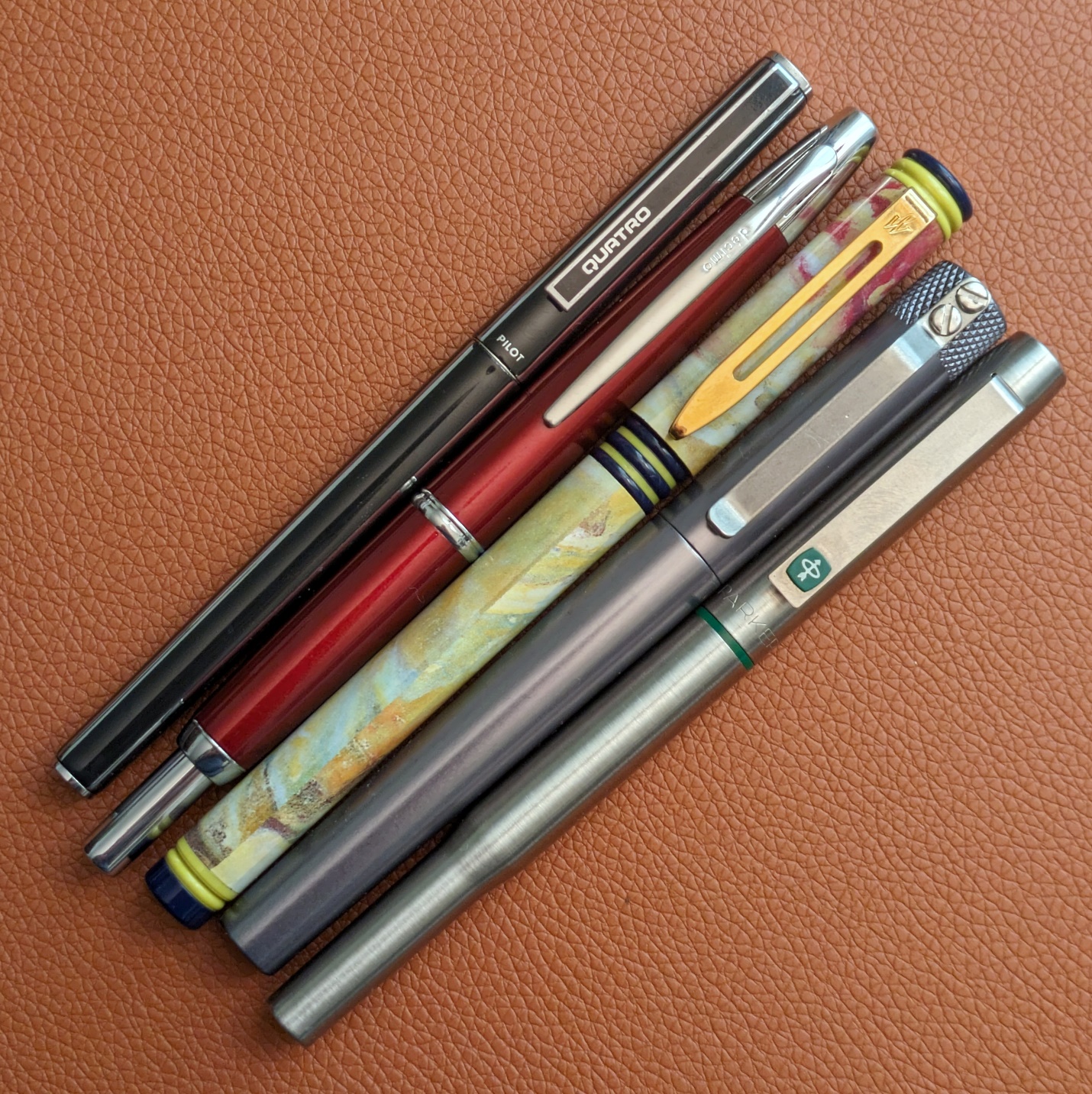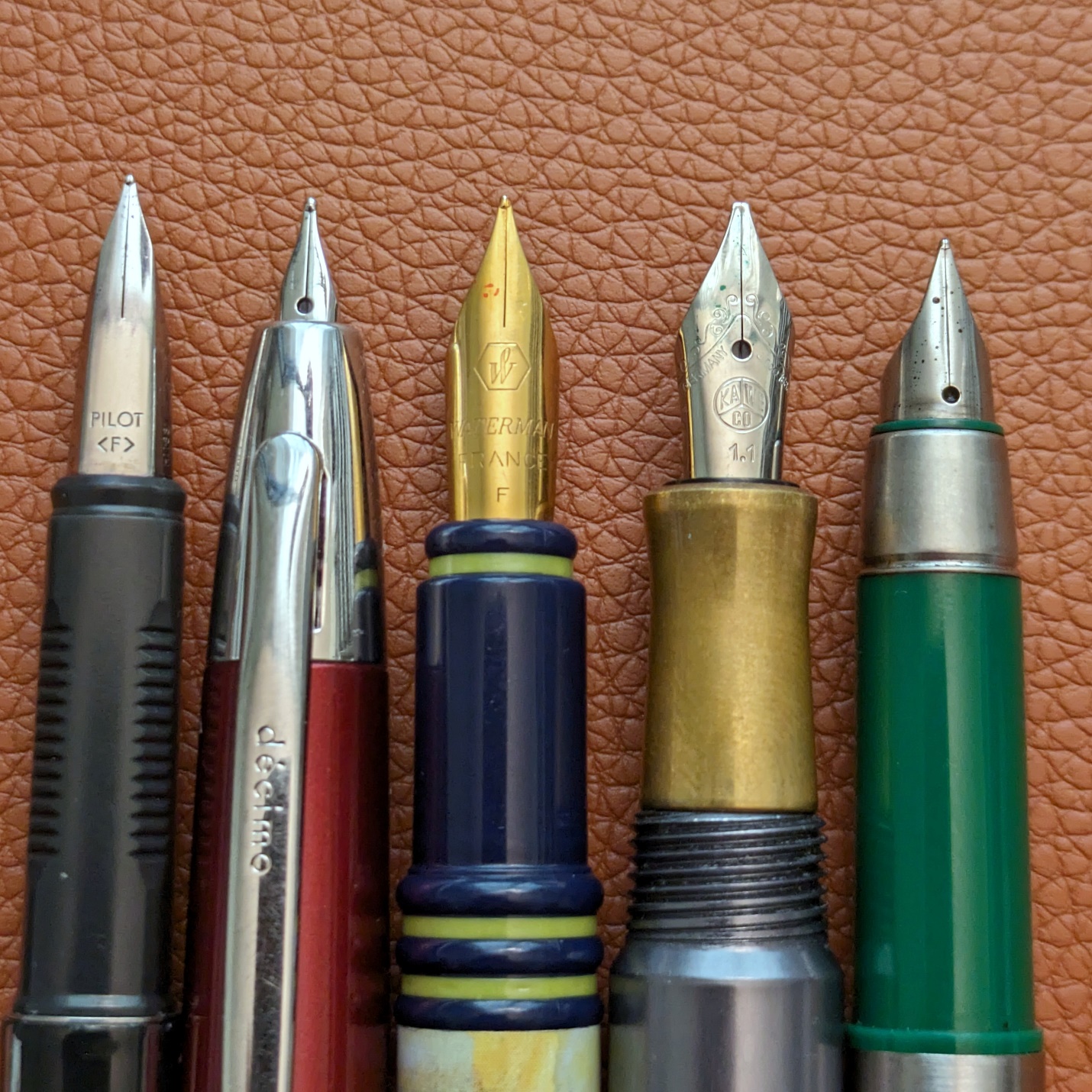 The 3 recent eBay pens are rolling along.
I don't know what model the Waterman is. If you have an idea let me know. The pen writes fine once it's going but hard starts most of the time. Seems quick to dry out.
The Parker 25 writes very well and has done nicely as a work pen. I suspect there's something off about the flow of ink from the converter into the feed though, because it will start to starve after extended writing.
The Pilot Quatro is still the best one so far. Great nib. I'm getting used to the small grip. Cap retention could be stronger because I've had a few instances where it uncapped while clipped in my hip pocket.
Still hard starting here and there with Callifolio in the Decimo. This fill doesn't have much time left.
The Karas is a pen I hadn't used for some time. It still feels great in hand and working with Bock 060 units gives plenty of nib options.
New & Exciting
The Kaweco AL-Sport is a pen I've considered but never bought. I think the Sport is a great design and I've owned 4 or 5 different examples of the Classic/Skyline. When a new orange AL-Sport came up at Goldspot I felt like it was the right one.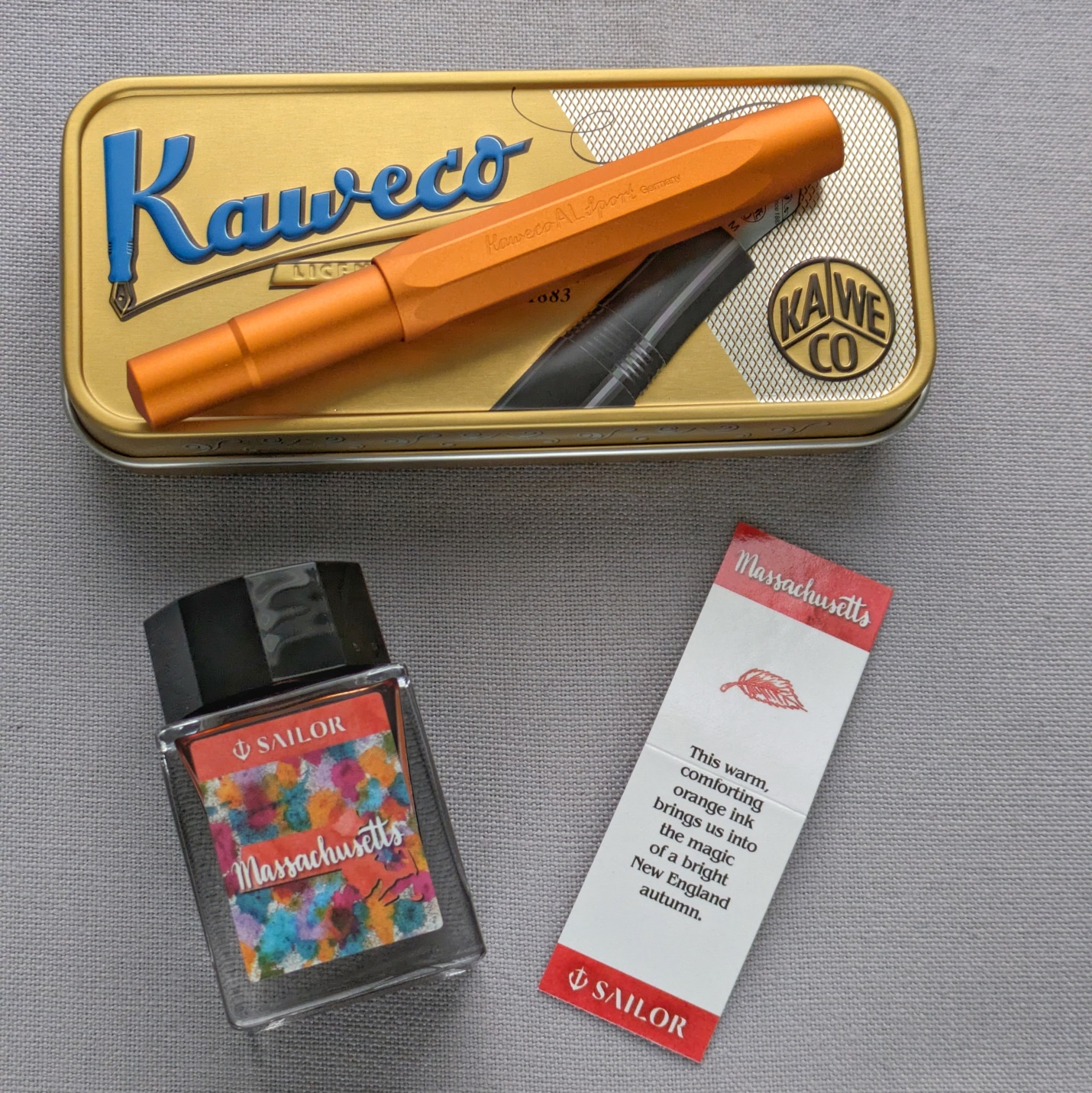 Kaweco produces the Sport varieties in many colors. The differences from one edition to another can be small. This burnt orange looks much like a run they did for PW Akkerman a few years back. That pen had black nib & trim, along with black lettering on the cap. This Goldspot edition has a gold-colored nib & trim and blind engraving. I think that engraving style makes for a more subtle look, if one can say such a thing about an orange pen.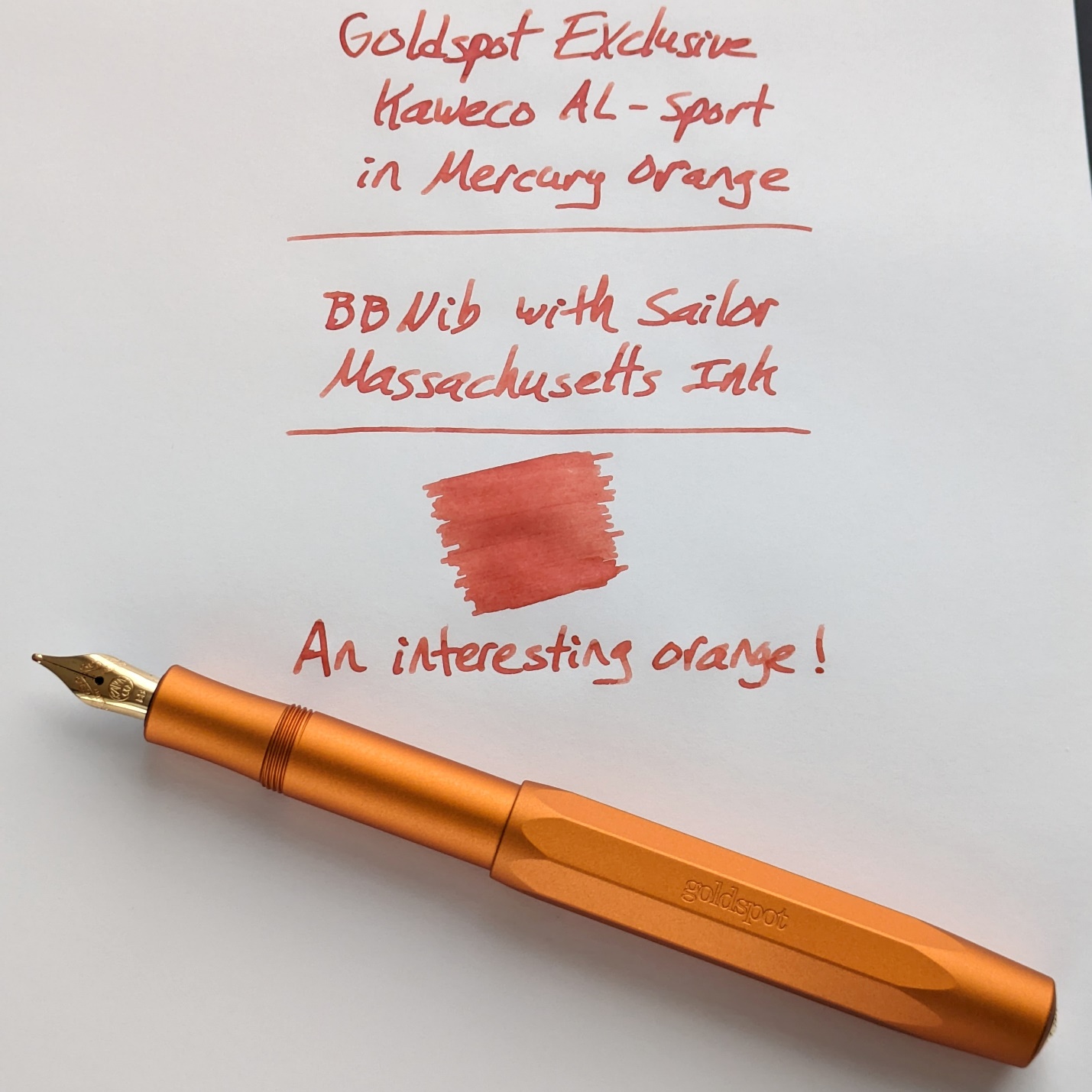 There isn't much weight increase with aluminum so the pen still feels light but not featherweight like the plastic models can. The finish has a matte look but is smooth and comfortable in hand. I chose a double broad nib in order to get a good look at the other item in the box: Sailor Massachusetts ink.
I wondered when Sailor would get around to MA in the series. There were several other state inks that looked good but I told myself not to get any of those before my state came along. Sailor says of the color:
This warm, comforting orange ink brings us into the magic of a bright New England autumn.
Fall foliage yields many colors and there's a chance that at least one of the million leaves in my yard over the next few months will match the ink. Massachusetts is well down the red branch of the orange line. Like a train from Chinatown approaching Downtown Crossing, if I am to force in a local reference. On a thicker, more absorbent swatch card it sits kind of close to Skrip Red. On 52gsm Tomoe River you see the orange in greater evidence. It exhibits some shading with the double broad nib. A wide italic will show off that property better.
I don't worry much about matching pen and ink to each other. That said, a color like Fire on Fire is better suited to the Sport's orange. For contrast, I think Massachusetts would look great flowing from a gold nib in a black or navy pen.
All in all, a good pair to add to the stable.
Thinking About
Every time I seem to settle on a direction to go with the pen hobby, I am met by something that makes me reconsider it.
Warning: multiple unanswered questions ahead. Readers beware….
Am I too concerned with trying all the things, which I will then not have the time to use and appreciate, or the space to keep? Am I more interested in focusing on a few certain areas with smaller style or type groupings on the periphery? Should I set hard limits on the number of pens and duplication of models? Will I just rationalize a way out of those limits and get upset with myself for breaking an arbitrary rule? If the purpose of the hobby is to enjoy it then why am I giving time and energy to fighting myself with divergent lines of thinking?
I seem to be at a junction with no clear choice of direction because the same questions keep appearing.
Let's look at someone else's hobby that I enjoyed without any reservation. Here are a few highlights from the collection at the Newport Car Museum yesterday.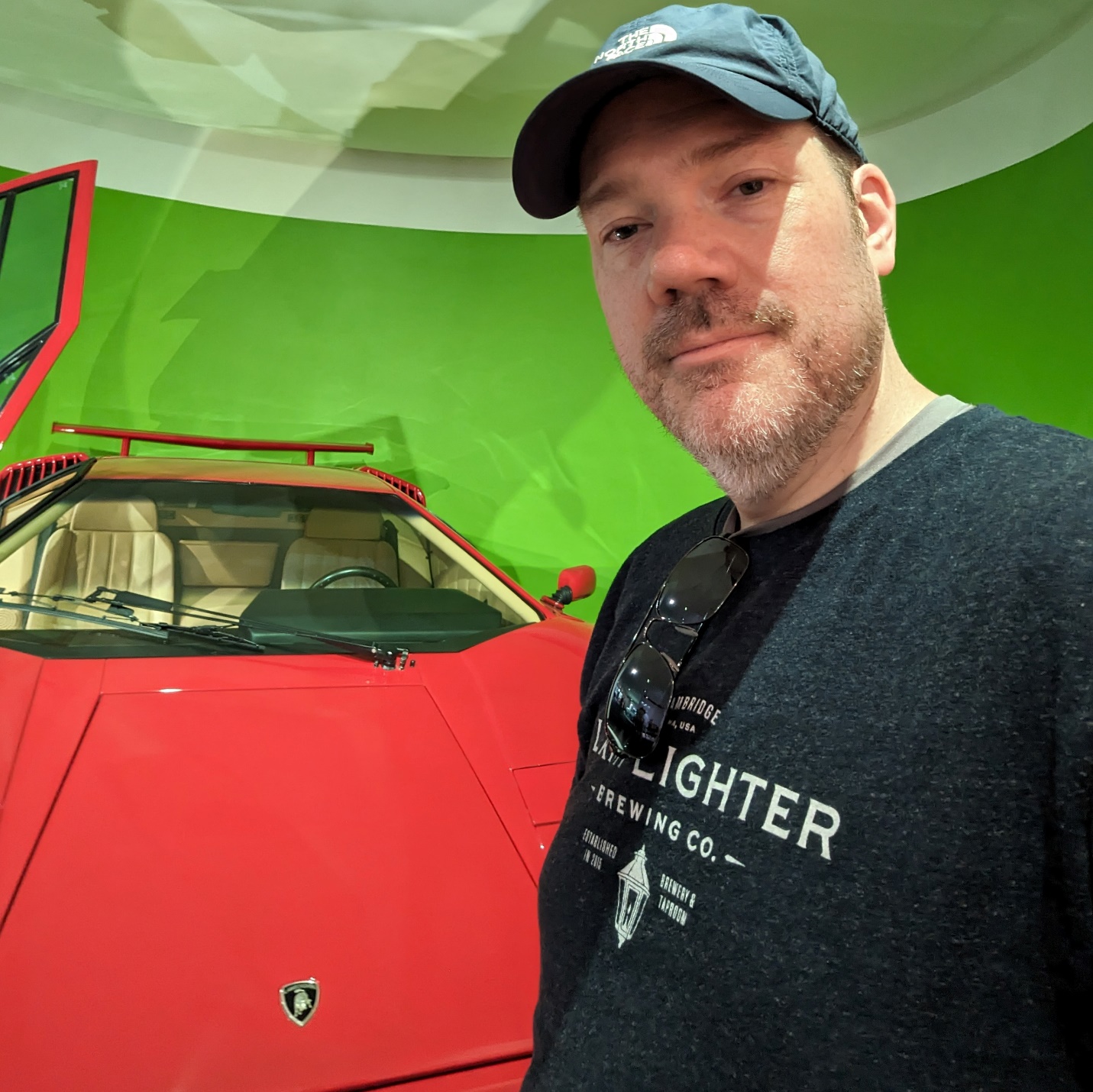 This red Countach greets you at the gallery entrance. No matter how many insane supercars Lamborghini makes, the Countach will always be my favorite.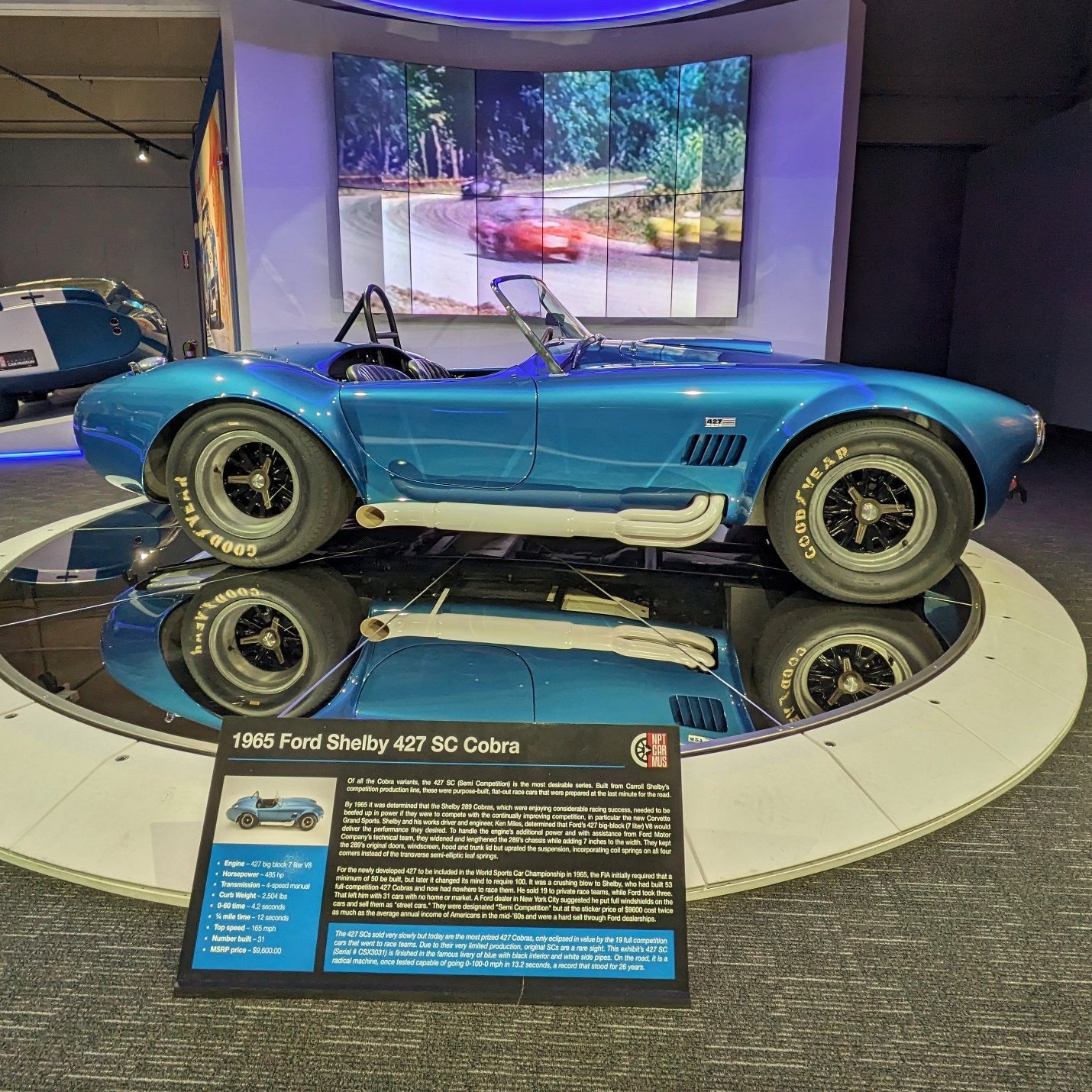 There were all manner of Shelbys, but a legit 427 SC Cobra still stops you in your tracks.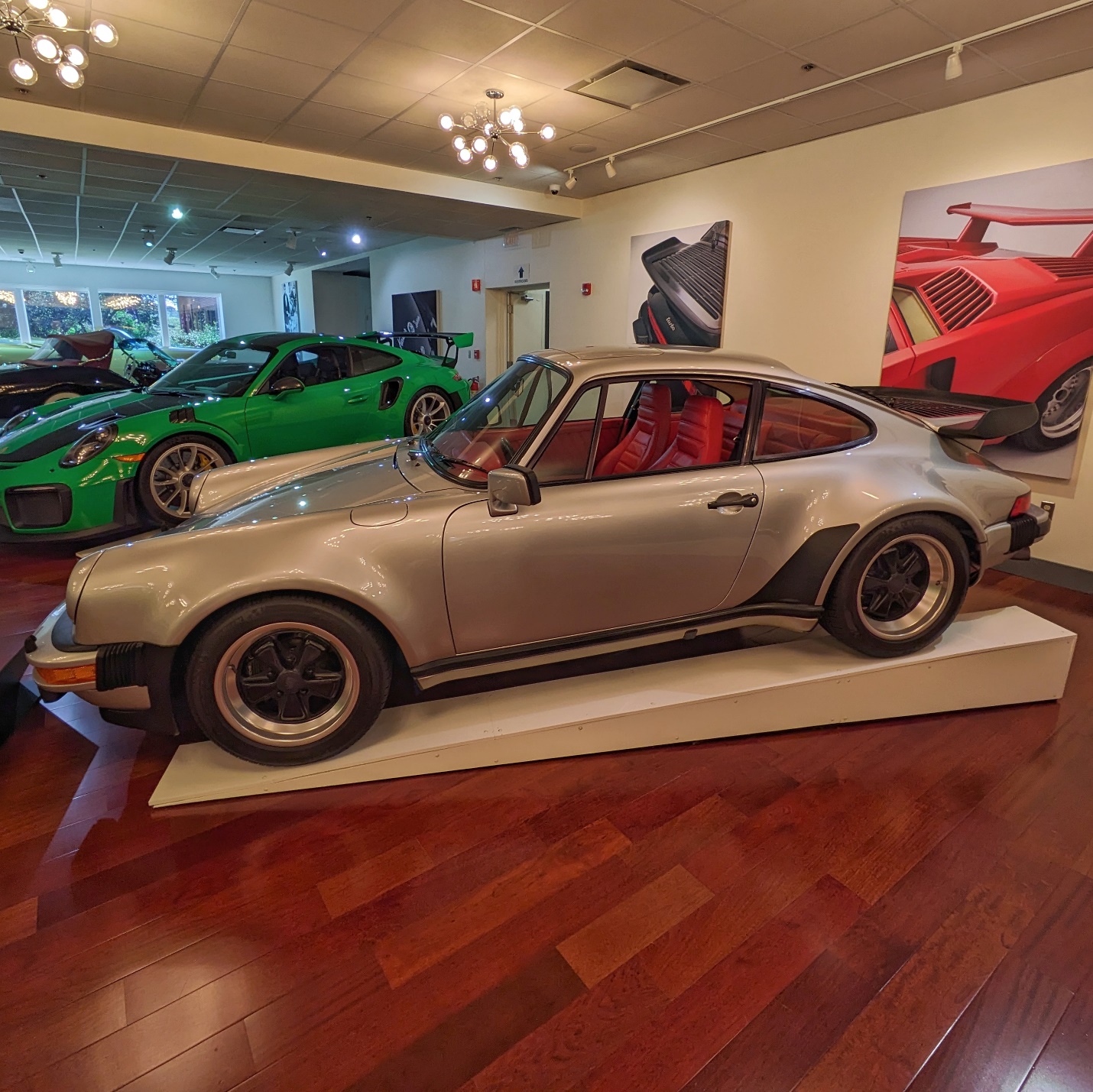 In a room full of killer Porsche 911s, the old 930 Turbo is my favorite. Mid-90s Speedsters were a close second.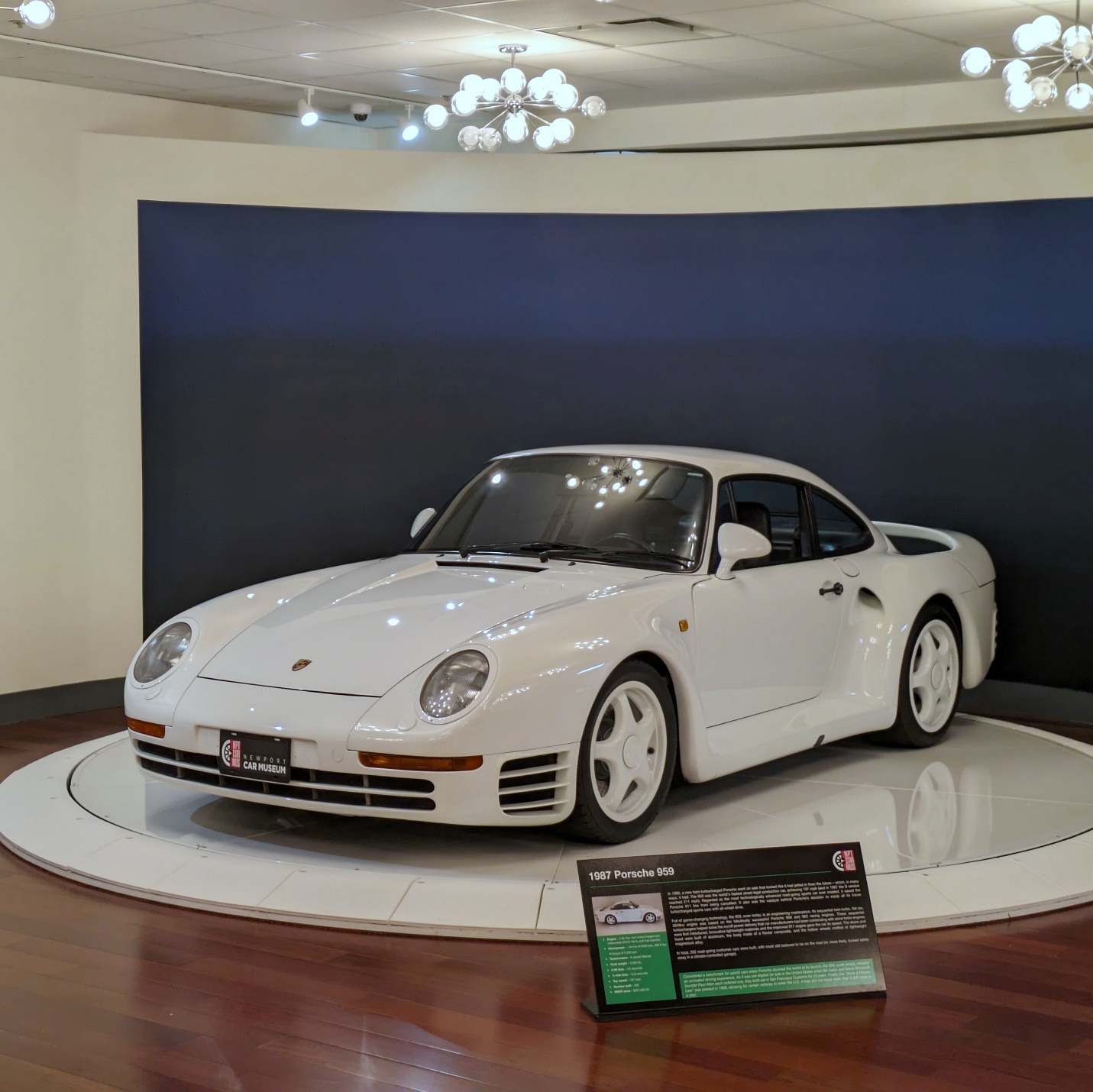 Porsche 959 - in a class by itself.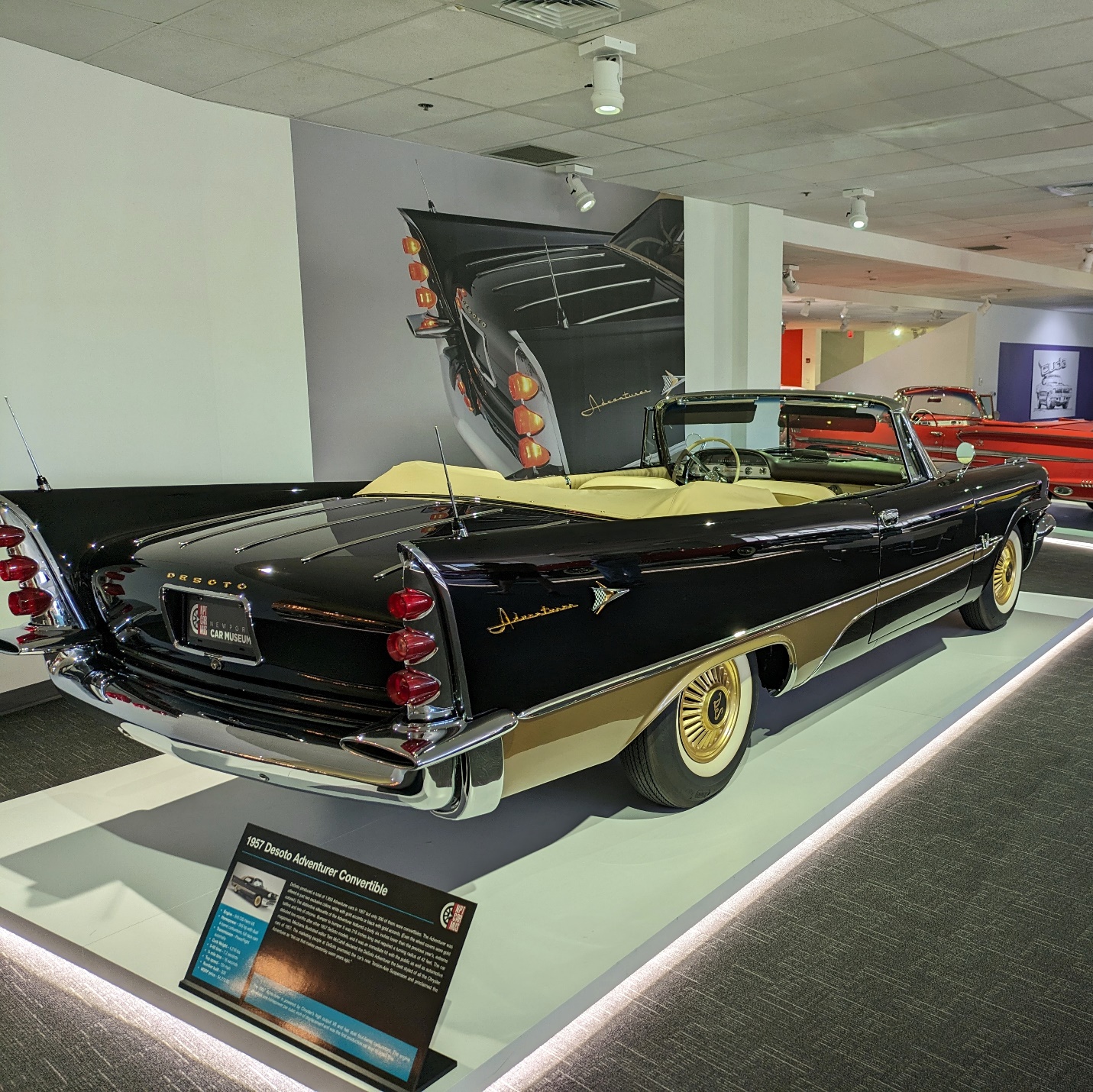 The 1957 Desoto Adventurer is stunning. A gigantic car with many incredible small details. This one was the star of the day for me.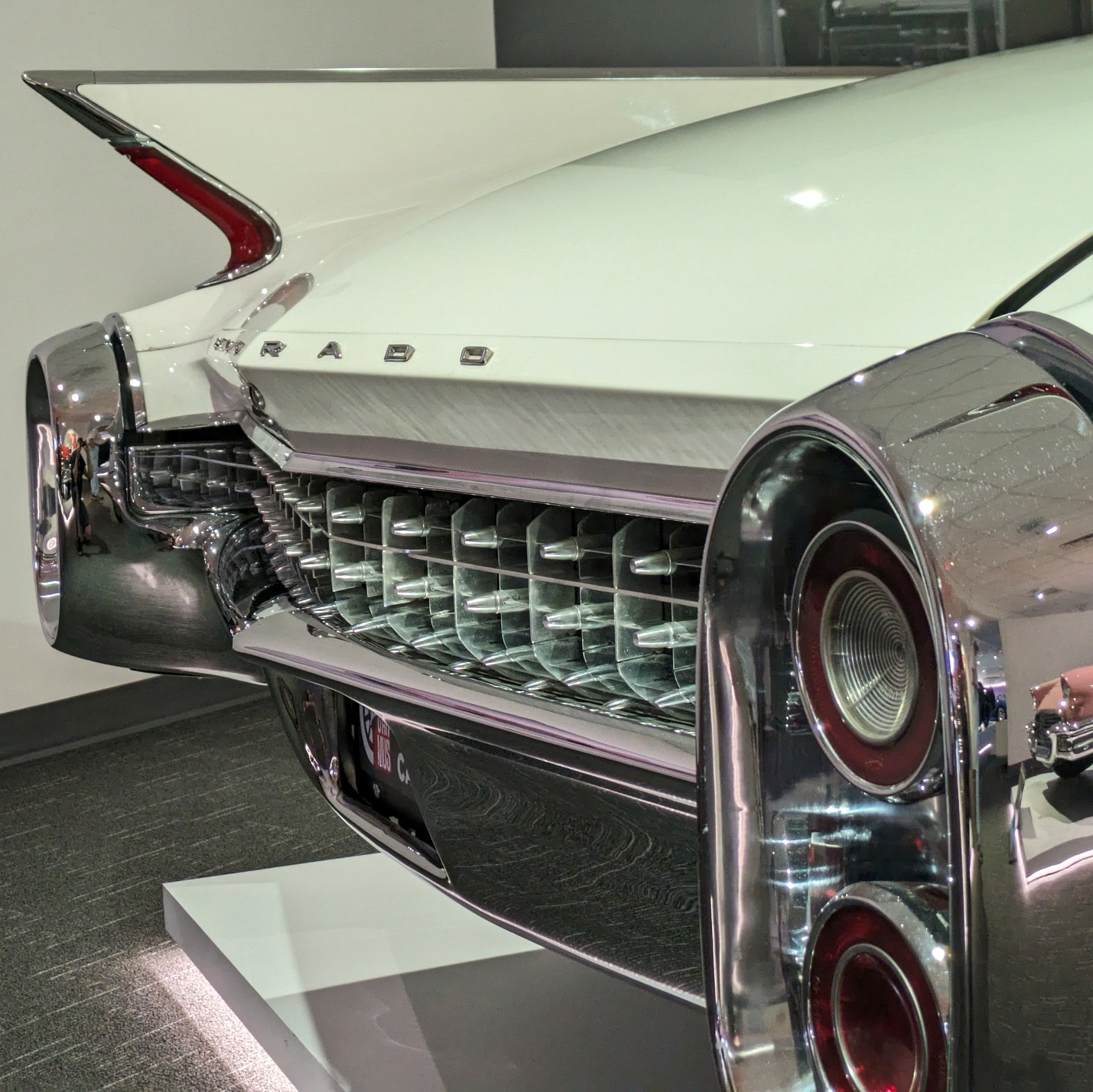 The rear end of a Cadillac El Dorado, another amazing late 50s behemoth. The metalwork they did to make and merge these shapes blows me away.
If you're ever in the Newport, Rhode Island area and have even a passing interest in cars, the Newport Car Museum is well worth a visit. The staff are very friendly and happy to talk about anything, even when some of the cars might leave you speechless.
linevariation@gmail.com
What's What 8/27-9/2
eBay arrivals, figuring out Callifolio a bit more, and the generosity of others.
Inked Right Now
Platinum Desk Pen with Sheaffer Purple

Pilot Decimo with Callifolio Gris de Payne

Pilot Custom 912 with Montblanc UNICEF

Pilot Quatro with Colorverse Delicious Sleep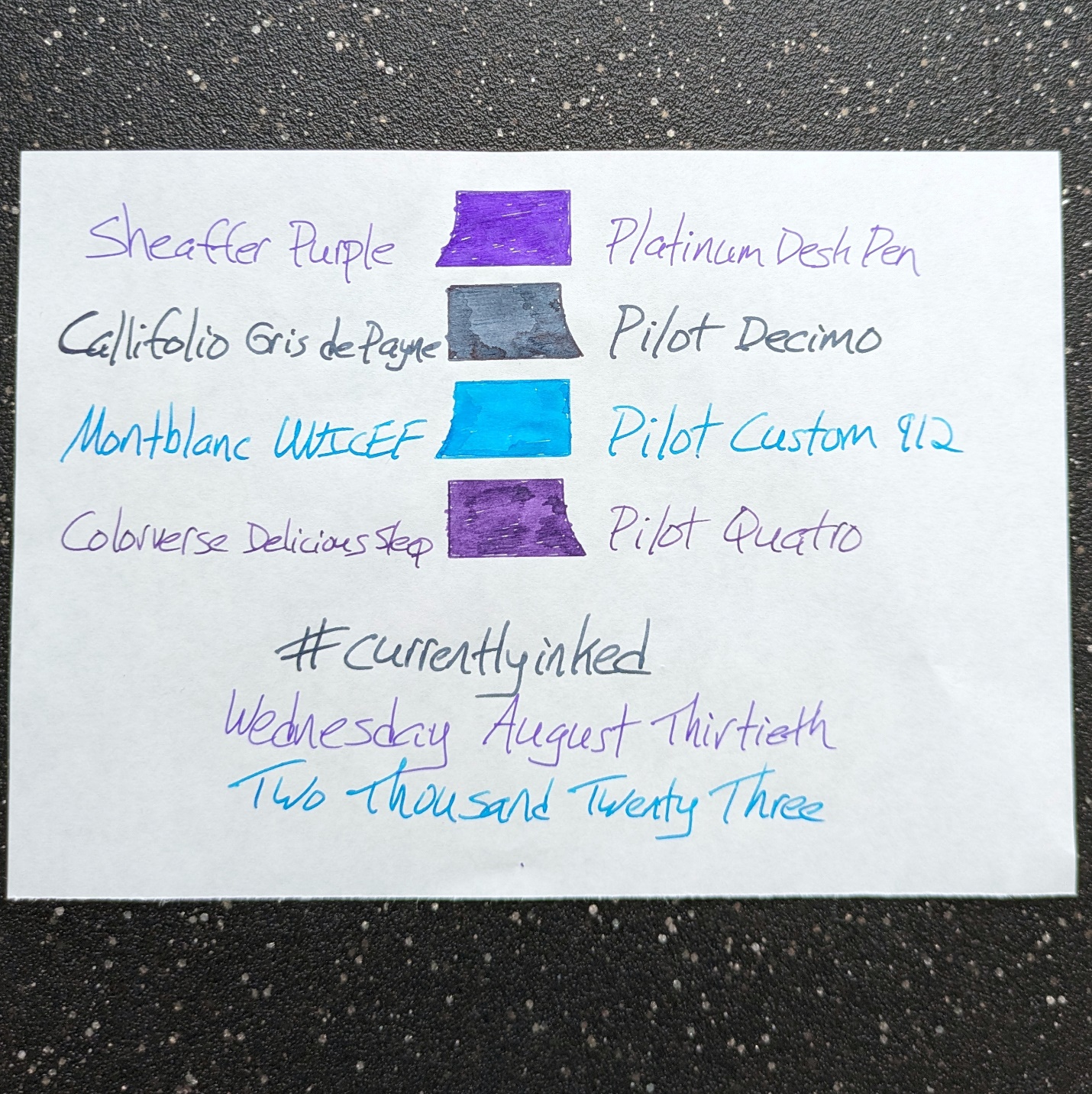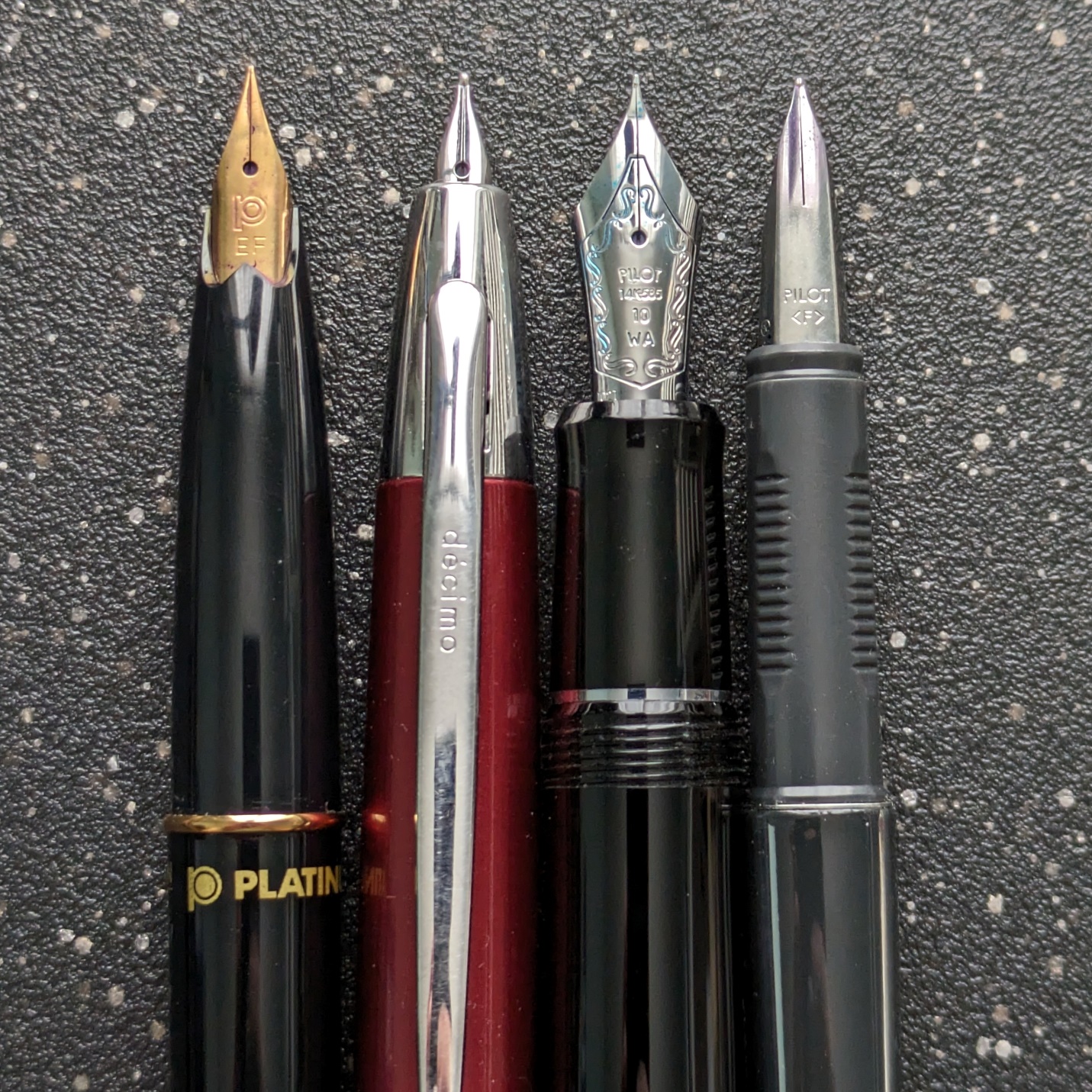 Gone from last week: Sailor Fude de Mannen, Franklin-Christoph 20p, and the GvFC Guilloche.
The Platinum Desk Pen continues to scritch along and make neat lines on even the lousiest paper. The 912 does the same, but without the scritch and all the smooth. I don't have much experience with the old Sheaffer Triumph nibs with the turned-up point, but I would figure the Pilot Waverly is the closest you can come on a modern production pen.
I changed nibs on the Decimo from fine to medium because I wanted to coax more out of the Gris de Payne fill. The medium nib's bigger line draws more ink to the page and has less of the not-so-flowy feeling, so that's good. However, it hard starts if it sits for more than half a day, which the fine nib did not do. I never had a hard start issue with the ink in the Scribo, but that's a piston-fed nib with and ebonite feed that's much larger than the Decimo unit. Still, I can't recall hard starting with any Pilot retractable nib — and I use them frequently — so I think this is revealing what was discussed back when the Callifolio inks first arrived: they have a tendency for running dry compared to the pack. Once I finish this fill on the Decimo I'll get back to the Scribo for the next color in the Callifolio group.
And about the sleek grey number at the end…
New & Exciting
Straight from 1983 it's the Pilot Quatro. This arrived from eBay a few days ago. I'd never seen one in person before but the design has intrigued me for a while. It has a smooth metal body with a squared circle profile.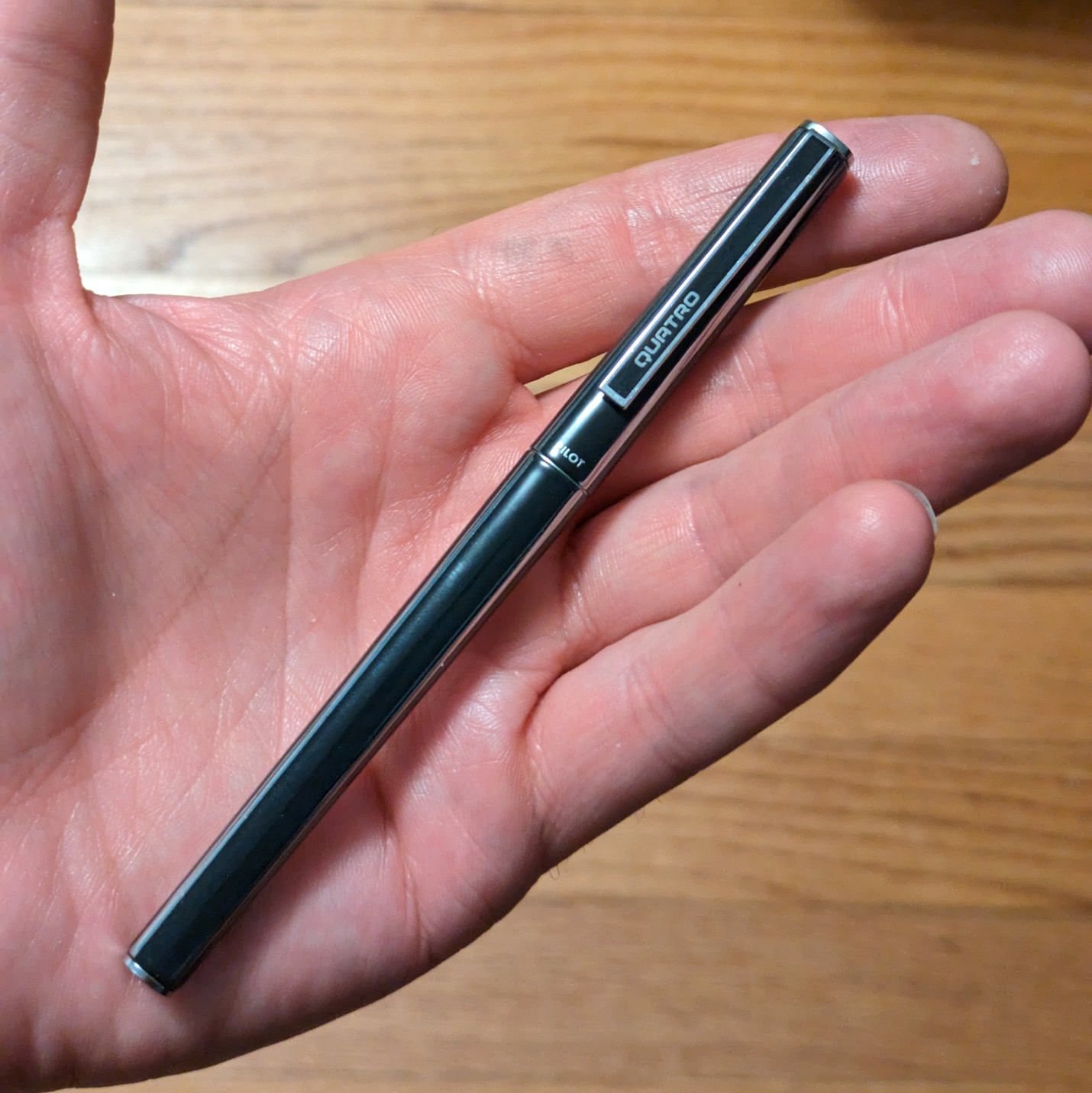 Not as much grip as the Audis of similar name.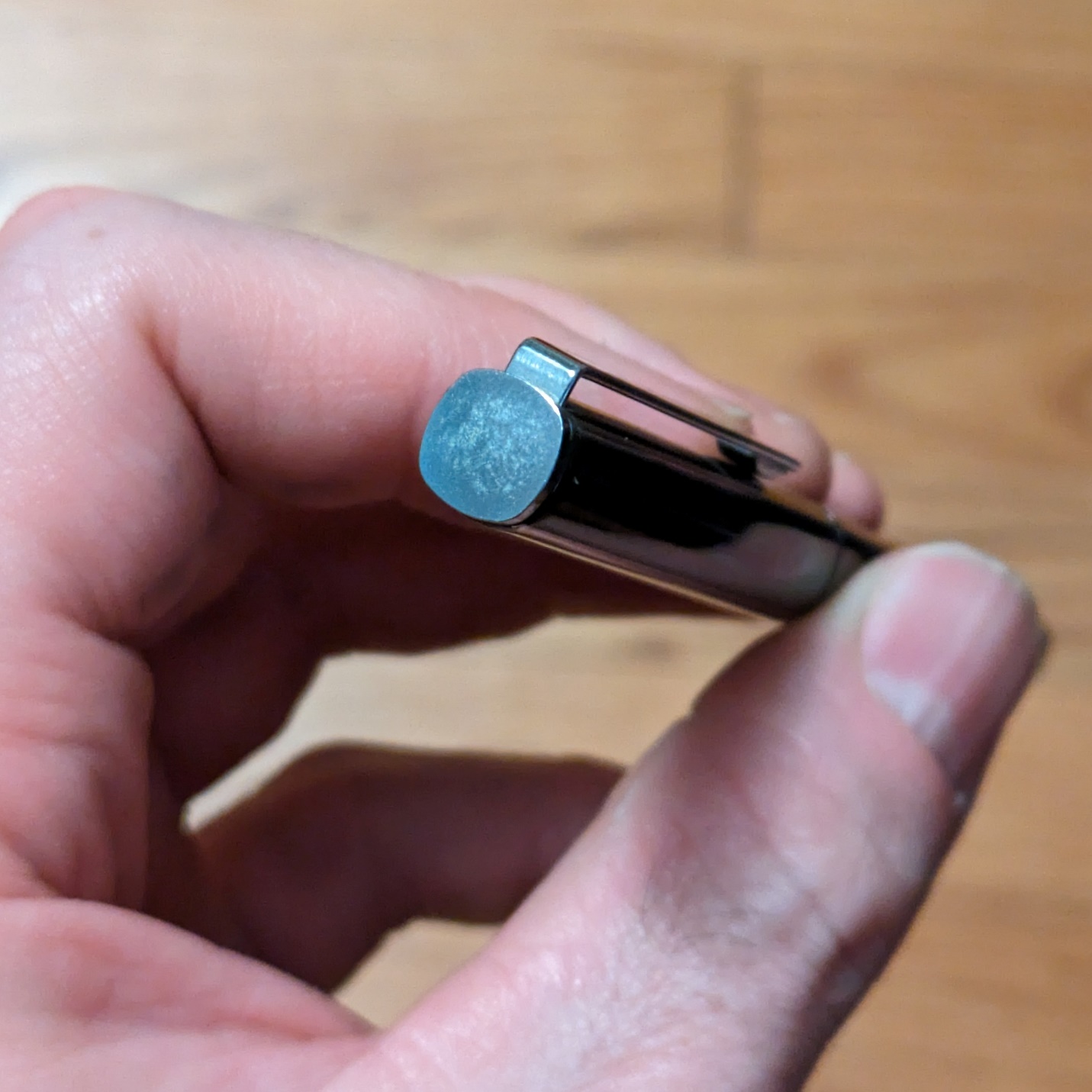 The Quatro's clip resembles the one on the capped Precise models.
The catch is the Quatro is a thin pen. How thin? Look at the grip section compared to a standard size wooden pencil.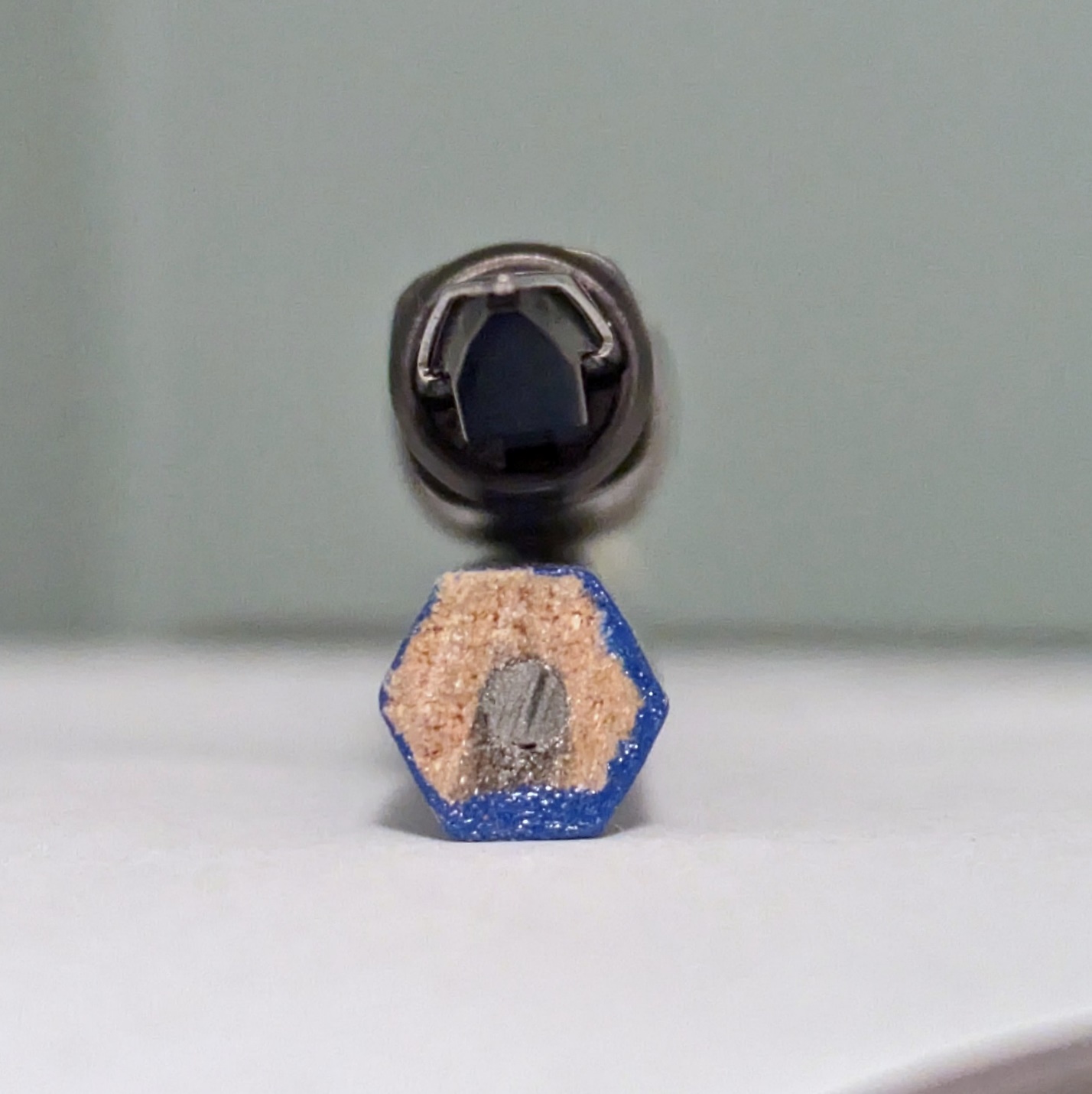 Twiggy looks at that and says "Hmm, kinda skinny."
That's about 5/16" diameter. It's this close to being too thin but I can use it. It's been short writing so far, things like work notes. I've not tried to write a whole page with it yet but I anticipate it could cause some hand fatigue. The nib is excellent. Nearly as fine as the Platinum EF but smoother on the page. The pen has more heft than you'd expect from its slim stature. The cap posts securely, though it noticeably backweights the pen. The posted cap can rest comfortably in the web of my thumb but it feels easier to write without posting.
We'll see what further use reveals about the Quatro's suitability for my stable.
Also coming from eBay were two pen sets, each with a fountain pen and a ballpoint.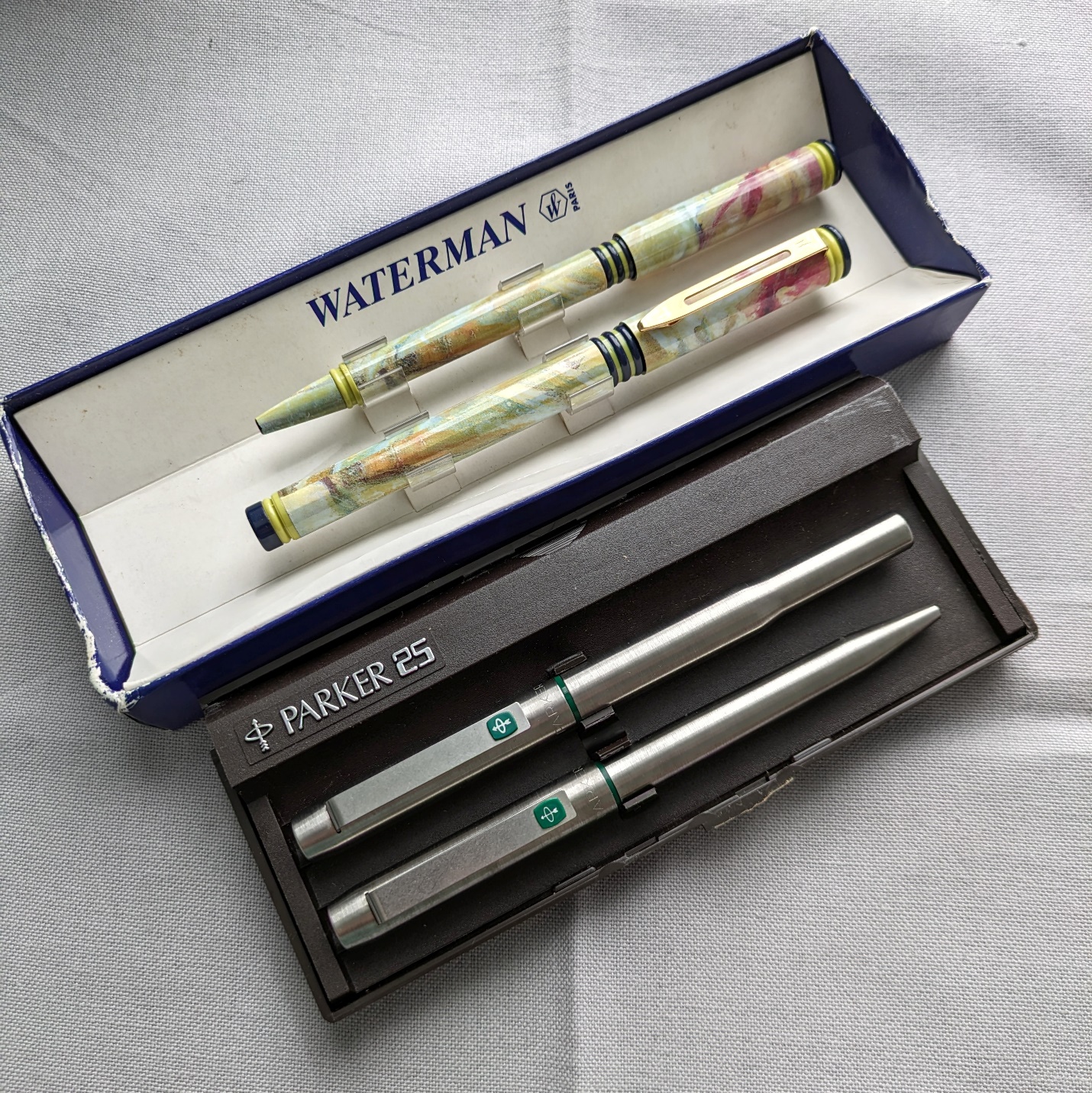 I already have a Parker 25 and I love how it's different from every other Parker I own. The Westminster style type used for the "25" on the case is quite nostalgic and in line with the model's aim of a new, modern look when it was introduced in the mid-1970s. This 25 also has a green section, which sparked some extra interest for me. I'm soaking the section now to clean it out. I put a Japanese Parker-style refill with a needle tip in the ballpoint body and it's ready to go. The cap actuation has a positive feel with good spring.
I don't know anything about the Waterman set. The bodies are very light, almost delicate. The fountain pen section showed no evidence of ink when I ran some water through it so it may never have been used. The nib slit is cut well off center so one tine doesn't have much tip to work with. I loaded some Robert Oster Pen Addict Fire on Fire (ROPAFOF for the acronym lover in all of us) in an empty cartridge and the nib writes nicely. The Waterman ballpoint cartridge is dead and I don't have any spares. I'll stop by Staples at some point to see what they may have before I poke around online.
Best part of this whole package is that it was another one of Shawn Newton's sales to support his scholarship fund.
Thinking About
Last Saturday I was the recipient of kind generosity from a pen friend on Instagram. They sent me a very nice letter and an assortment of stationery goodness, some of which is shown below.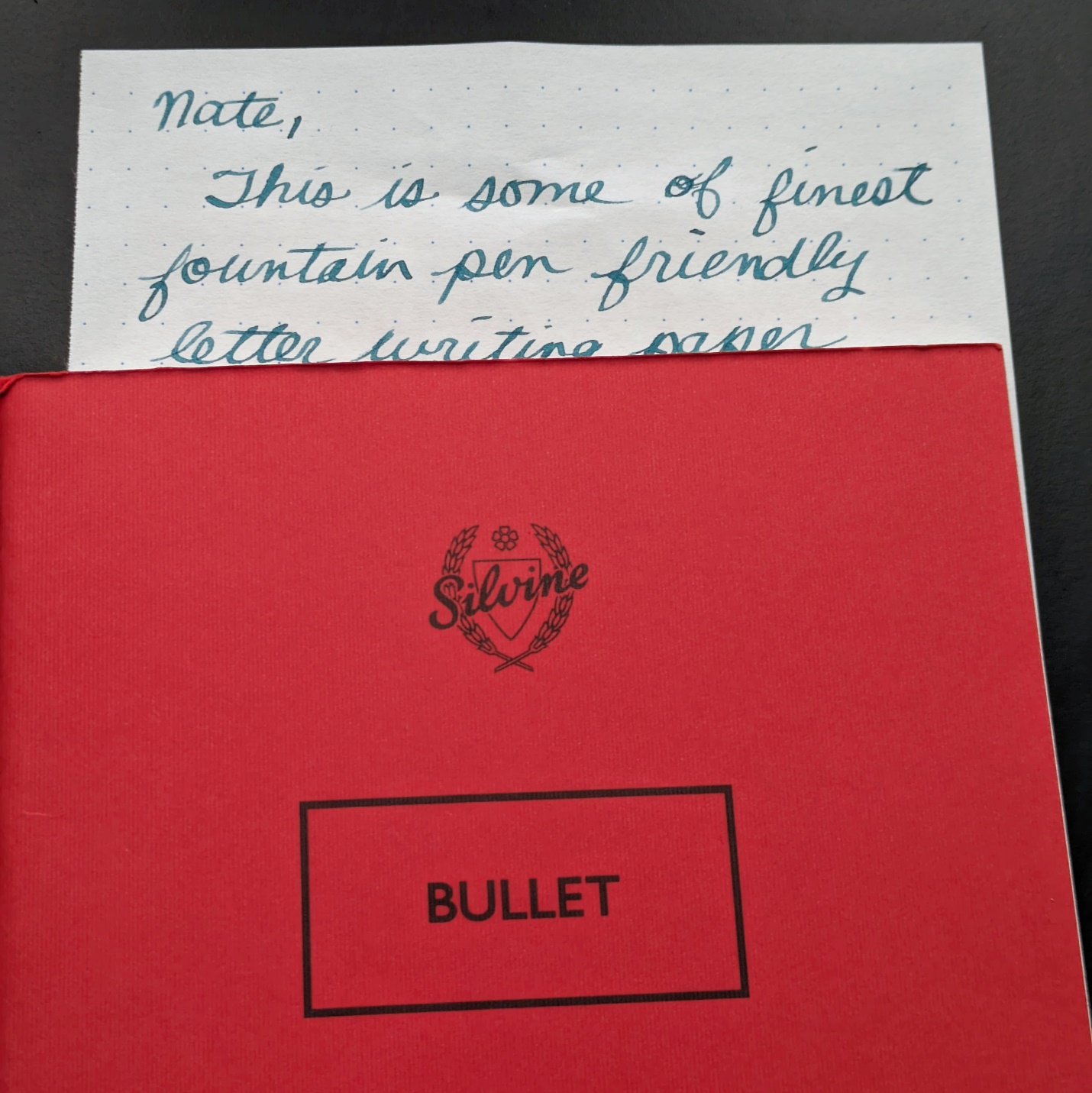 A Silvine notebook. I've never used this brand but always heard good things about the paper. I like the classic, understated cover.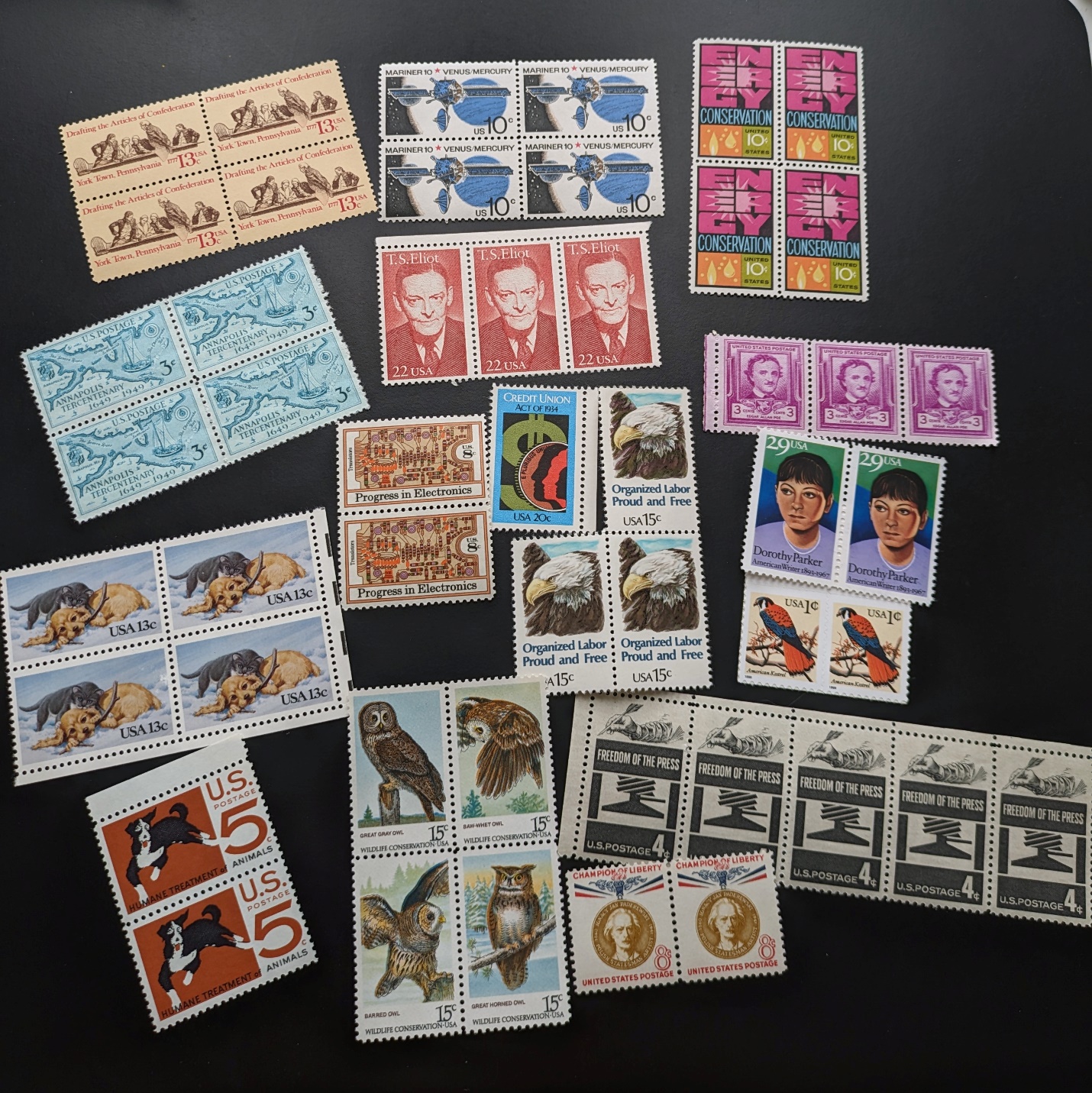 A great assortment of older stamps. Good for mailing and admiring. The inclusion of T.S. Eliot and Edgar Allan Poe is right up my street.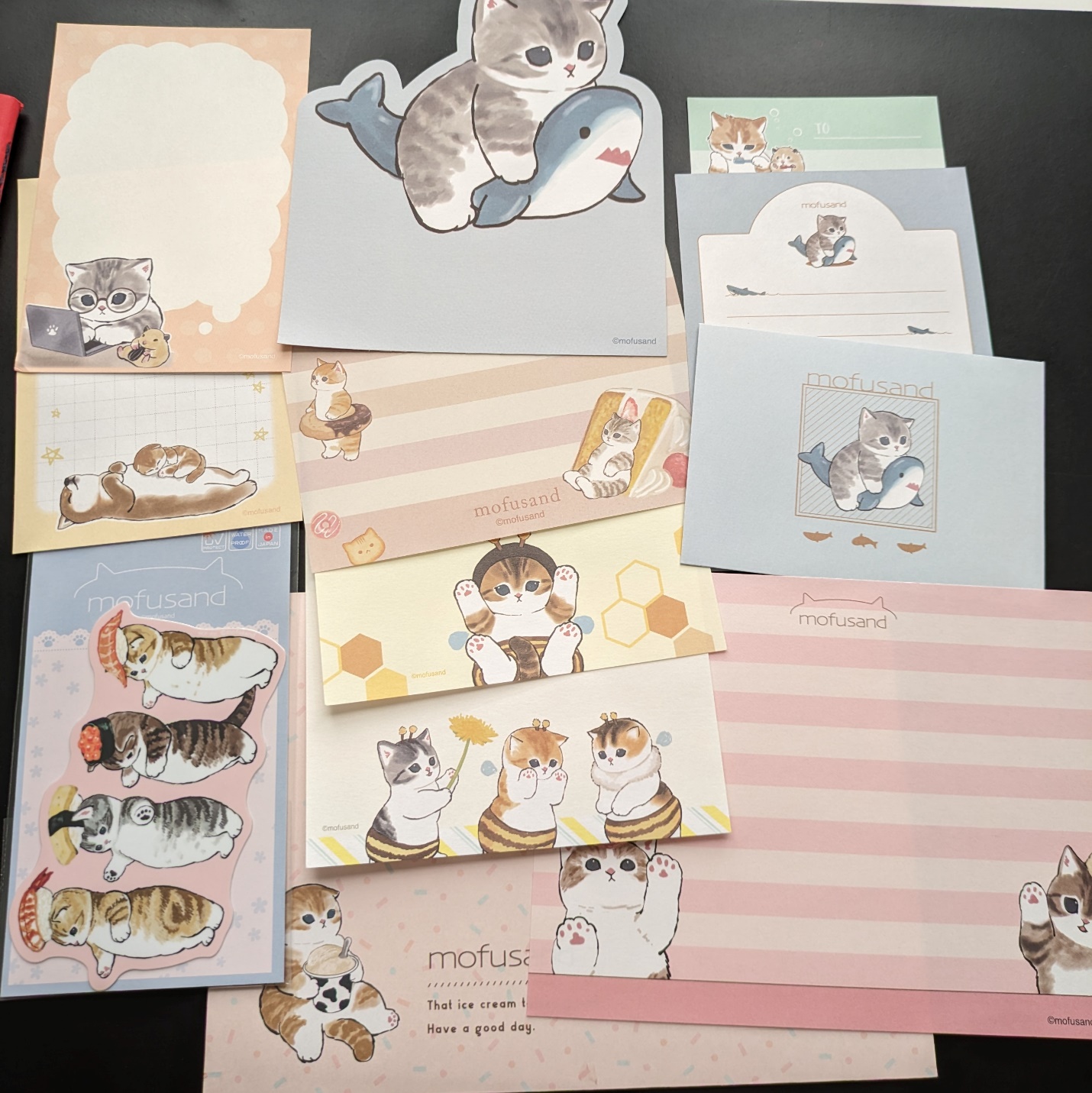 Mofusand = adorable cats doing adorable things.
This package of fun and the thought behind it made my day, which had been rather a rough one at work. Thank you LaDonna for a reminder of why I started writing here in the first place — we should share the things we love with others.
Not Science: Comparing Esterbrook's
JJ

Lax Scribe Nib to Another Architect

The content of this post was originally part of the 8/13/23 What's What entry but I thought it might be better to take it out as a separate piece (not to be confused with this book which many of us of a certain age read in high school English class). The premise is to compare Esterbrook's custom Scribe nib to another architect nib I have from Peyton Street Pens.

////////////////////////////////////////////////////////

The Scribe nib is a collaboration between Esterbrook and JJ (Josh) Lax, a nibmeister from Brooklyn, New York. The Scribe is what Josh calls his architect grind. It's one of four nibs Esterbrook offers with specialty grinds from different nibmeisters. You can get the nibs in Esterbrook pens you buy new or you can get them sold separately direct from Esterbrook, which is what I did. I ordered it in the Estie size, which is Esterbrook's flagship model that takes a Jowo #6.

The Scribe nib from Esterbrook starts out as a Jowo #6 broad steel nib (as does the Peyton Street architect) before Josh does his work. The finished product has clean grinds and smooth finish.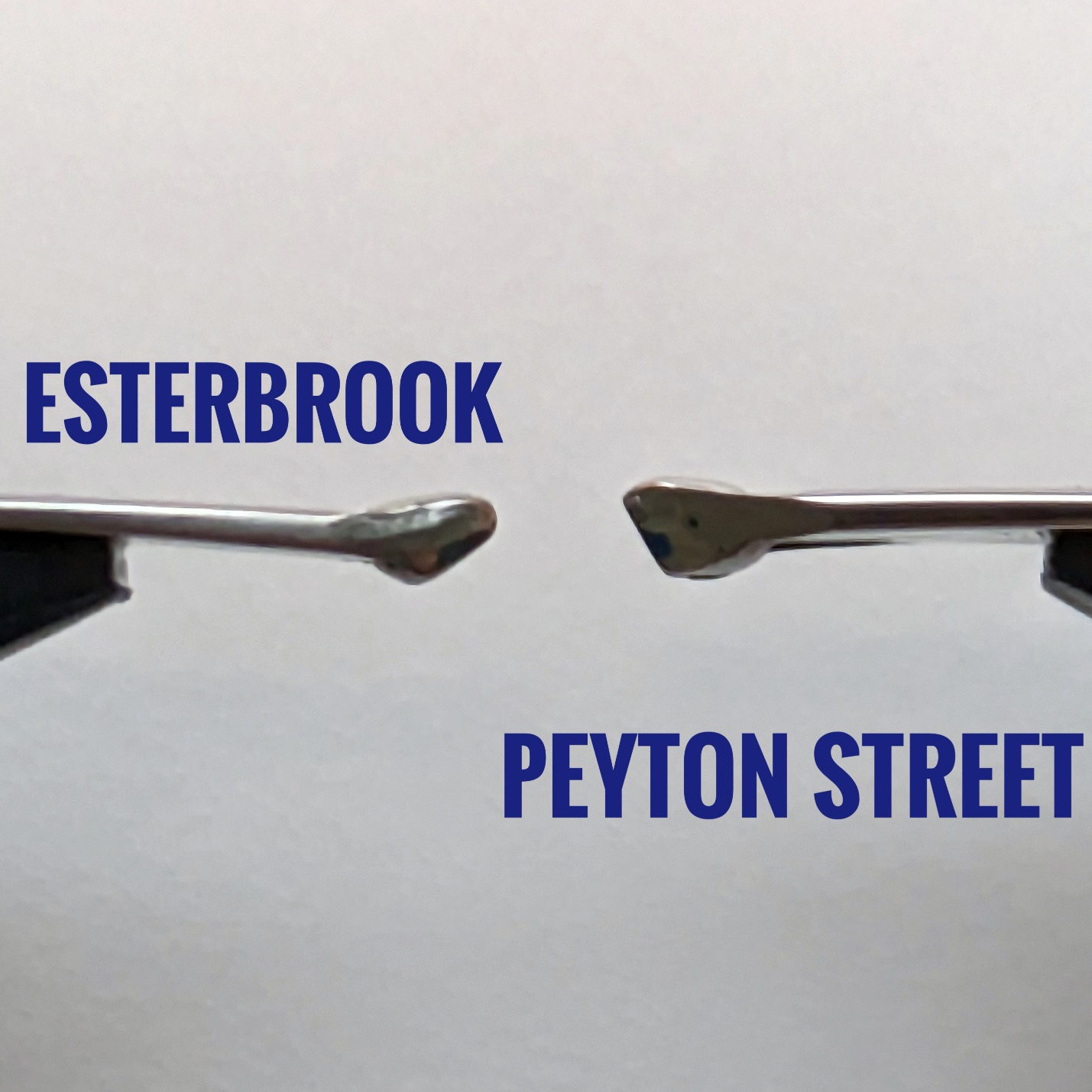 Two nibs enter, two nibs leave. The stakes aren't what you'd call life or death.
The variation between the two nibs is shown well here. The angles of the nib faces are quite different. If I hold a protractor up the image and measure up the face of the nib from the horizontal plane to the top end of the tipping, the Scribe is around a 30° angle and the Peyton Street is around 60°. These are not scientific measurements (see previous disclaimer) but even casually speaking that's a sizeable difference. How does it affect writing?
Here I am holding the pens at what I consider my normal natural writing angle. The barrel of the pen (or the cap of a shorter posted pen like the Franklin-Christoph) sits against the bottom of the base knuckle of my index finger.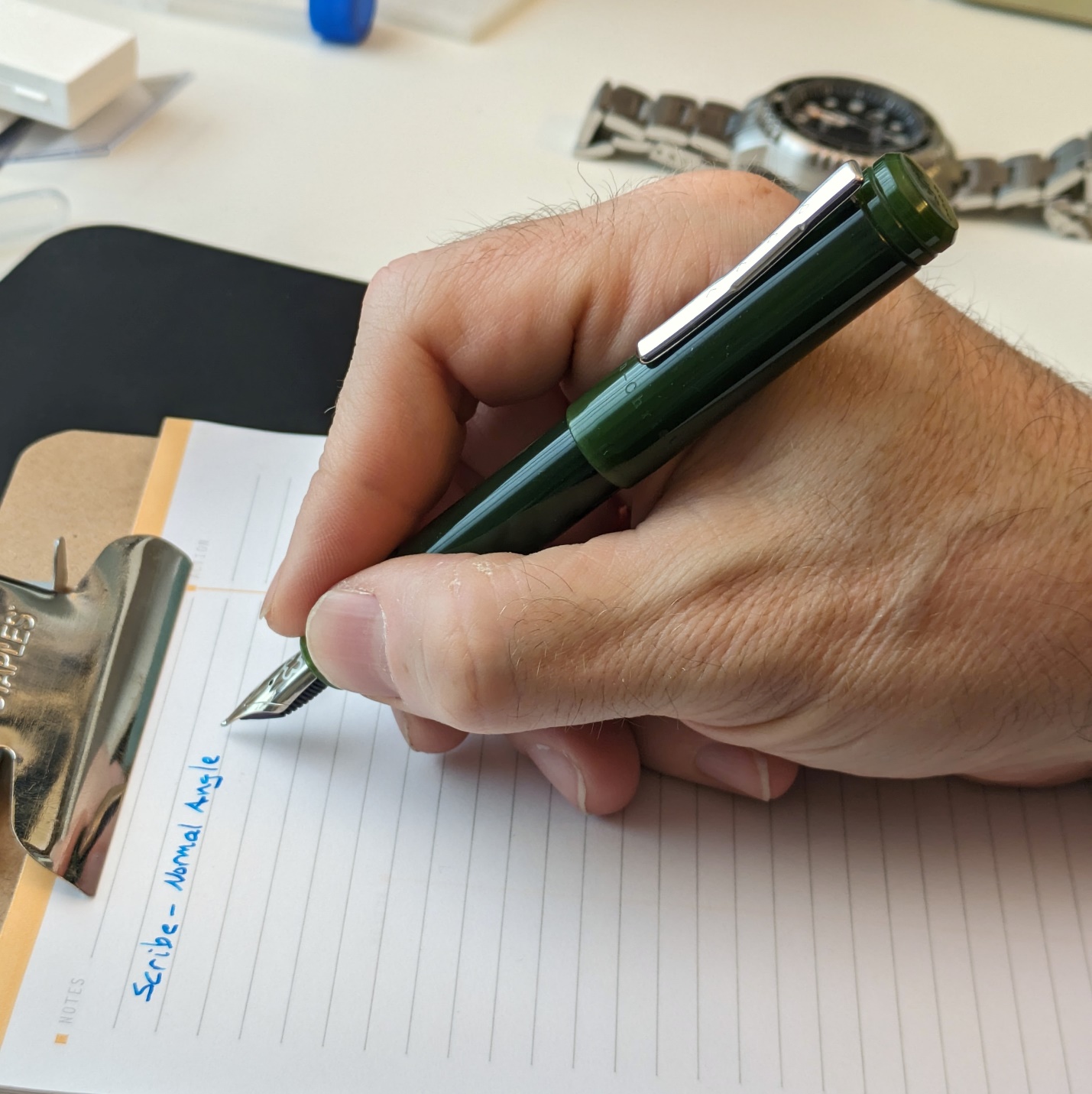 Scribe nib, normal writing angle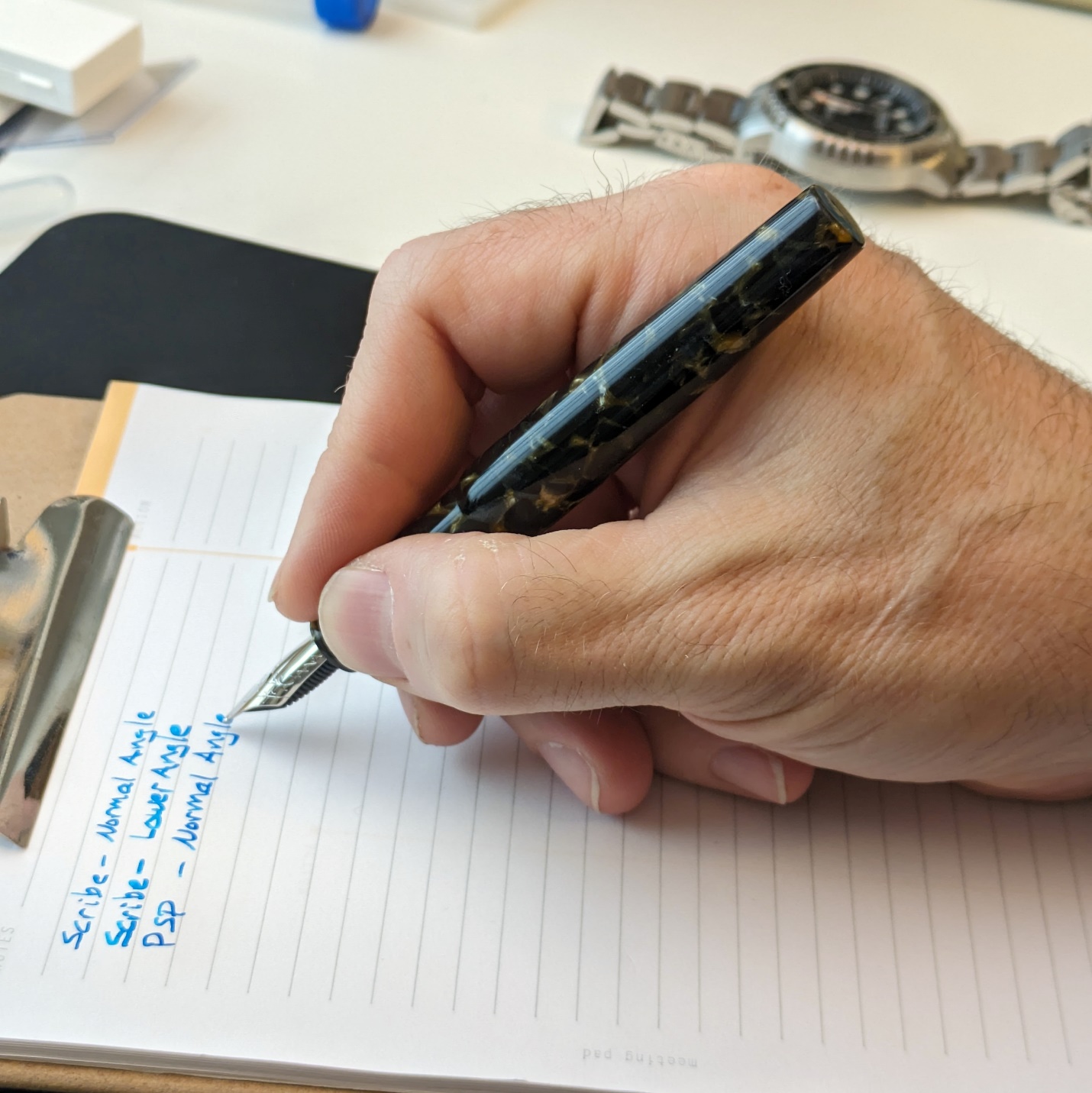 Peyton Street nib, normal writing angle
Writing with the pens at this angle yielded the following results.

Not all that different in appearance, but at this angle the Scribe nib is scratchy on the paper because it is writing mostly with the top corner of the nib rather than the full face. It's not how I want this nib to feel. The Peyton Street nib is also a bit scratchy at this angle but decidedly less than the Scribe.
Then I adjusted each pen to a writing angle that was the best match for the face of the nib making full contact with the paper.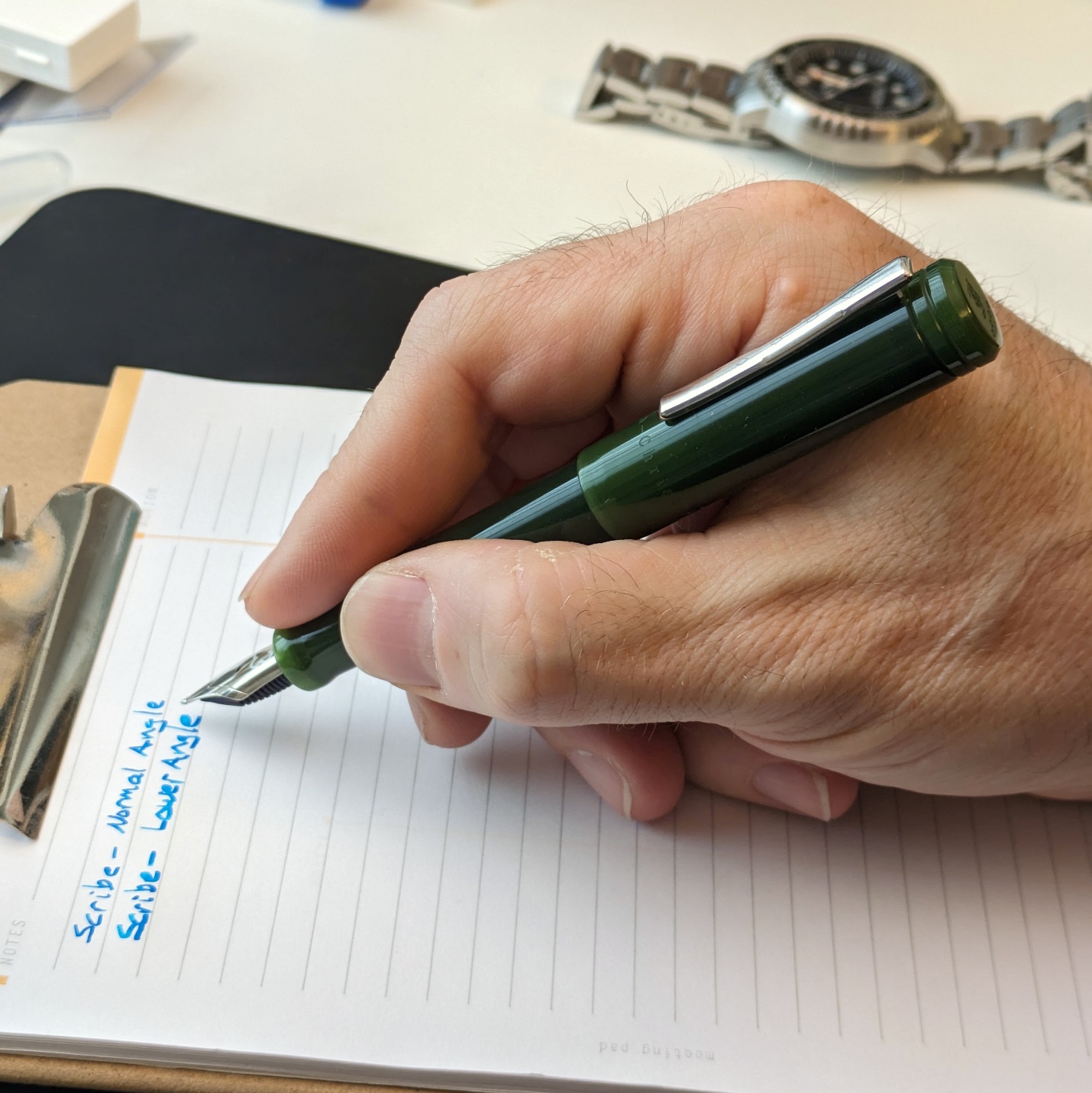 Scribe nib, adjusted writing angle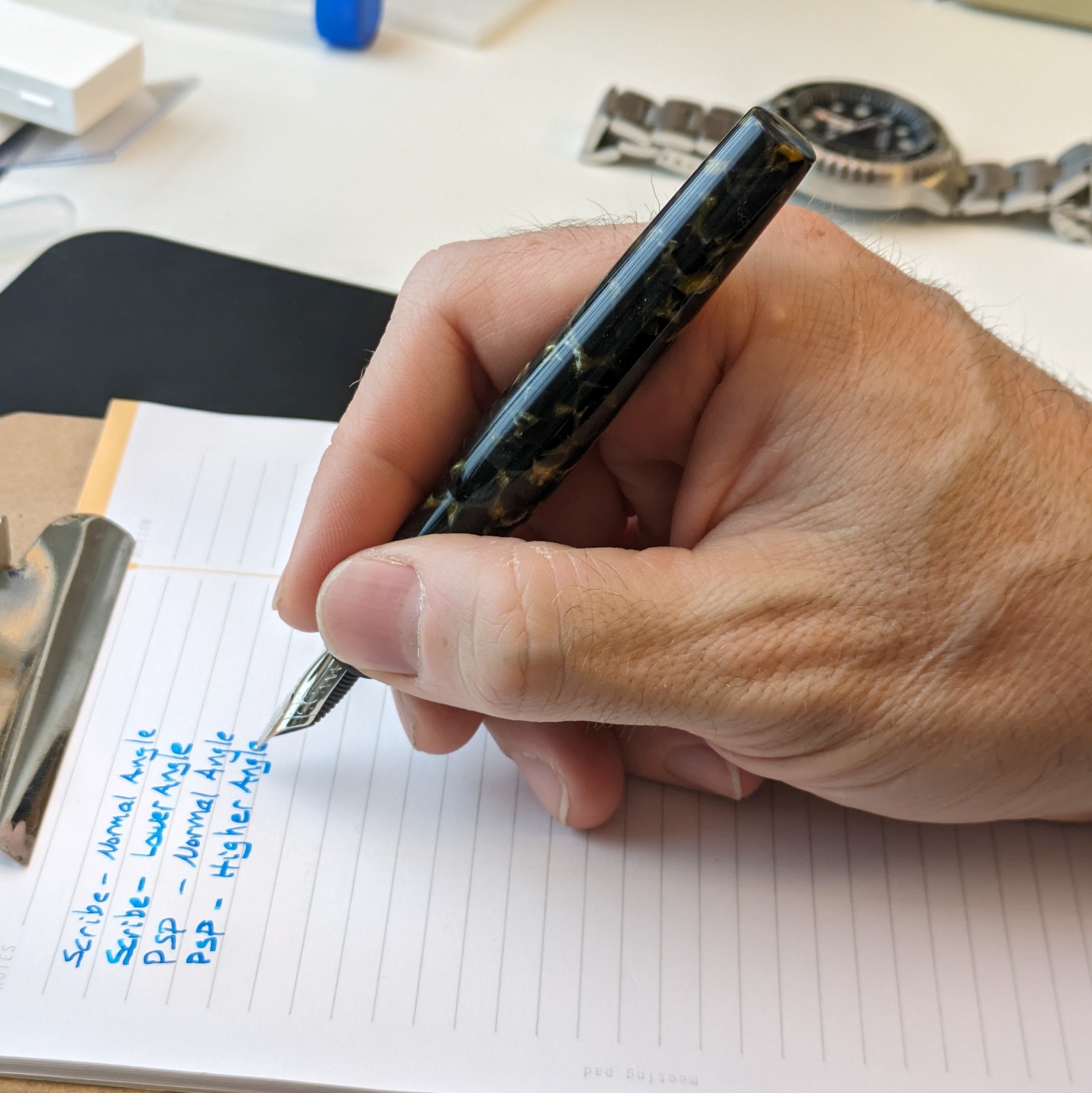 Peyton Street Nib, adjusted writing angle
The results from adjusted writing angles show what an architect grind can really do.

The contrast of having the right angle to the paper versus a suboptimal angle are significant when you see them alongside one another.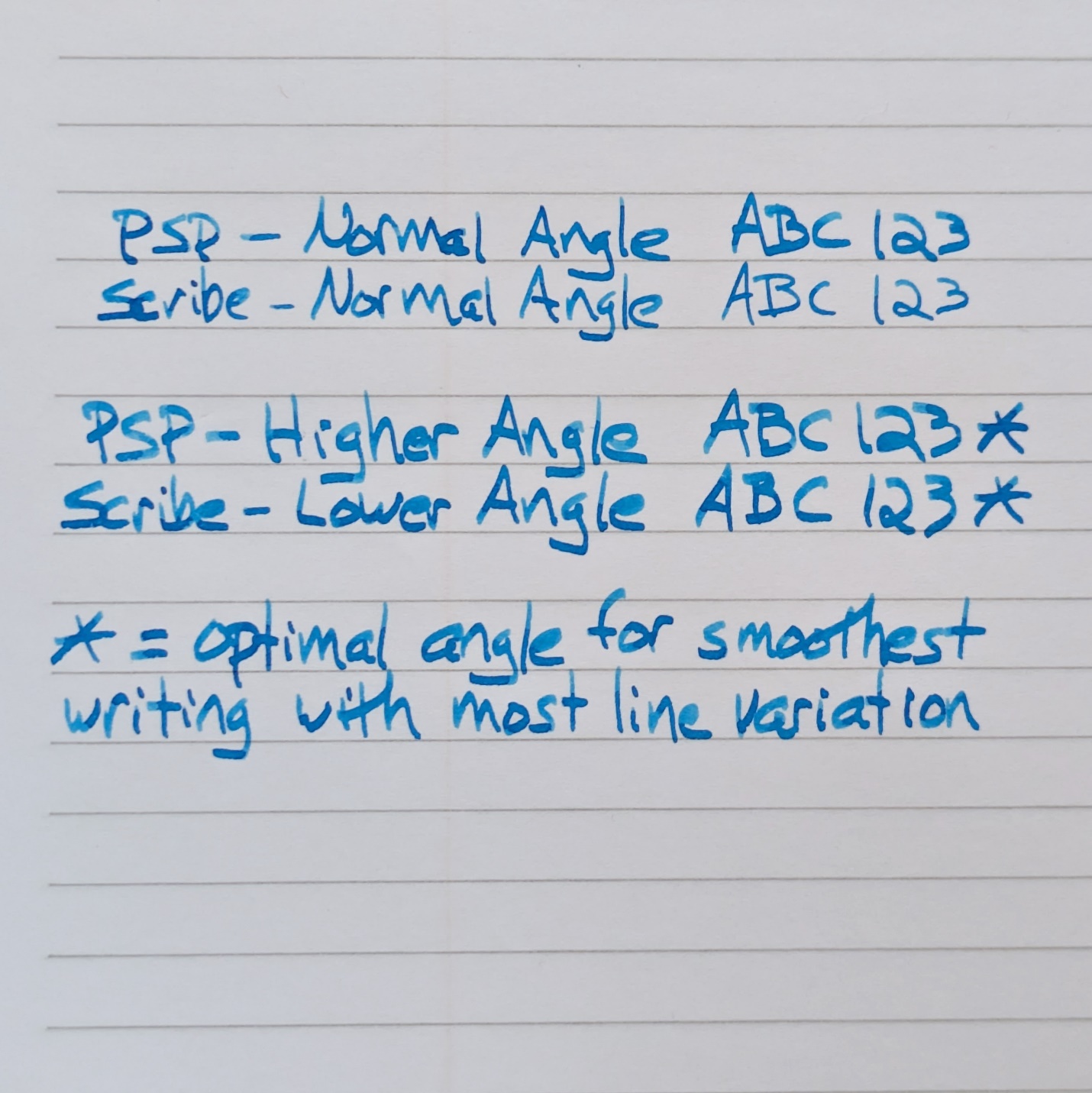 Both nibs glide smoothly on the paper with generous ink flow. Both nibs now give the wide cross stroke and narrow down stroke the grind intends. Both nibs now feel like they're in the sweet spot. But does the sweet spot of each nib match the sweet spot for how I normally hold a pen? For one nib it's close. For the other nib it's not.
The Peyton Street nib needs to be held at a higher angle than normal, but it's a short trip. I find it easier to adjust the pen angle up slightly to hit the sweet spot. I can hold a pen there to write with it and not feel uncomfortable. Would I want to do it continuously for several pages? Perhaps not, but I could also do something to change the angle of a writing surface and make up some of the difference that way so the adjustment in hand is reduced.
I must hold the Scribe at a significantly lower angle to match up the nib with the paper. This is not a position at which I would choose to write for much more than the purposes of this demonstration. It's awkward, like I'm trying to write on a slope going away from me, and it doesn't give the feeling of being precise with my writing.
So, what have I found from this experience?
The Scribe nib writes an excellent line when it's in the sweet spot. If you take nothing else from what I've said here, take that piece. This nib does what it's made to do.

Getting an off the shelf nib grind can be hit or miss and the amount by which you miss can change depending on the type of grind you choose. In the case of the Scribe nib, it's missing me, but…

I think producing a nib like this for large scale sale and use is challenging. I've always thought my grip and writing angle is mostly neutral and I can get along with several nib types. Even so, not every nib I try will work for me. Just like not every t-shirt labeled with my size fits the way I like. Think of the countless ways people grip a pen. An architect nib made without the chance to account for individual preferences will have its best results within a small window of those grips. Josh and Esterbrook should be commended for doing this nib in the program because I don't imagine it's easy.

This is not a final diagnosis. It's one case of writing with the Scribe nib in one pen body. I can reverse the nibs between the two pens used here. I have a few other pens with Jowo #6 sections where I can try the Scribe nib to see if that makes a difference. I'm not sure how much difference may be out there, but it's worth exploring.

Addendum to this point: trying the Scribe nib in another pen body (the Brockton) did not do anything to change the writing angle needed to get the desired line. It is still too low an angle for me to use the nib so I emptied the pen and the Scribe nib sits idle for now.
What's What 8/20-8/26
Working through our varied wants, enjoying differences, and finding fun in little places.
Inked Right Now
Graf von Faber Castell Guilloche with Herbin Lie de Thé

Pilot Custom 912 with Montblanc UNICEF

Pilot Decimo with Callifolio Gris de Payne

Platinum Desk Pen with Sheaffer Purple

Sailor Fude de Mannen with FWP Mirror of Moraine

Franklin-Christoph 20p with Montblanc UNICEF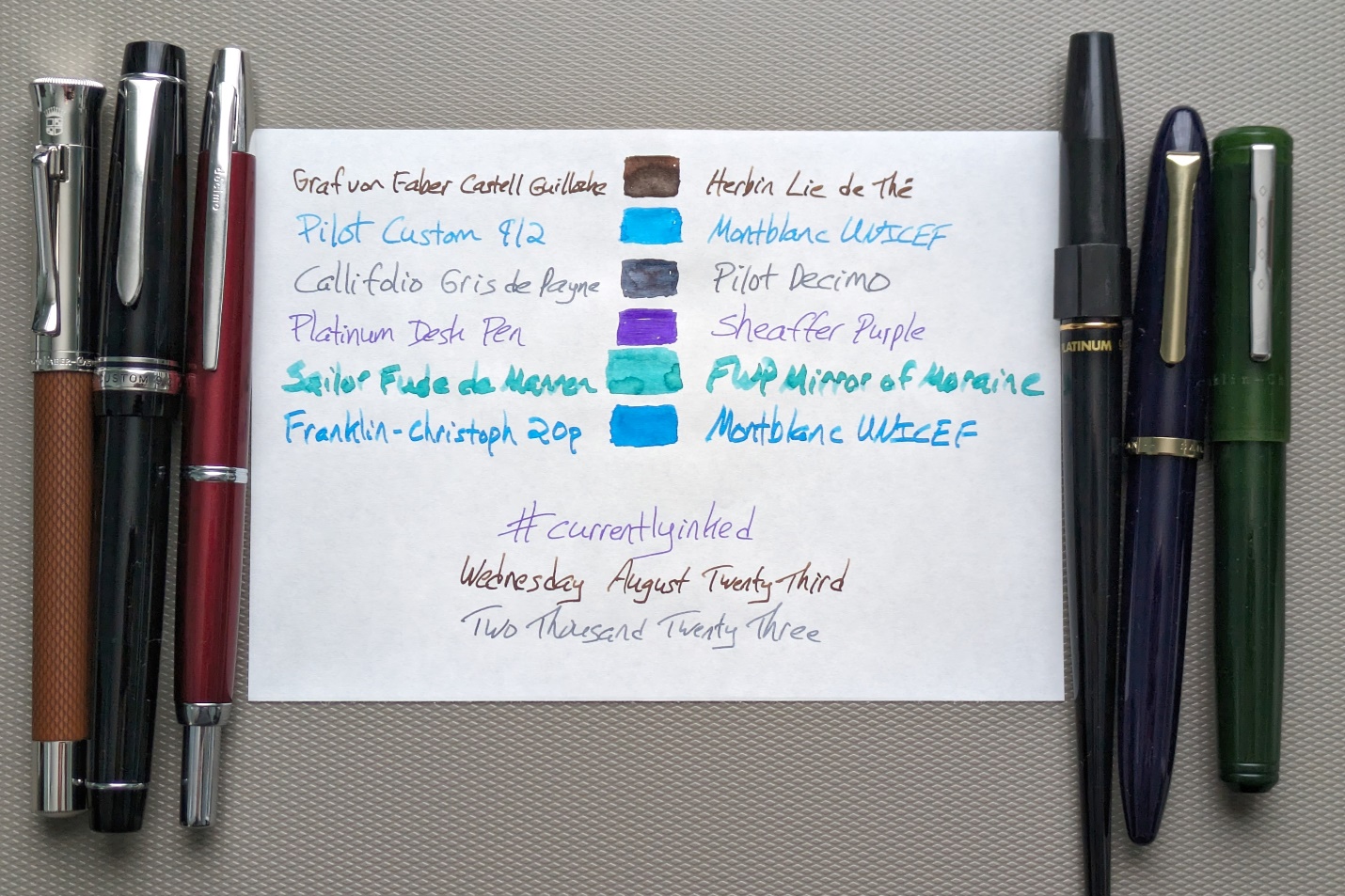 Gone from last week: Montblanc 144 and Edison Brockton.
The 144 finally ran dry and I wanted to refill it immediately with UNICEF for another run. They're very well suited for each other. The medium nib is big enough to show off the ink but still be usable in almost any situation. I'll wait a while to come back to the pairing and rotate in some other pens, but it 144+UNICEF = no-brainer combination.
The Edison and Franklin-Christoph 20p had nibs swapped so I could try the Esterbrook Scribe in a different body and see if there was a difference in the writing experience. There was no difference to be had in terms of the Scribe's writing angle being too low for me. The Edison's longer body and section made it easier to hold at that low angle but I can't write that way. With no need to continue using the Scribe now I emptied the pen and put the nib away. Not sure what I'll do with it going forward. The Peyton Street architect lives on in the 20p.
I was itching to get a Decimo back online and chose Callifolio Gris de Payne to get some near-term comparison against using that ink in the Scribo. The fine Decimo nib has always written on the wet side for me, never lacking for flow. When using Gris de Payne, the ink runs darker for the first handful of words, which often happens when ink sits for a bit in a nib. Once that equalizes and I'm writing multiple sentences with continual ink flow from the cartridge, the ink stays a consistent shade and it is a drier flow than any other ink I can recall using with this nib. It never fails to write or flow properly but it feels different putting the line on the page. I don't know if it would have problems in a drier nib. One of my old Parkers might be a good place to test that next time.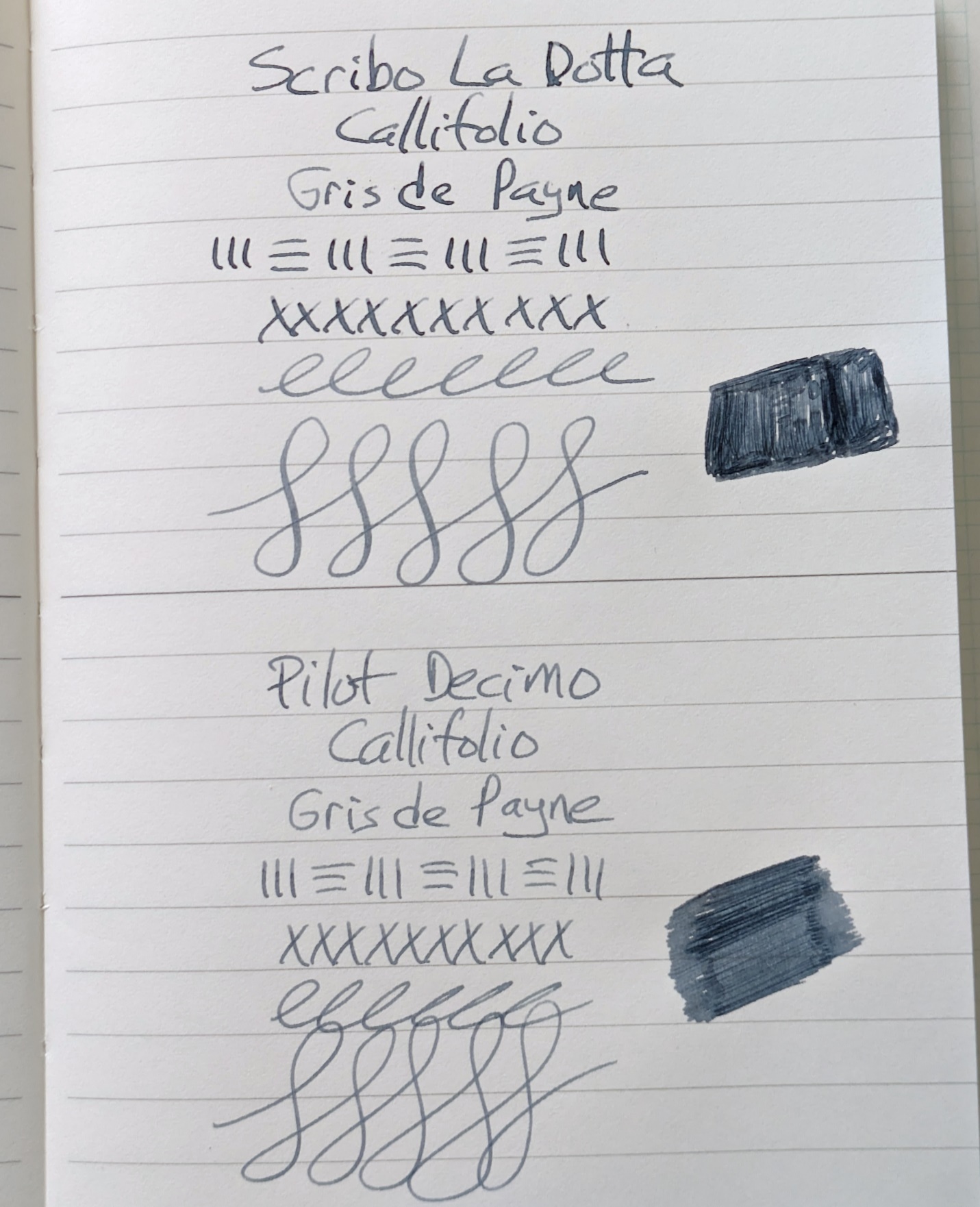 You can see the lines made by the Decimo with this ink match the output from the Scribo when using continuous strokes like loops & swirls
New & Exciting
I have a few bids in on eBay for some 1980s (I think) pens. Nothing flashy or expensive but pens I want to try because they should make nice everyday users.
I also need to get back on the ball sending existing pens out for nib work. The GvFC Guilloche is one of them. I just got it and it writes nicely, but when I use it something in my brain says "make this a cursive italic or stub." The Sailor music nib, Kilk double broad, and my medium Decimo nib are all prime candidates to have work done. Time to stop talking and start shipping. Using and, if called for, improving the current collection is where we should go right now.
Thinking About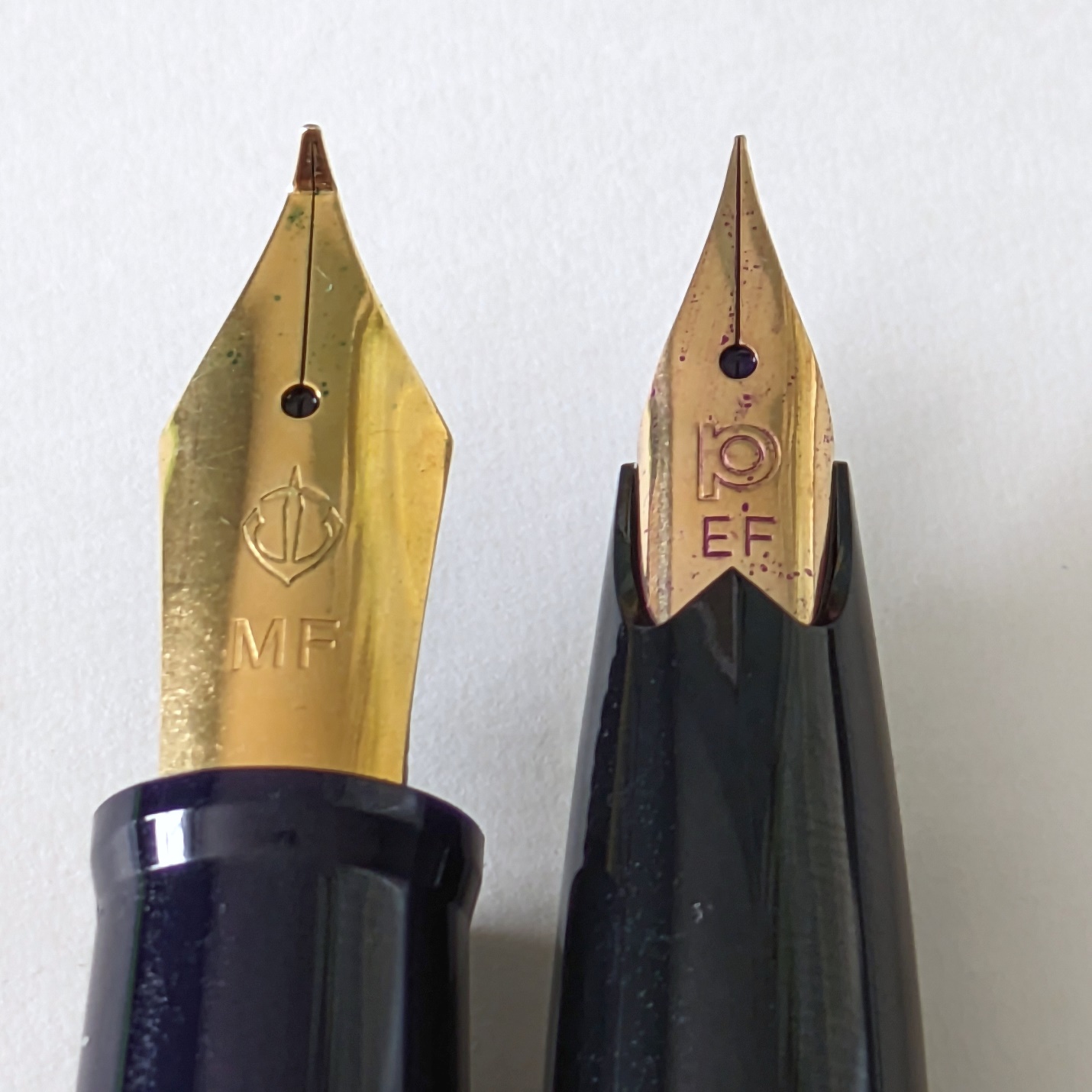 MFPEF sounds like a side project to KMFDM.
Using these pens back-to-back when writing out the week's list provided a large contrast. The Desk Pen might not make the thinnest line of all my pens (Kakuno EF edges it, I think) but the sound it makes and its feel on the paper is unique. I'm not one who watches ASMR videos but this nib could star in one. The sensation it provides hits a certain spot of enjoyment that I didn't expect when I bought it. It is precise like a perfectly sharpened paring knife, making tiny little ink cuts on the page.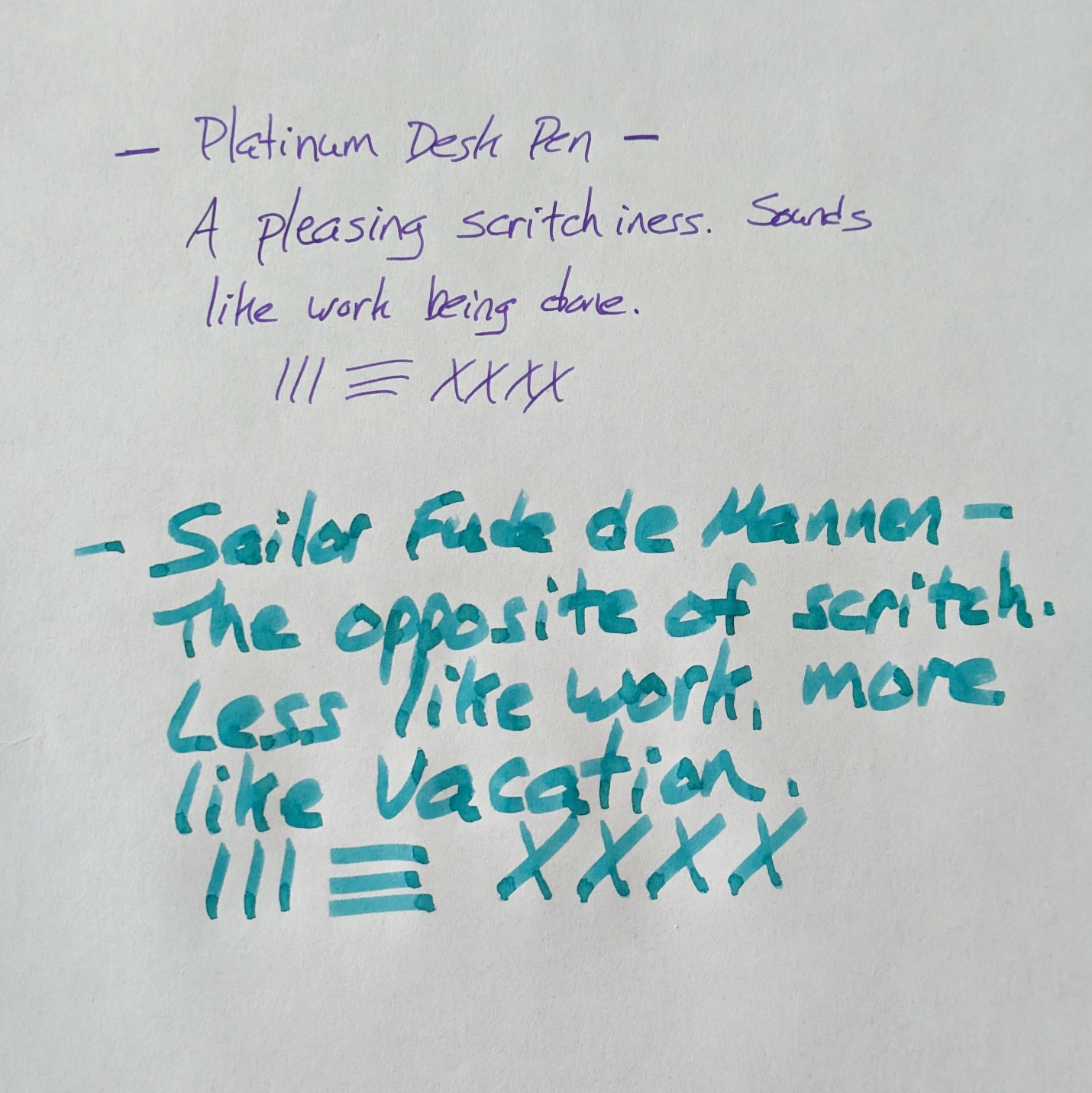 The Fude can write a fine line if you need, but its calling card is the broad brush-like line that comes from laying the bent tip's full face on the page. The feeling is carefree, like when you gather up speed sledding down the hill as a kid in the winter. You don't feel entirely in control of the ride but you don't care in light of the enjoyment. It comes off 100% fun. Do we remember fun? Sometimes it seems to leave us, only to be reintroduced in small ways.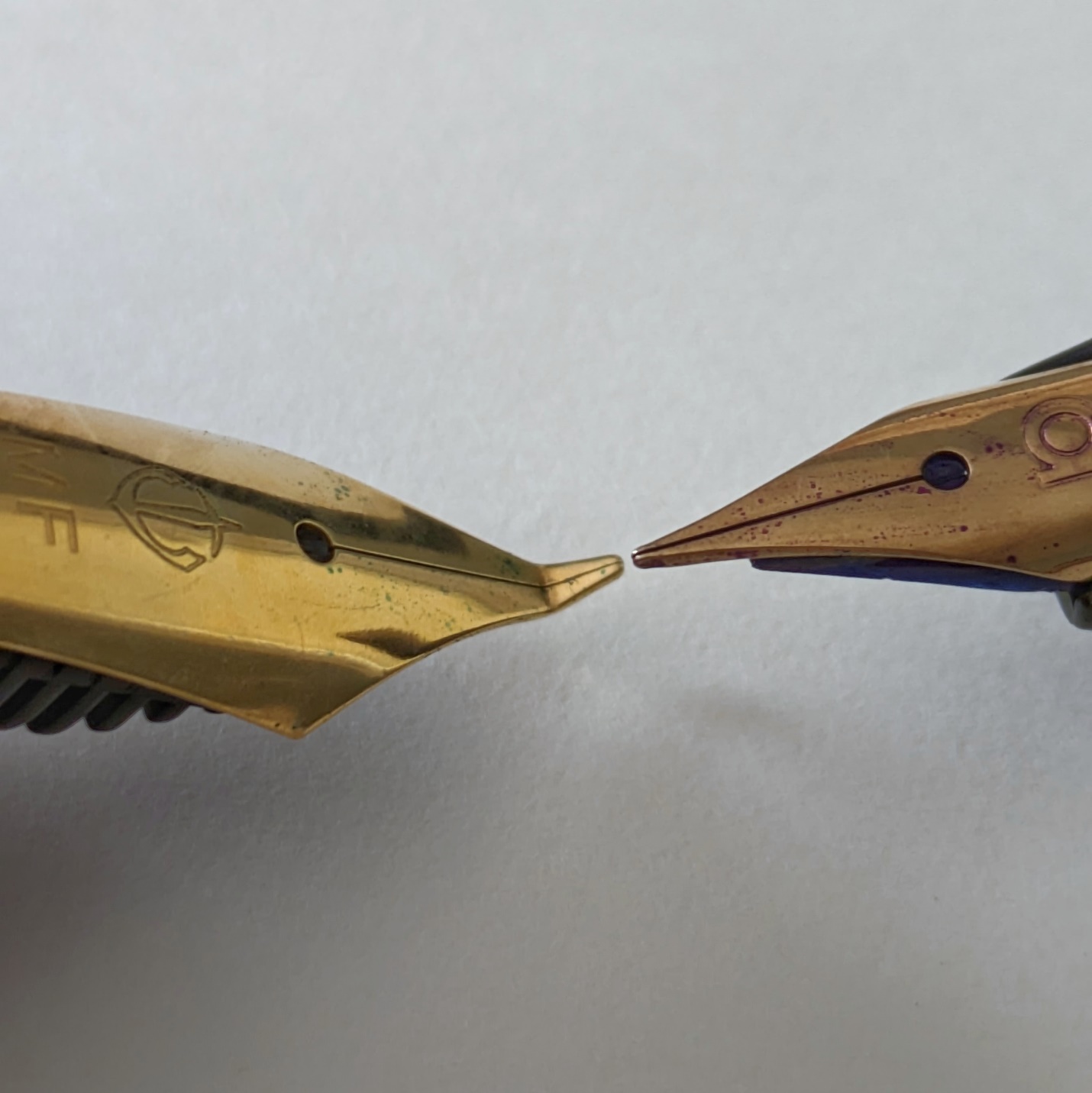 You wanna go do karate in the garage? Yup!
Still Working On
Last week's questions about the pen collection, bordering on hand wringing as I review them now, are something that happens every so often. I get presented with or put myself in front of the nice things and my mind naturally wonders what it would be like to have them. I start to do the research, compare prices and reviews, and think about where the pen could fit in my collection. After a few days the feeling mostly passes and I realize I won't buy this thing.
So why do I go through the process over and over of getting myself 9/10ths of the way to another "nice" pen only to turn around and come back without it? Couldn't my time be better spent doing other things that need to get done in life? Is there that much excitement or enjoyment in it? Something is there, pulling at me. More than just being part of the hobby, I should consider it might be a way in which I paper over something else that's on my mind and avoid dealing with it. Maybe shopping for pens without buying them is a mechanism to cope with or convey order to a feeling of disarray or unease about another part of life. I'm getting out into the weeds of indulgent self-analysis now and asking a lot of questions of myself without answers for the reader, which is likely not the reason you stopped by today.
I appreciate your visit for whatever reason you made it. Does reading what I'm thinking about on this topic spark any useful thoughts for you?