Auction Pens: Sheaffer & Franklin-Christoph
These pens came in a lot from an eBay auction run by Shawn Newton. If you haven't heard of Shawn, he's a pen maker from Arkansas. The Prospector model is probably his best-known work and has a very distinct shape. I treated myself to one a few years ago and love it.
Beyond making pens Shawn also runs a 501 c 3 that funds scholarships for high school students. One way money is raised is via auctioning pens that folks donate to Shawn. This is the second time I bought pens from these auctions and I have sent pens in for donation as well. You never know what you might see offered and the money goes to a worthy cause. I think it's a great way to help move some pens in or out of your collection that offers benefit to others.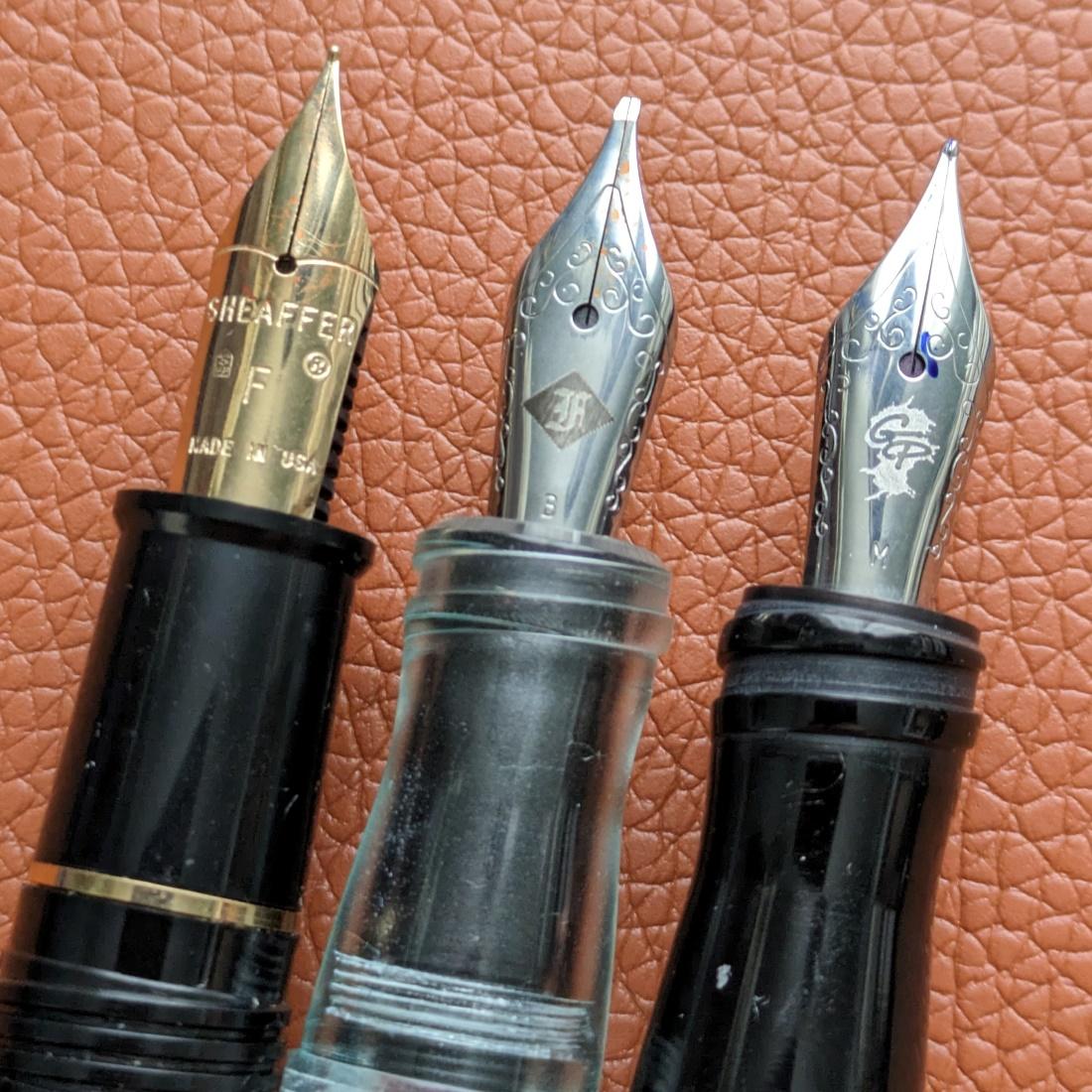 Sheaffer Old Timer, Franklin-Christoph 65, Franklin-Christoph 45
The Sheaffer Old Timer is the pen that really caught my attention when browsing the listings. The Sheaffer No Nonsense is a model I like a lot. It's shaped like classic old flat top pens from a hundred years ago but it's not fancy or expensive. They're simple, affordable, and fun to use. Sections are interchangeable so you can use one nib across multiple bodies in you have them. Sheaffer made the No Nonsense in many colors and variations. The Old Timer is a variation made to look even more like the original flat tops. Black material with a chased pattern and gold trim.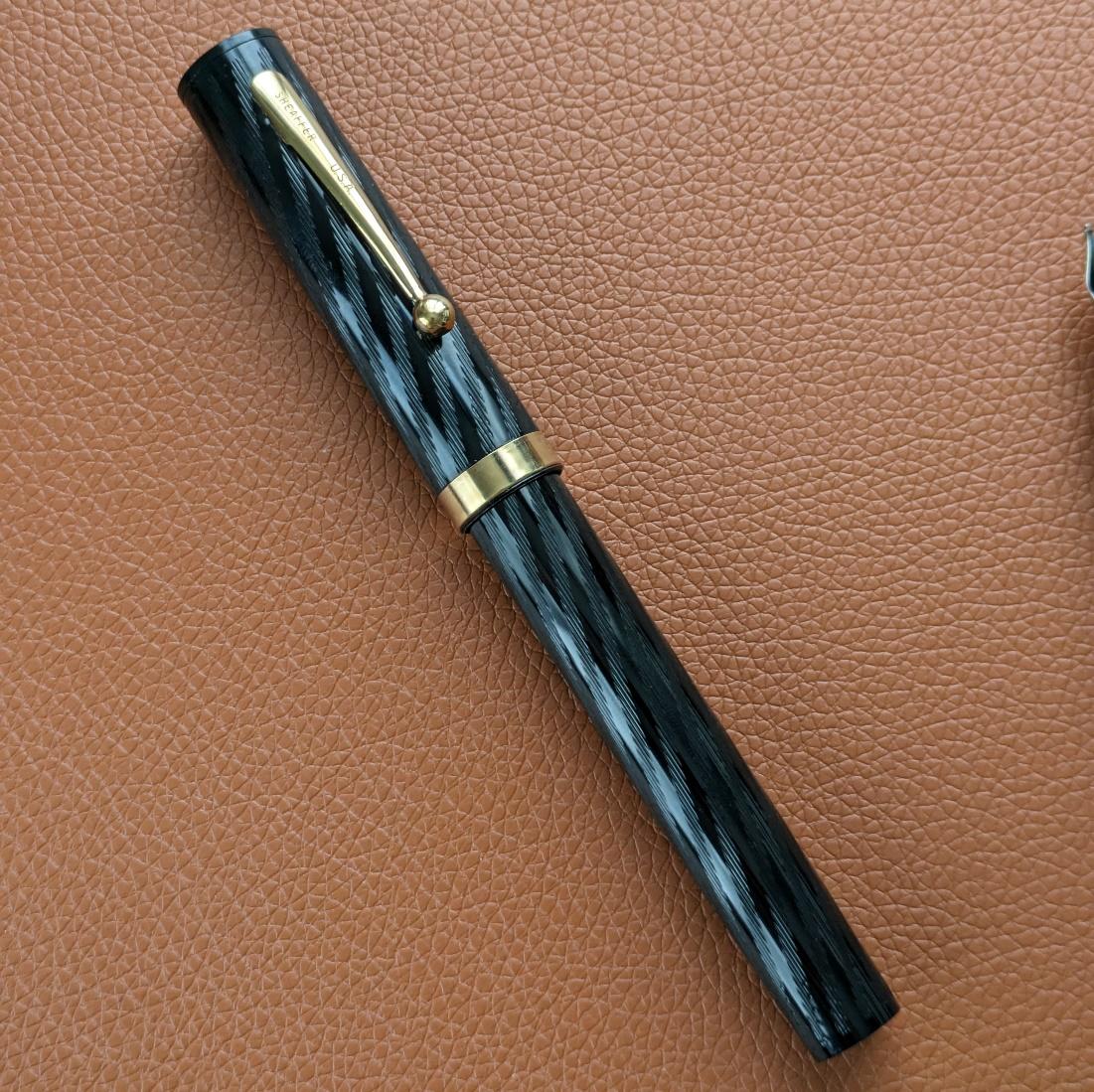 Sheaffer Old Timer. The spiral chasing pattern is referred to as torsade from what I've seen, but I don't know that to be the official designation.
To me, the pen looks so classic it hurts and I like that kind of hurt. The nib is the usual No Nonsense steel version but upgraded with gold plating indicated by a hallmark below the H in Sheaffer. The Old Timer has pieces that fill the space usually found at the ends of the cap and barrel on a regular No Nonsense, so the ends are flat and smooth. The tail end of the barrel is weighted. I don't know if the weight is part of the space filling piece or if it is a separate component. Either way, it provides a nice heft to what is normally a very light pen. The pen came with a Sheaffer squeeze converter. It still takes Sheaffer cartridges but having the converter is a nice option and the squeeze models are not always easy to find.
The Franklin-Christoph 45 and 65 are models I hadn't used before. I own a 20p and like it a lot. I used to have a model 02 that was nice to write with but I ended up not using it that much. The auction pens were sold as bodies only, which was fine since I have assorted Jowo nib units to use. It turns out the 45 and 65 both take Jowo #5. I took a broad SIG from F-C in #5 that was being used in the Esterbrook JR and put that in the 65. The 45 got a unit with a Goulet medium nib.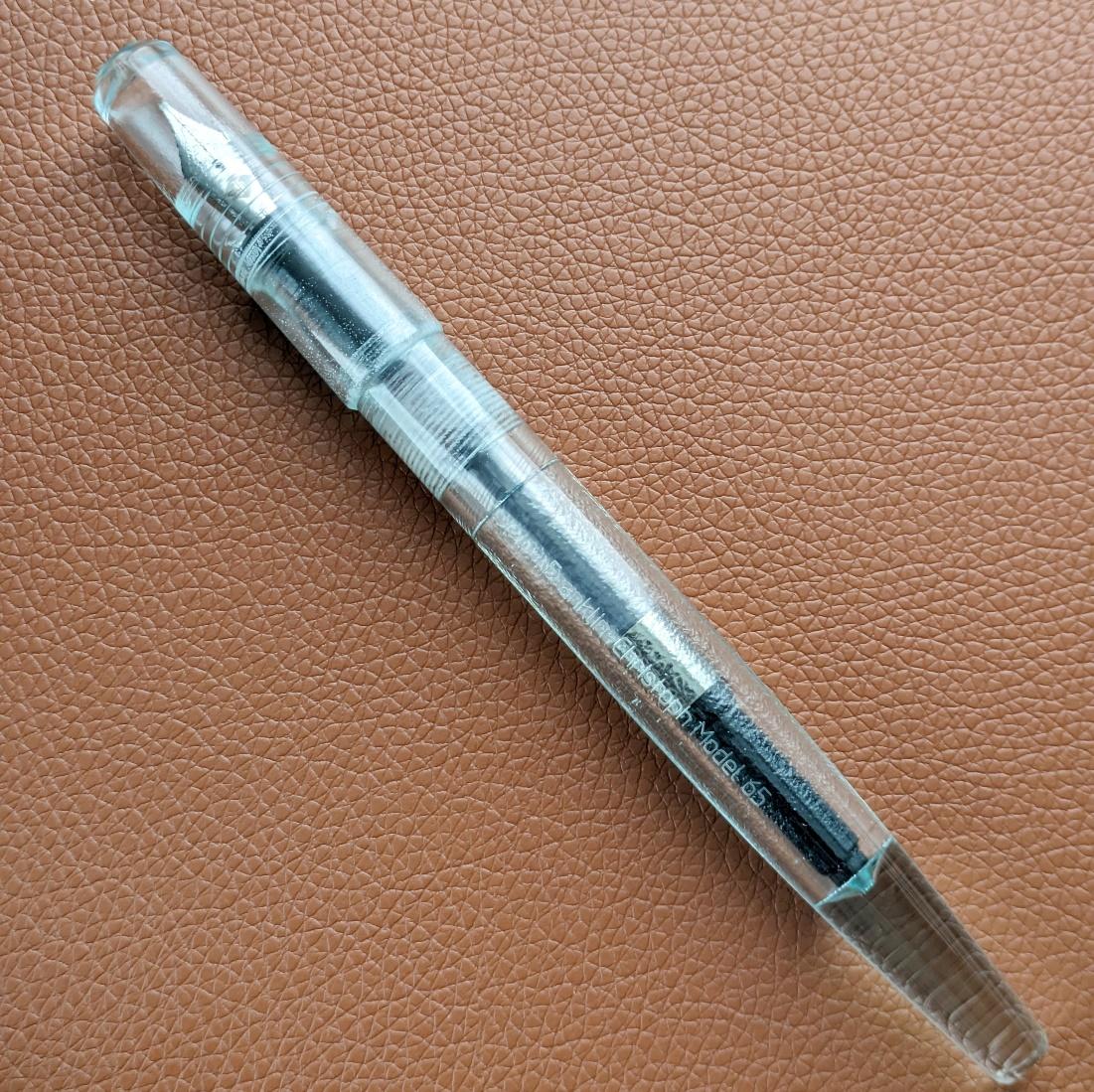 Franklin-Christoph 65
Right off the bat I enjoyed the size and shape of the 65. It is very comfortable to hold and write with. The cap is small so you can post it if needed without altering the balance. The antique glass acrylic looks great. I don't usually eyedropper fill pens that have the capability but I figure I must do it at least once to see what it looks like in the 65.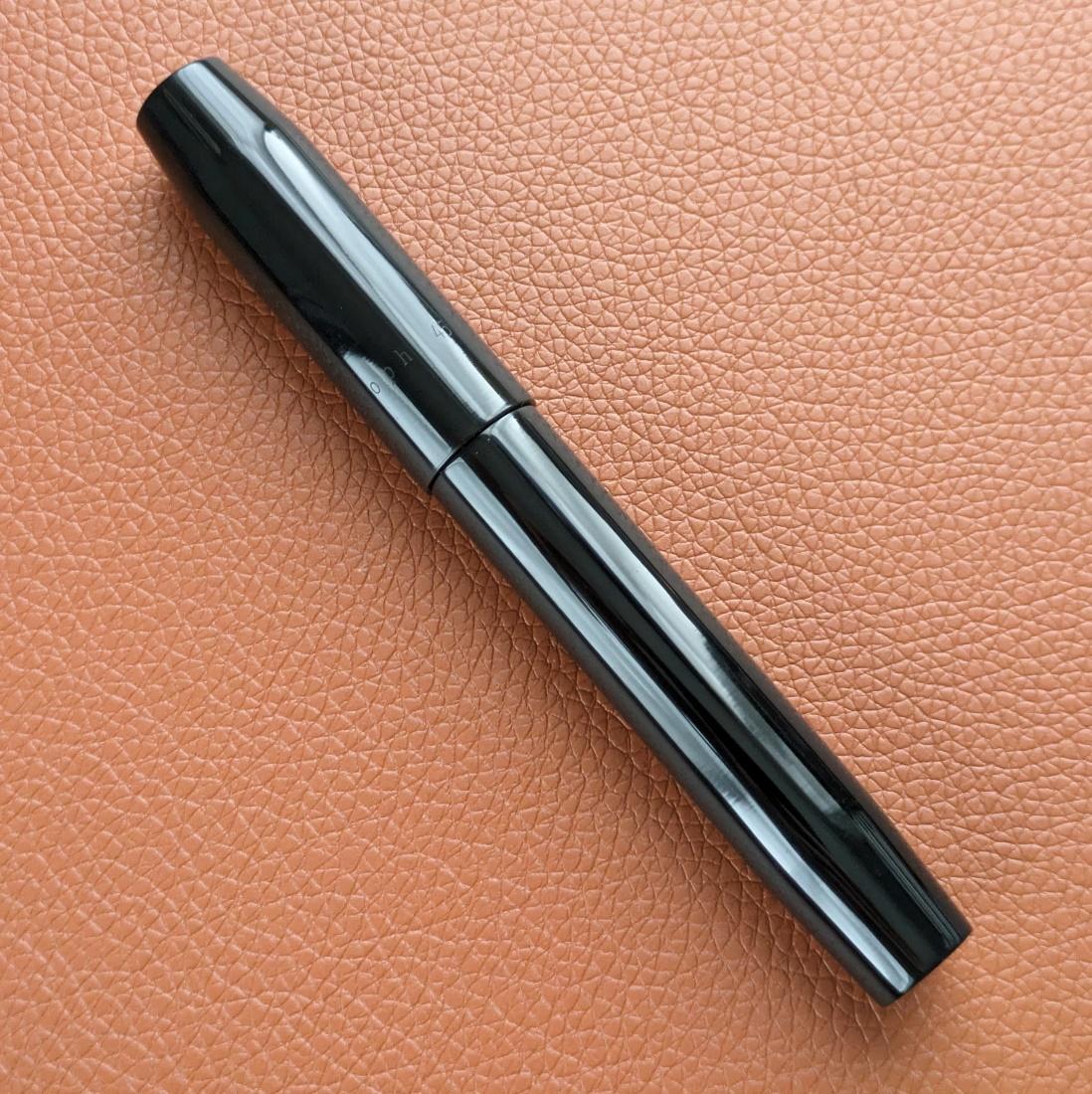 Franklin-Christoph 45
The 45 is plain black and featureless aside from the long shallow bevels at either end. It's shorter than the 65 and better to use with the cap posted. Like the 65 it feels great to hold and write with. Folks that know Franklin-Christoph could spot the design elements but, that aside, it's a pen a that could fly under almost anyone's radar.
The 45 and 65 both lack a clip. Clips are important for pens I want to take to work but I have come around on not letting the lack of one keep me from getting a given pen. I took the 45 to work one day and kept it in my pocket tucked next to my phone so it stayed upright and secure. It's not as quick to retrieve as a pen clipped to my hip pocket but it uncaps quickly and posts securely so I could still use it with minimal fuss.
On a side note, the Esterbrook JR I recently bought to be a Jowo #5 host is now on precarious footing. The F-C pens are both better to write with for my hand because I have found the concave section on the JR to be a bit too small. Can I turn on a pen that quickly? Yes. It's not personal.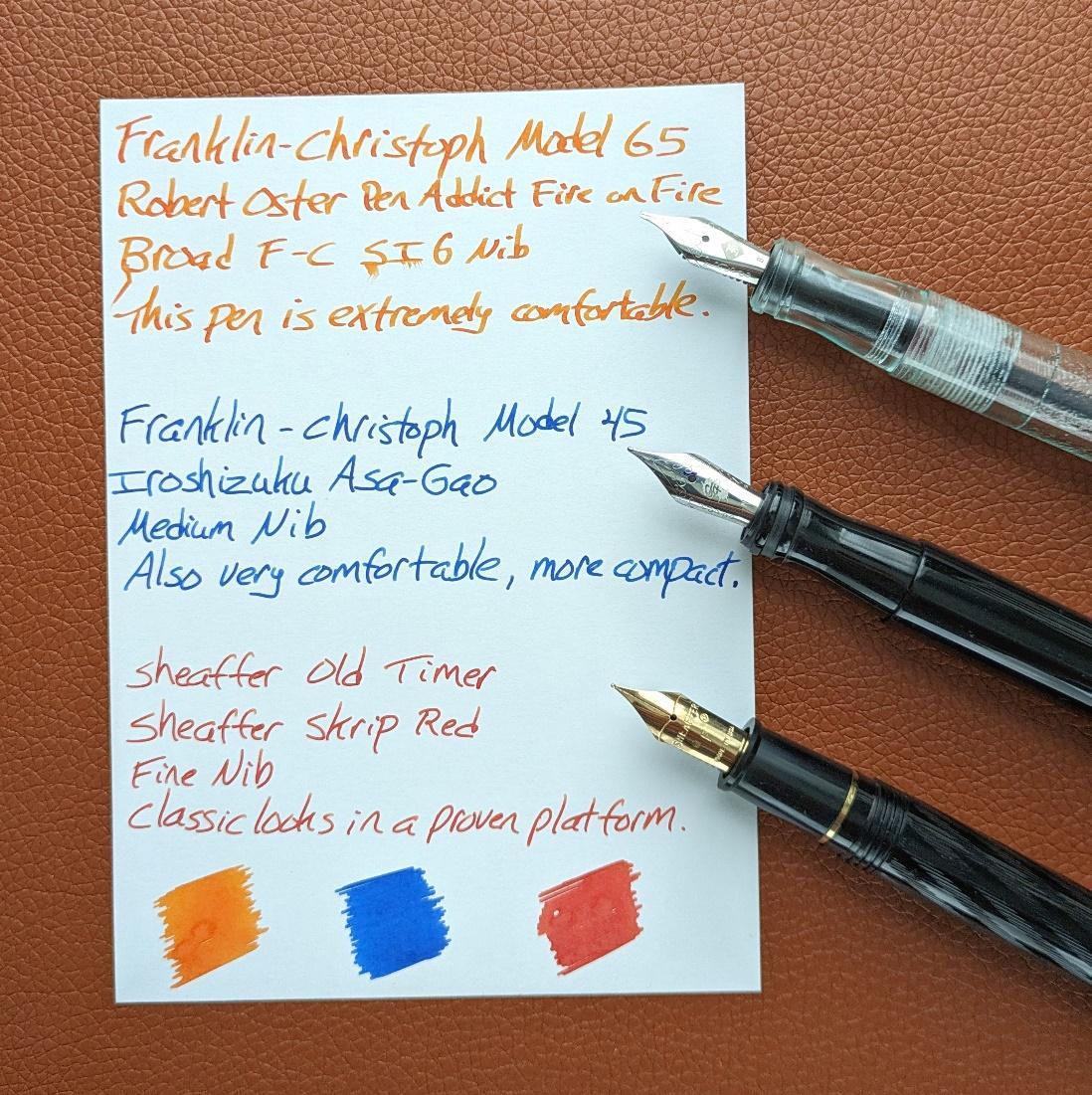 Writing samples
All three pens are welcome additions to the collection. It's interesting, or maybe weird, how their visual appeal varies. The Sheaffer is made to look as old and classic as can be. The 65 is modern and wants to show everything off with its clear material. The 45 might look old or new depending on your viewpoint, but its looks are sparse either way. It almost doesn't want to look like anything at all in this color. The writing appeal is strong for all of them with size and comfort well inside my wheelhouse.
I encourage you to check out Shawn Newton's pens and scholarship auctions. You may well find something you want to add to your pen tray and you can help support sending kids to college in the process.
---
Date
23 June 2023
---
---