Fountain Pen Day 2023: Forward…to the Past
Making or wasting time, new old stuff, and has the picture become clearer?
Inked Right Now
Mabie Todd Cygnet Stylograph with Pelikan 4001 Konigsblau

Sheaffer Craftsman with Callifolio Bosphore

Pilot Prera with Platinum Carbon Black

Sheaffer Valiant Tuckaway with Sheaffer Skrip Red

Parker Vacumatic with Diamine Blue Black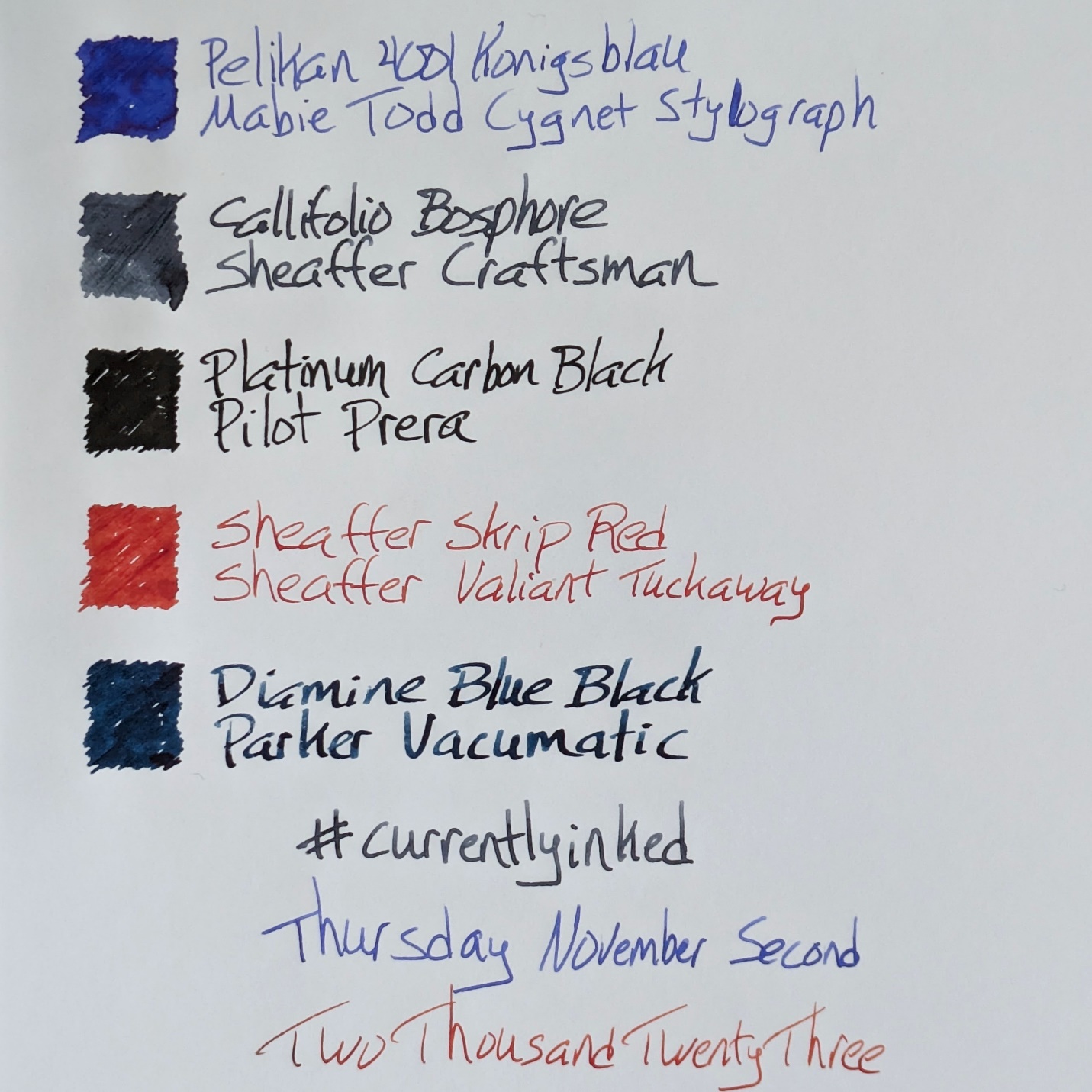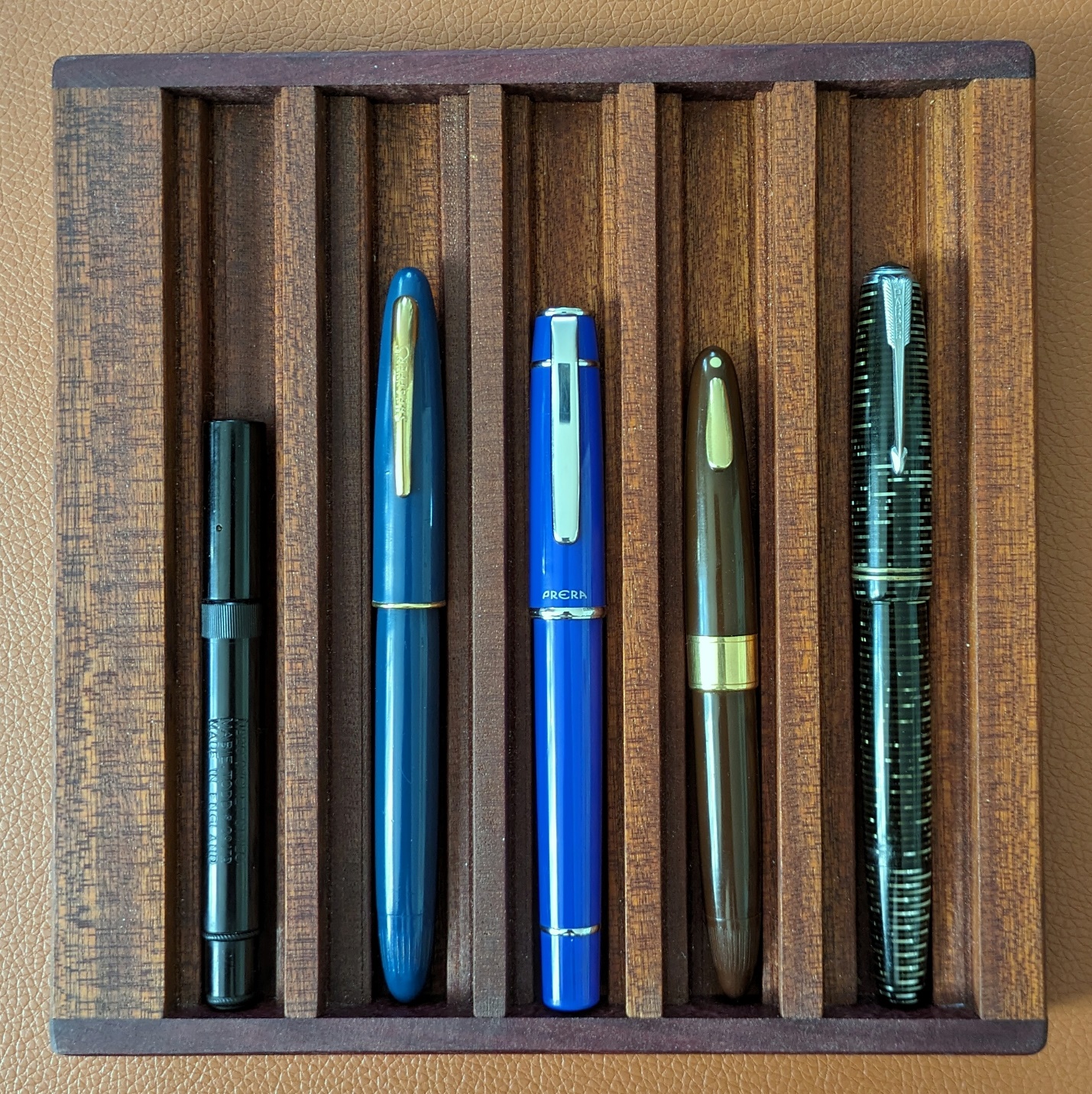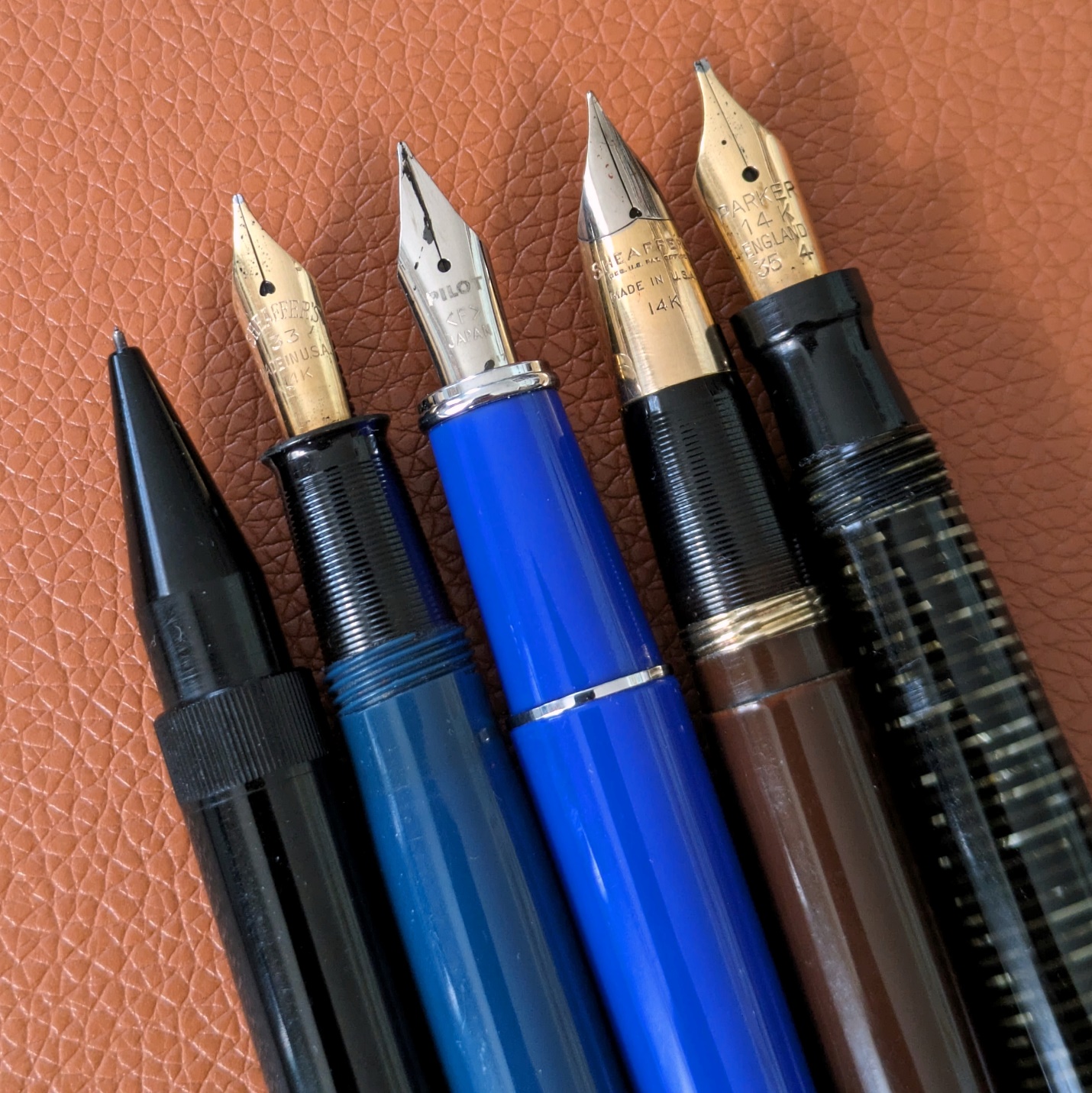 Gone from whenever I last updated here: Scribo La Dotta, Parker Sonnet, Sailor KoP, and Teranishi Guitar.
I've spent less time thinking about pens lately and more time adjusting to a changing work schedule. Still writing with them daily but not making them a priority. I should make more time for them than I have been. The enjoyment they provide would help the overall mood. But when I spend free time without purpose and leave myself with precious few hours to do the things that need doing, I can hardly complain about the things I should have prioritized. That said, what are the reasons for the current lineup?
The Craftsman is a pen I'd been wanting to ink for a while. Having a touchdown filler would, as best I know, mark it as from the early 1950s and a later entry in the range of pens which carried that name from Sheaffer. It has an open #33 nib that writes a wet medium line. When the Scribo ran dry I wanted to use Bosphore in another pen to compare performance and thought the Craftsman could be a good choice. Surprisingly, Bosphore is not exhibiting any dry behavior in the Craftsman. There are no hard starts or flow concerns. This is different from when I used Anahuac and Gris de Payne in the Decimo.
Platinum Carbon Black came in a cartridge alongside the Platinum Desk Pen I bought a few months ago. I wanted to try the ink but not in a pen where I couldn't fully disassemble the nib and feed for cleaning. I know Carbon Black doesn't have a reputation for troublesome maintenance but better safe than sorry on a first-time use. The Prera had a fine italic nib already installed so after some syringe work to pull from one cartridge and fill another it was ready to write and see what Carbon Black would do. I like the ink's performance, particularly the short dry time. It presents a shinier look on some papers but ultimately lands as a solid black. I tried the pen at work for a few days and it did well. The fine italic nib can be slightly toothy at some angles but it's smooth and quick 90% of the time. It makes me think I should keep the Prera or a Metropolitan set up with this nib and some variety of black ink on a consistent basis.
The Vacumatic was another pen that needed some run. Diamine Blue Black is my go-to ink for it and looks amazing flowing from the broad italic nib.
You will notice those are three small-ish pens. What did I get to go with them? Something smaller still.
New & Exciting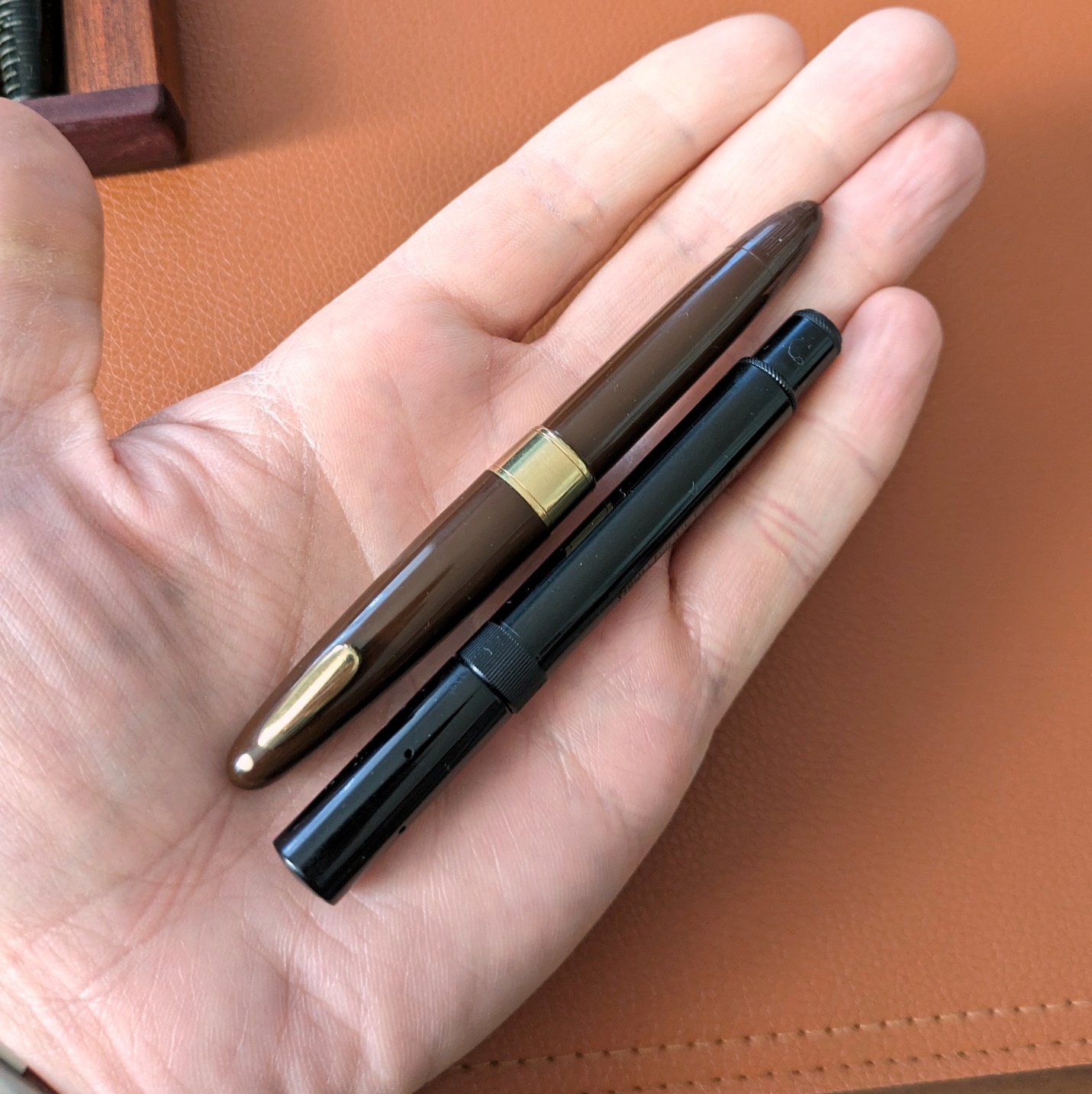 Sheaffer Valiant Tuckaway & Mabie Todd Cygnet
It's an established pattern now that I will see a certain kind of pen and become fixated on it for a while. I read up on them, see where they may be bought, put one in a shopping cart for a while, decide not to buy it, and move on to something else. So it was with Sheaffer's conical Triumph nibs. The first time I ever saw one I thought it was odd and sort of unsightly. But when I dug in to them, I learned how important a part of Sheaffer's history they had been and that they were widely considered to be great writers.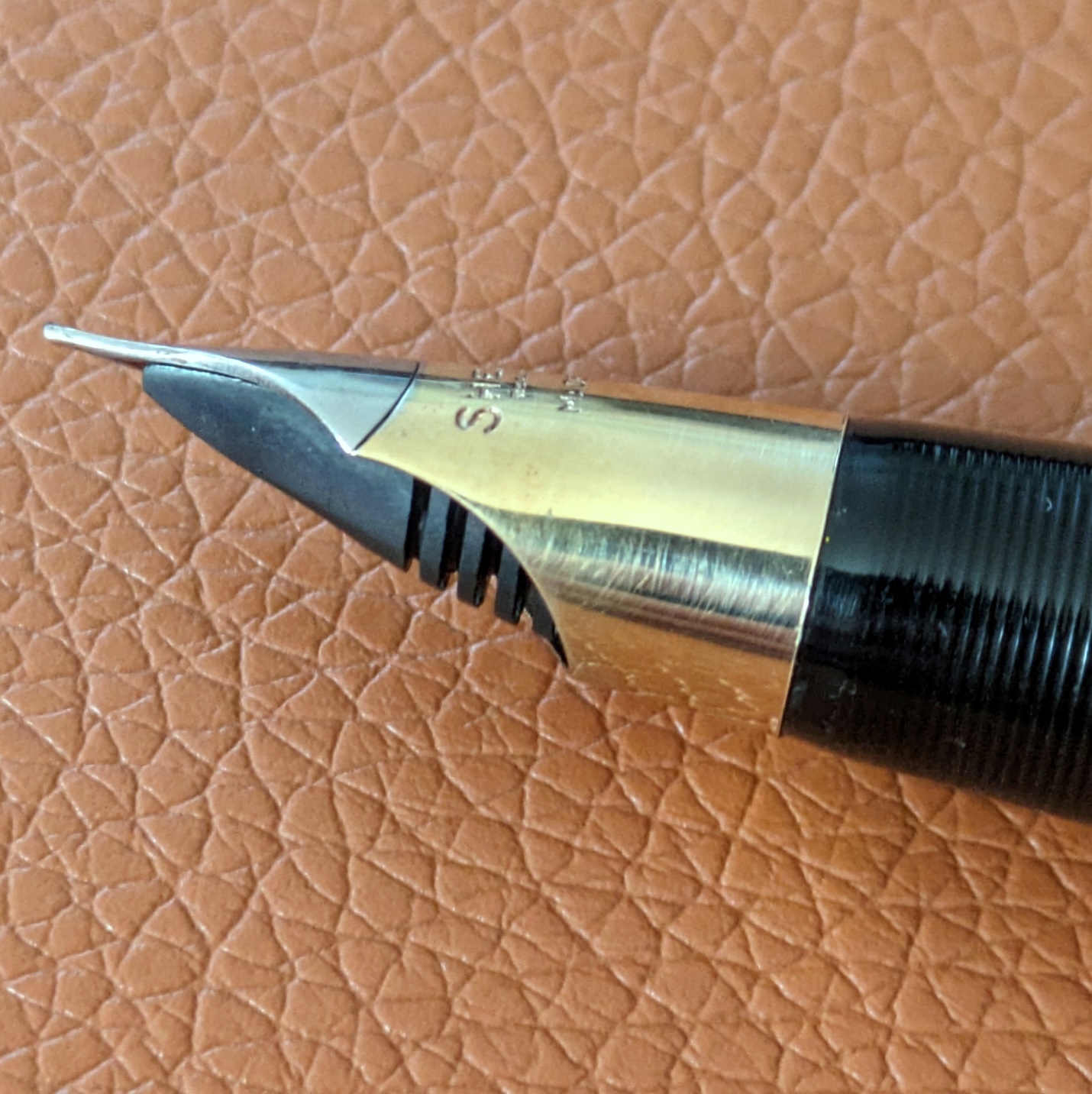 I think this view gives a good sense of the Triumph nib's complex shape.
With that information in hand, I kept a running mental note to keep an eye out for a chance to get one. With frequent browsing of the stock at Peyton Street Pens and David Nishimura's vintagepens.com I tried to home in on which model featuring a Triumph nib I might like.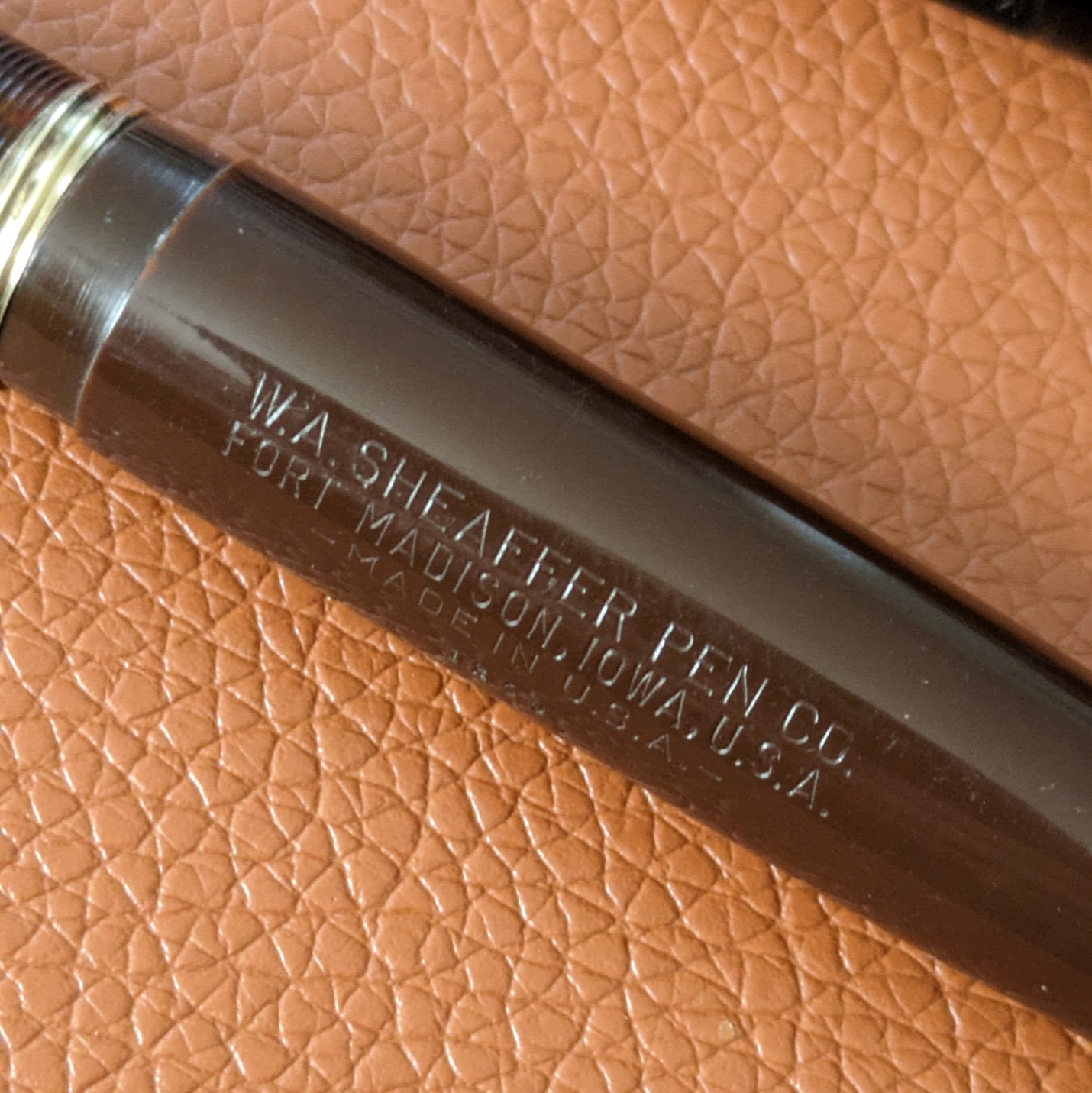 Sheaffer Tuckaway barrel engraving
Sheaffer's Tuckaway pens are small, meant to tuck away unobtrusively in a vest pocket or handbag. When closed, this pen is a bit longer than a Kaweco Sport. Some Tuckaway models had clips, others didn't. The clip on this one is tiny. It may fit over the lip of a thin shirt pocket or a few sheets of paper. I wouldn't dare try it on anything more than that. Even if the capability as a clip may be limited it can act as a roll stop and a place to get a little extra purchase when gripping the cap to remove or replace. The filling system also caught my eye. I would probably have guessed a pen this size to be a lever or button filler but it's a vacuum filler.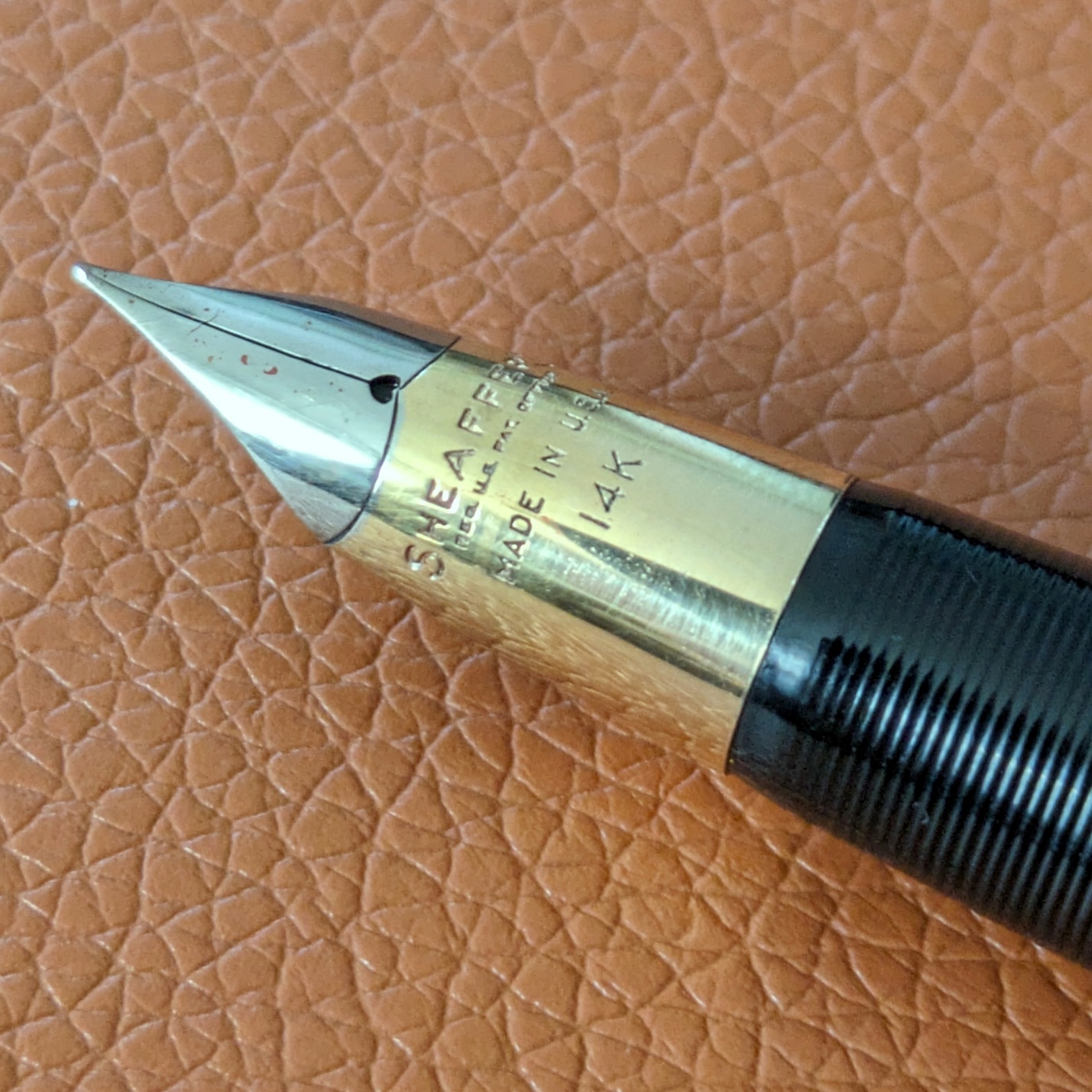 And what of the writing performance? It is as I had expected based on my reading –firm and smooth. The nib gives slightly more feedback at lower angles. The line is a controlled fine with moderate flow. I might have preferred a medium but that width doesn't seem to appear too much on these pens. The pen is too short to use unposted for more than a few words. The posting is okay but even with the wide cap band offering support I'm careful not to push too hard. Remember that it is the better part of 80 years old.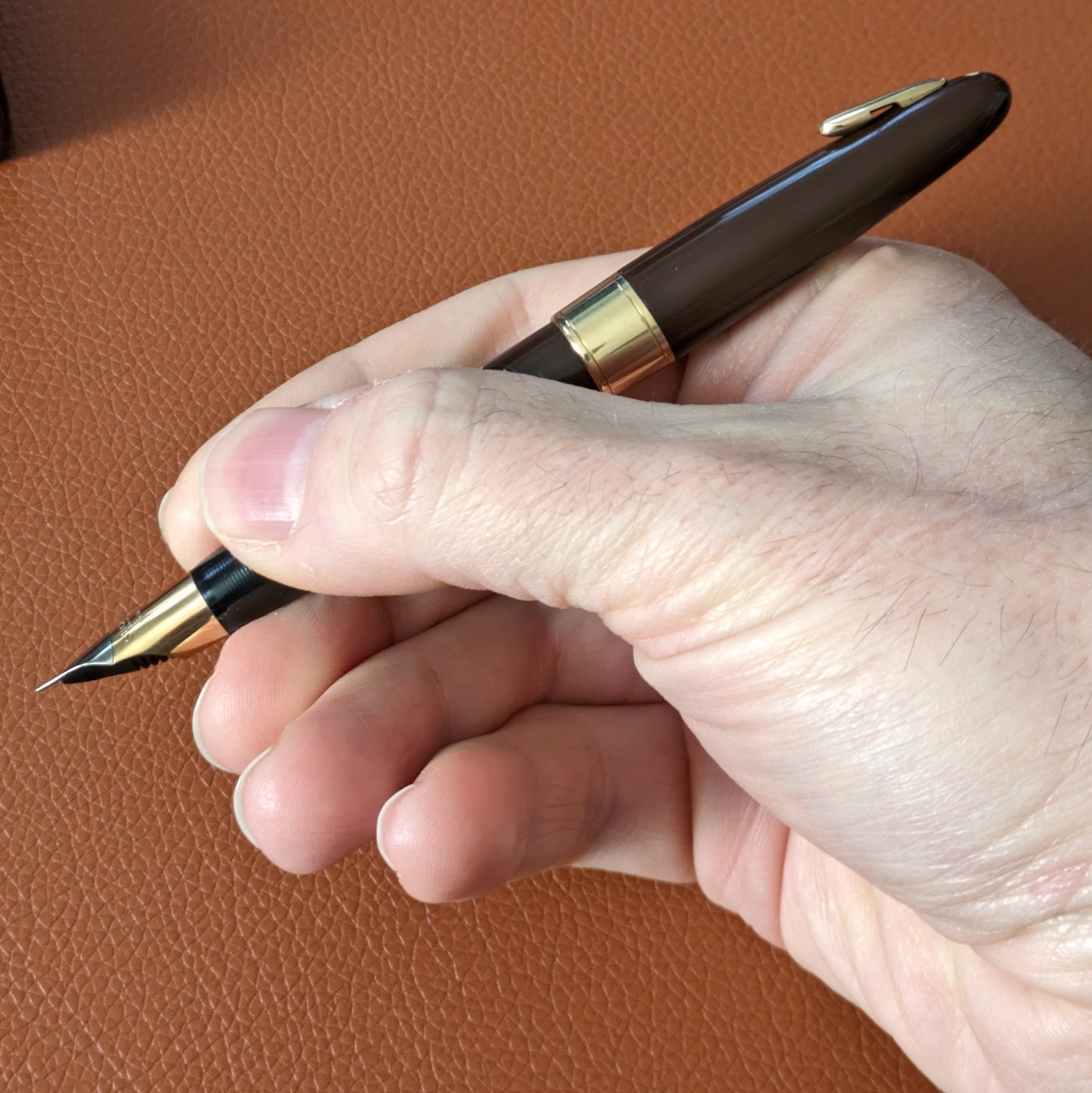 Sheaffer Valiant Tuckaway in hand.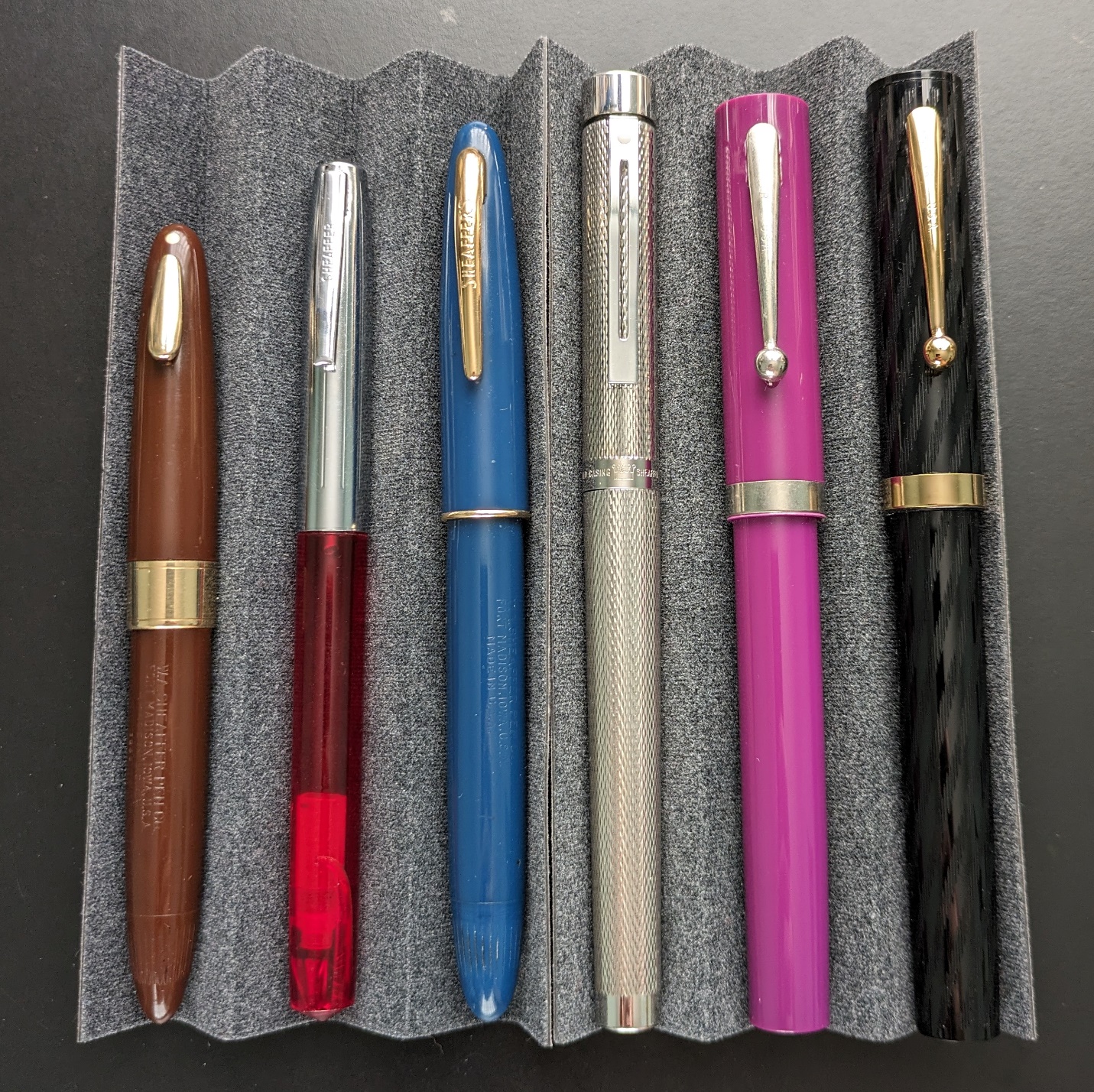 The Tuckaway (left) alongside my other Sheaffers - School Pen, Craftsman, Targa, No Nonsense, and Old Timer.
Now that you've seen the Tuckaway are you ready for something older, smaller, and with a completely different writing system? Of course you are, brave reader.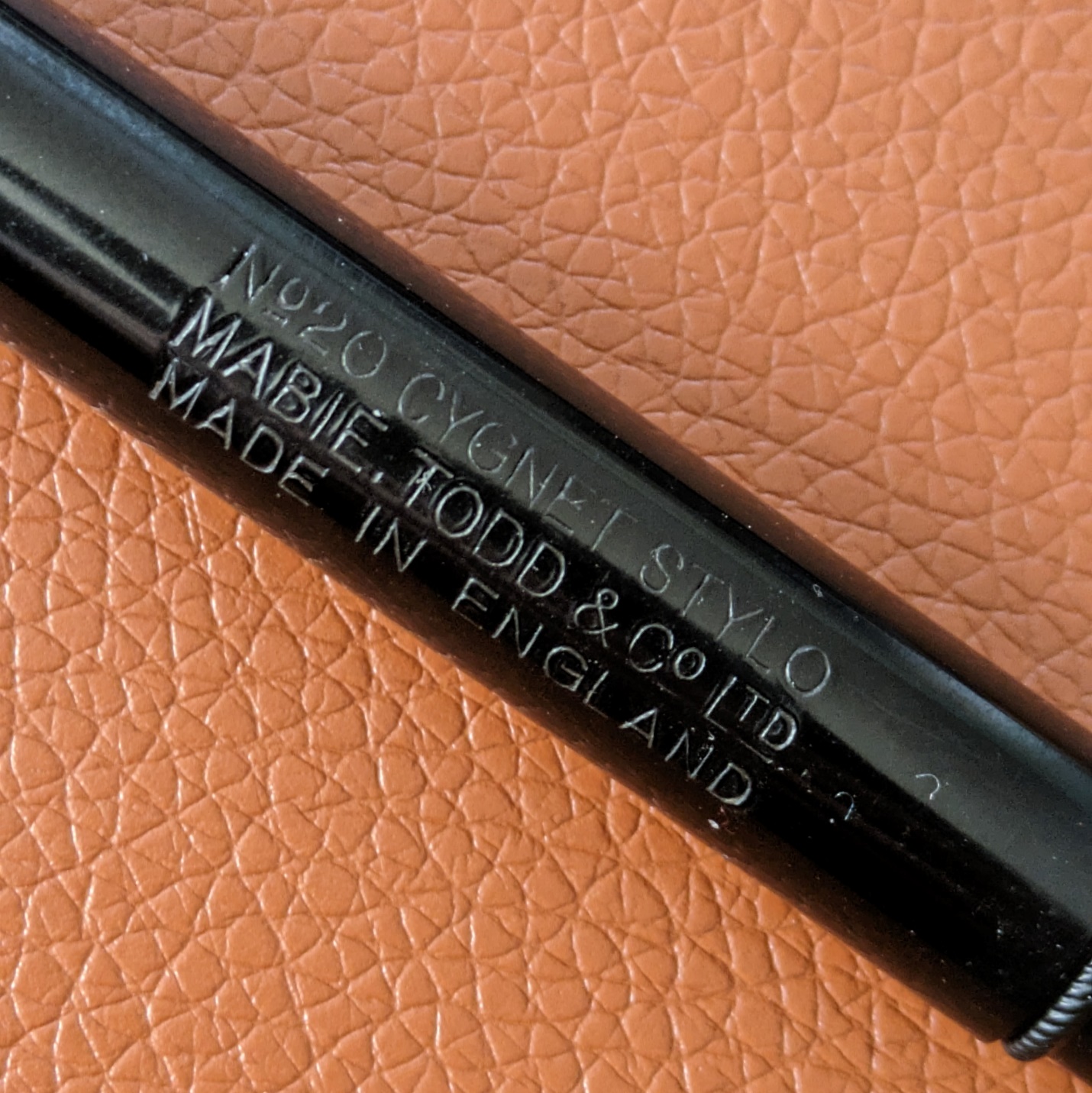 After deciding on the Tuckaway I clicked around on other listings at vintagepens.com and found something interesting. This is a Mabie Todd Cygnet Stylograph. Eyedropper filled, made of hard rubber.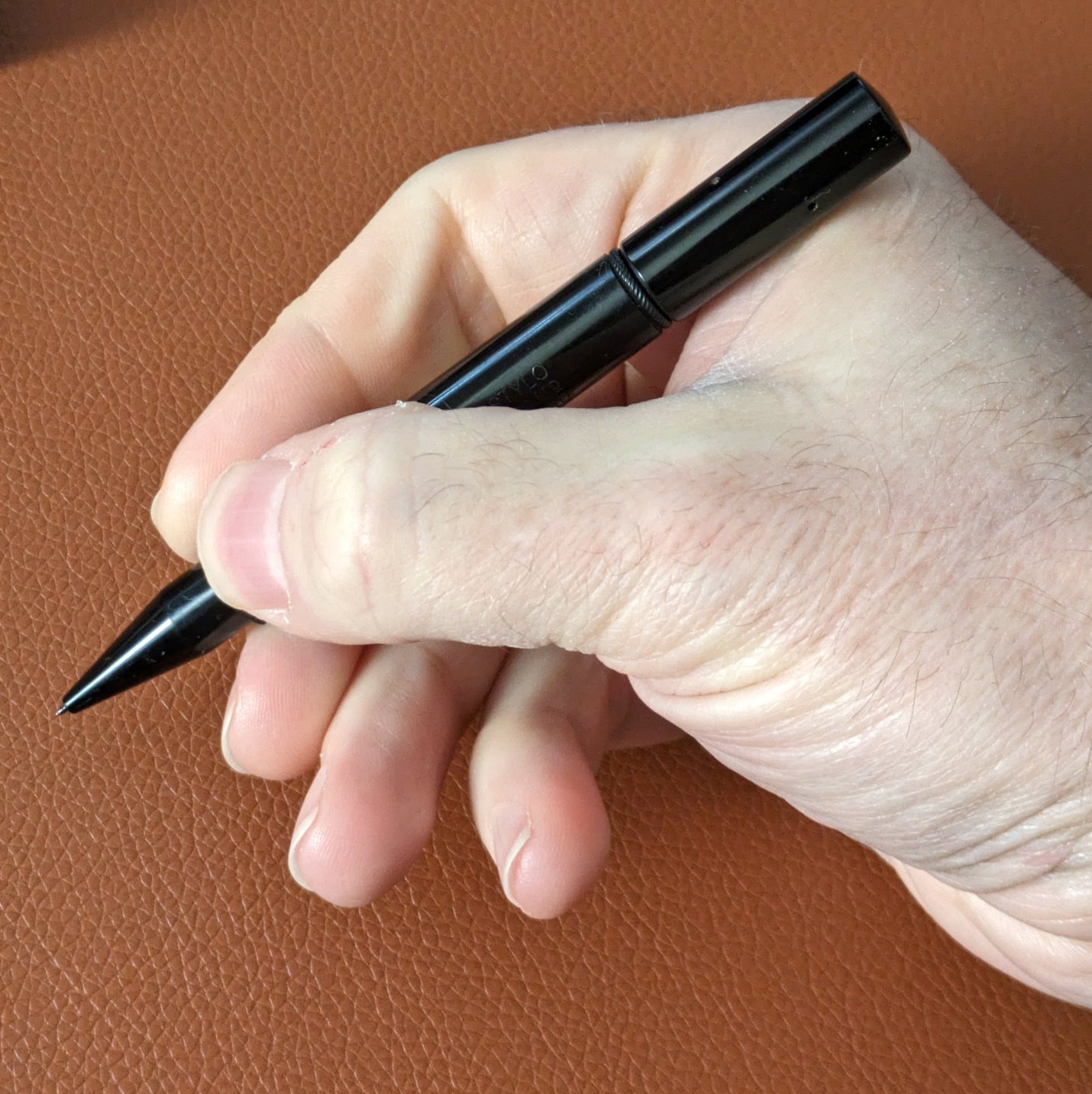 Mabie Todd Cygnet Stylograph in hand.
What is a stylograph? David Nishimura explains it well here.
Stylographic pens, often referred to as "stylos", have a writing tip consisting of a metal tube with a fine wire inside to regulate ink flow.  Modern drafting pens are of similar construction, but have tips that are square-cut (for even line width) rather than rounded (for smoother writing). 
The picture above barely shows anything coming out of the tip of the pen. Let's get in closer.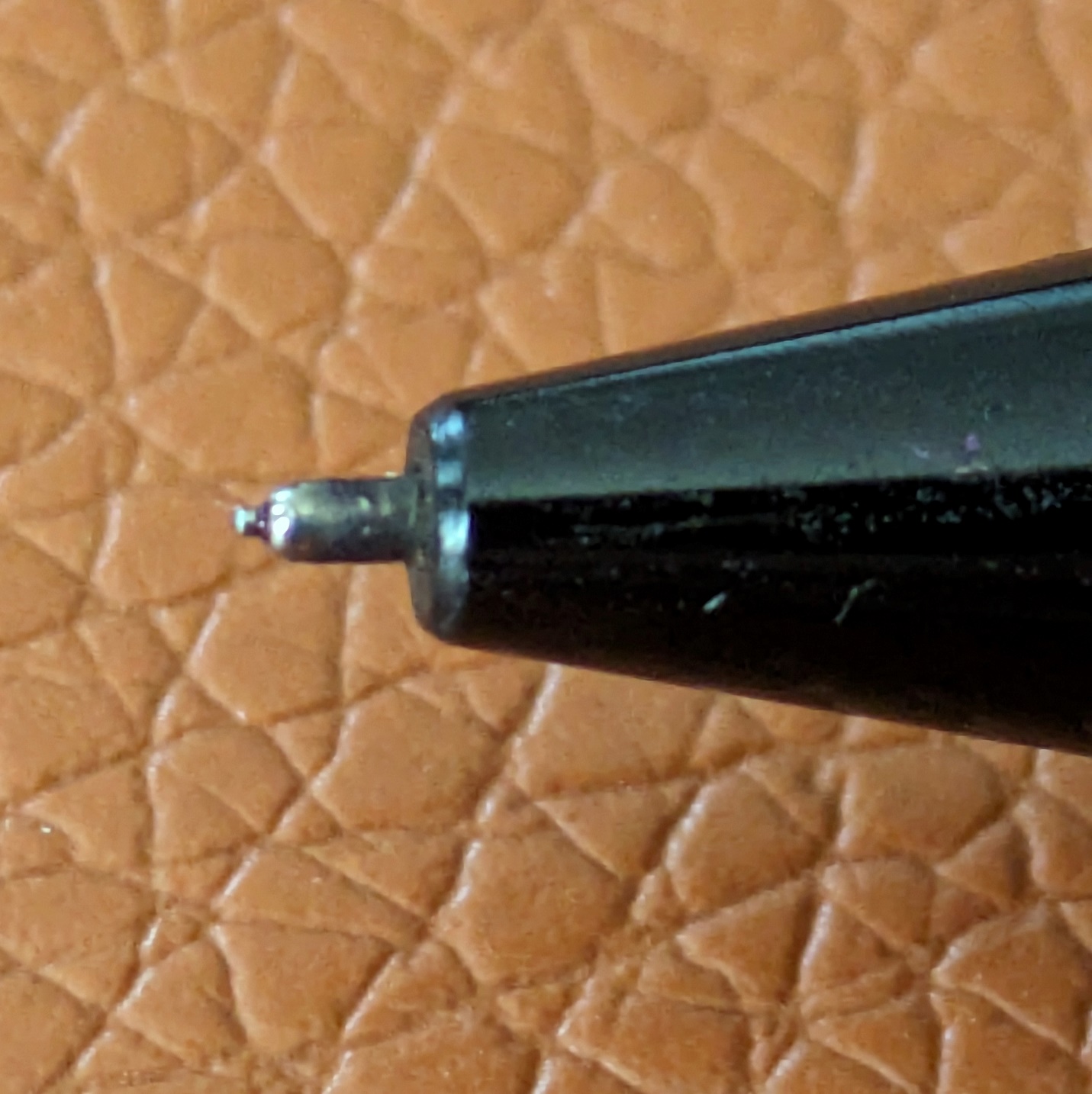 The tiny needle protruding from the end of the tube on the Cygnet.
That little point at the left is the tip of a wire sitting inside of a slightly larger metal tube, which is mounted in the nose cone. It's like a piece of lead protruding past the end of the sleeve on a mechanical pencil. The wire is coiled further down inside to provide some spring tension (I didn't think to take a picture before filling the pen) and when you press on paper the wire recedes a bit, pushing back into the tube and letting ink flow out to the page along the tip.
David described the pen as NOS and that they wrote easily, but despite his expertise I still wondered if it would perform that way out of the box. I can tell you it did and then some. The volume of ink flow is more than I expected. This pen can put out quite a wet line for such a small point of contact. It requires almost no pressure to write and gives a smooth feel on the page. More than 90 years after its creation, the Cygnet works like it was born yesterday. There's a wonderful quality in that.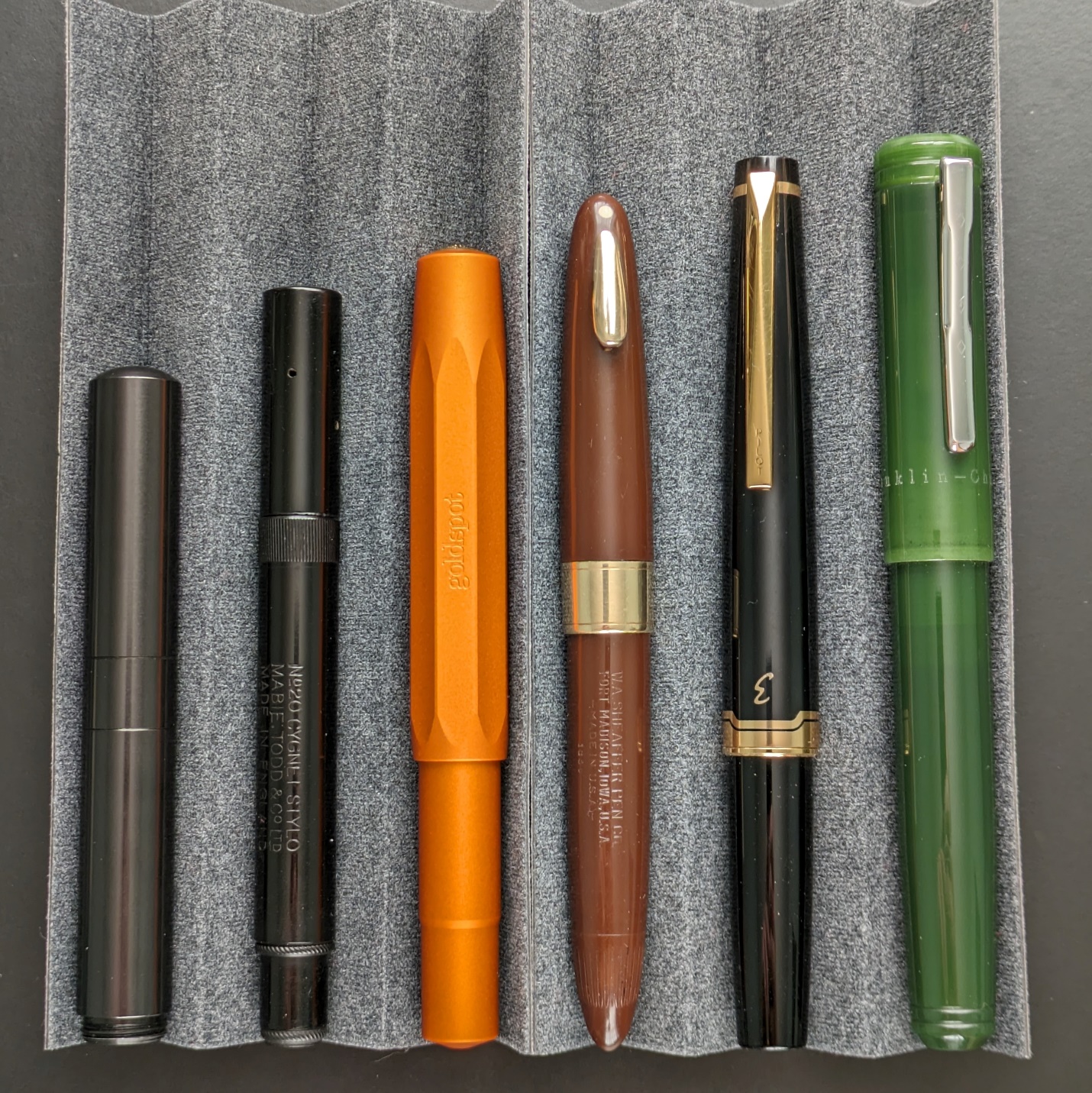 From left: Schon DSGN Pocket 6, Mabie Todd Cygnet, Kaweco Al-Sport, Sheaffer Valiant Tuckaway, Pilot E95S, Franklin-Christoph 20p
Here you can see the Cygnet and Tuckaway relative to other small pens. The others are all modern cartridge converter models. Putting them together prompted me to ask why the older pens belonged in my collection. They are less convenient to fill and maintain than the modern pens. Aside from the aforementioned interest in certain design elements, what broader appeal do the old pens hold?
Thinking About
I tend to like older things. Movies, books, architecture, and cars to name some areas of more prominent interest. Why? I don't know that there's a ready answer. I think it is somehow rooted in the idea of something that once was done/made but no longer is. Yes, the Tuckaway and other pens like it still exist for us to own and use, but no one is making pocket size vacuum filling fountain pens with conical nibs in the present day (although maybe Ian Schon can get with Ben Walsh and cook something up).
I own 80+ pens right now. 20 or so are what I'd call old or vintage. Despite being a smaller part of total collection, those old pens feel like they hold disproportionate value compared to the rest. Why? Partly because you wouldn't be able to replace them as easily. There is something in their design that stands out regardless of age. Beyond that, they are tools that have survived to continue doing the job they were made to do. Some part of me feels a need to hold on to those things and let them continue living.
Should I focus less on new pens and more on old models? Could I get more appreciation from prolonging the life of a 1930s Sheaffer Balance or Parker Duofold than a modern pen that may be equally as nice?
---
Date
4 November 2023
---
---