This is All of It
Whether driven by the approaching year's end, changing personal sentiments, reading the Pen Addict Top 100, or a desire just to catalog for its own sake, here is every fountain pen in my possession right now. We'll start with the two biggest pieces of the pie.
Pilot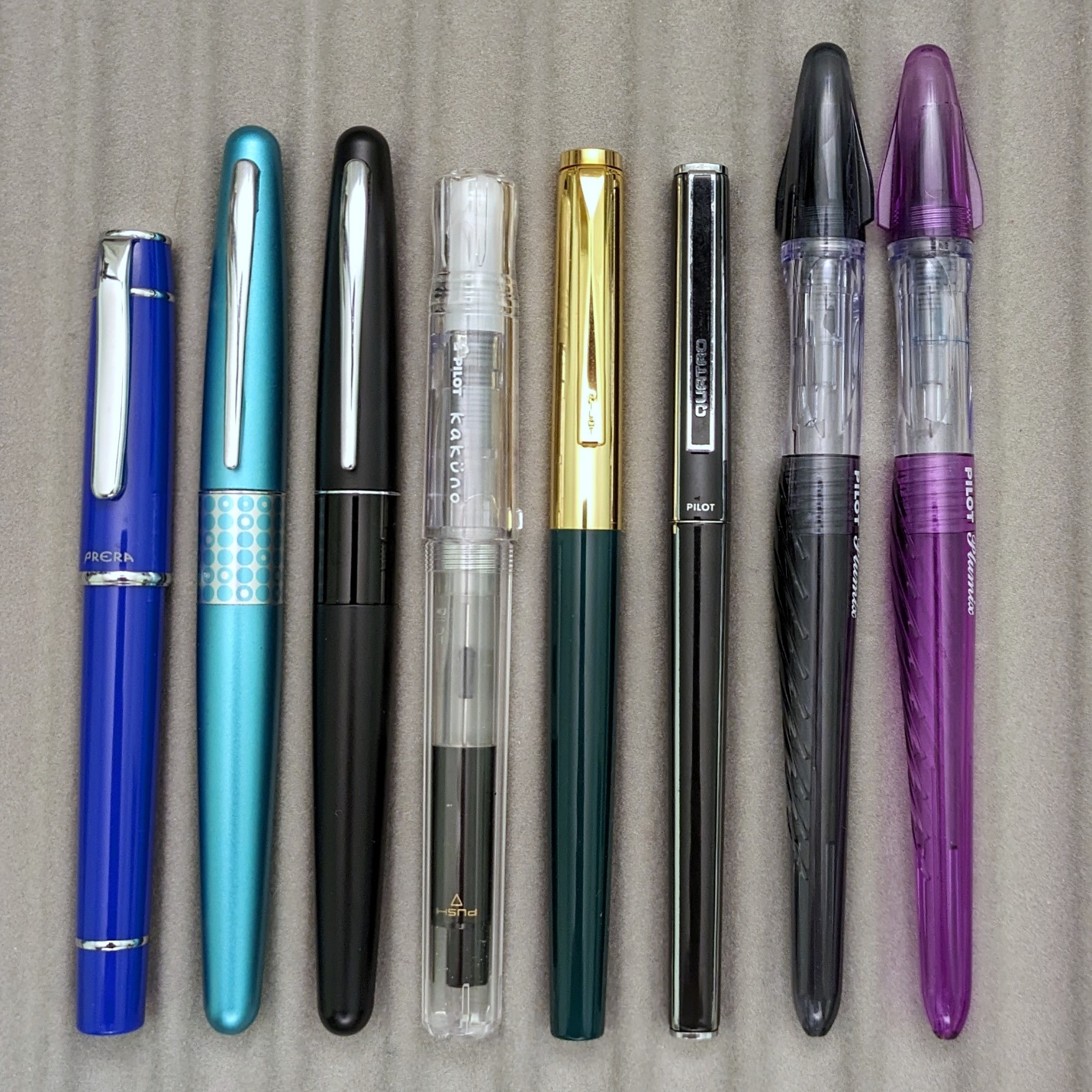 1) Prera
2-3) Metropolitan
4) Kakuno
5) Tank
6) Quatro
7-8) Plumix
I think of these as the cheap and cheerful bunch from Pilot. Great everyday users for not much money. The Metropolitan is an all-time great pen.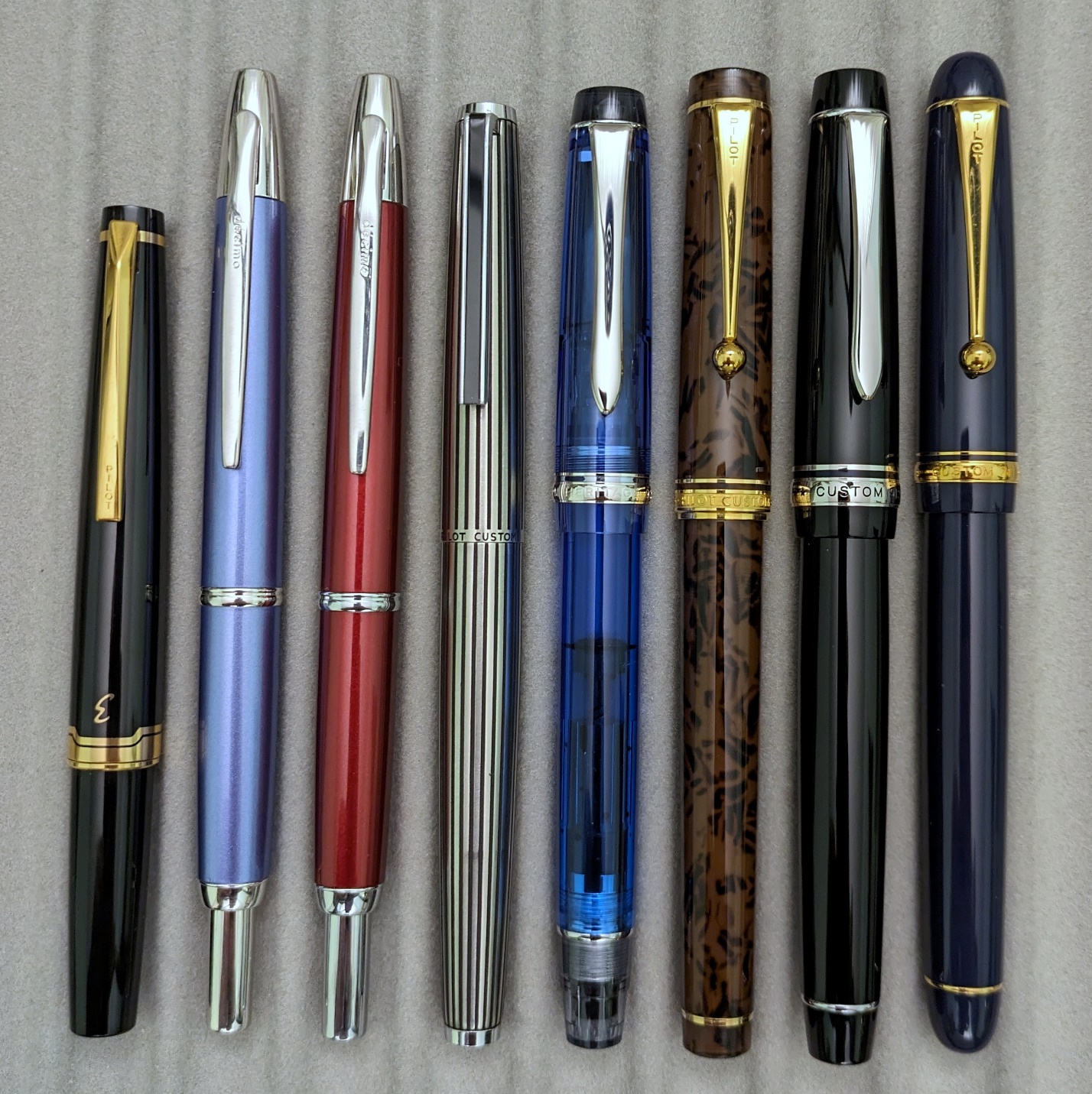 9) E95S
10-11) Decimo
12) Custom K500-SS
13) Custom Heritage 92
14) Custom (don't know of any more specific model/trim name)
15) Custom 912
16) Custom 74
Every bit as reliable as the pens in the first group but with some upgraded writing experiences. The Decimos are true workhorses and my most used pens overall.
Parker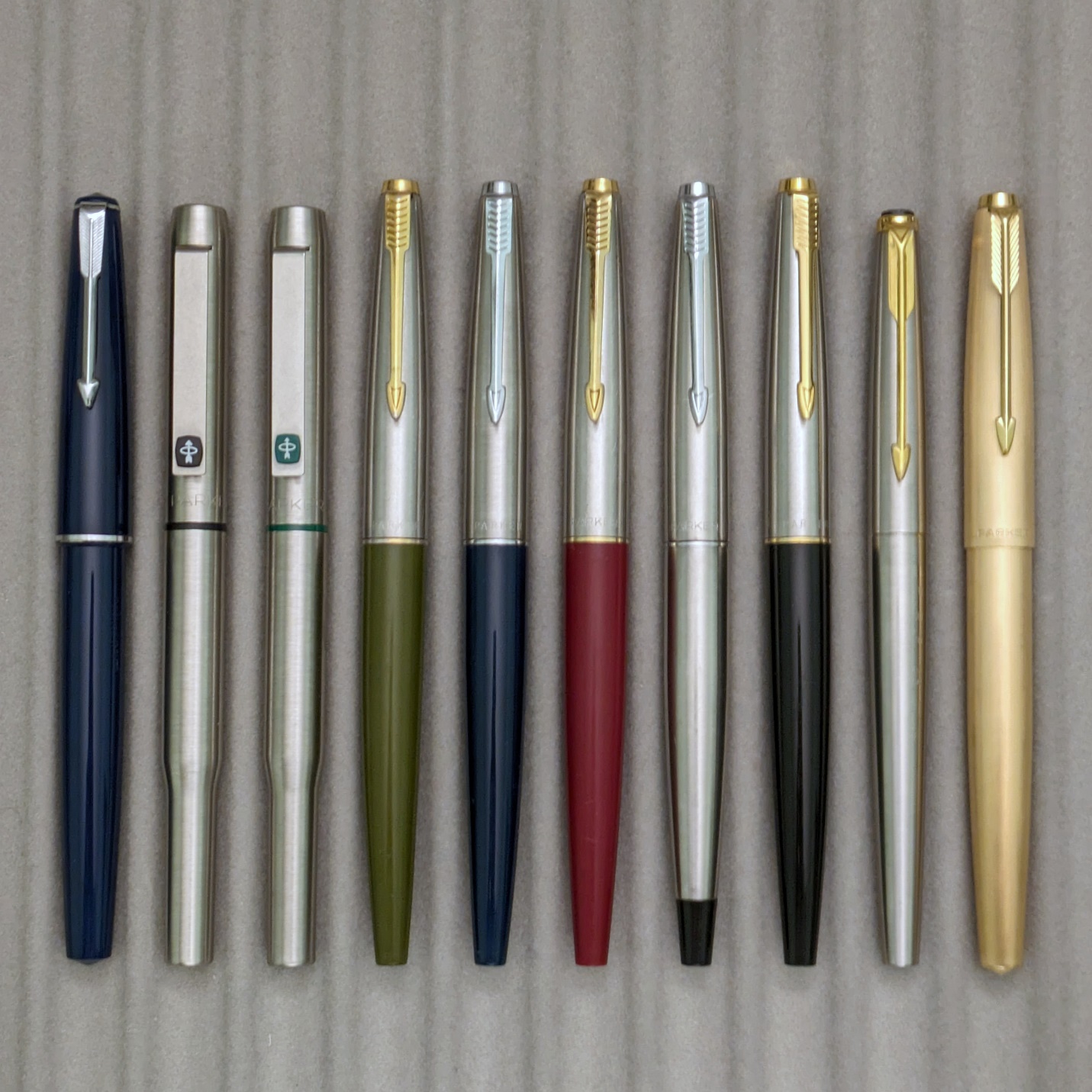 17) 17 (I swear that was unintentional)
18-19) 25
20-24) 45
25) 50 Falcon
26) 61
Five 45s? Yes. You can see their significance to me here.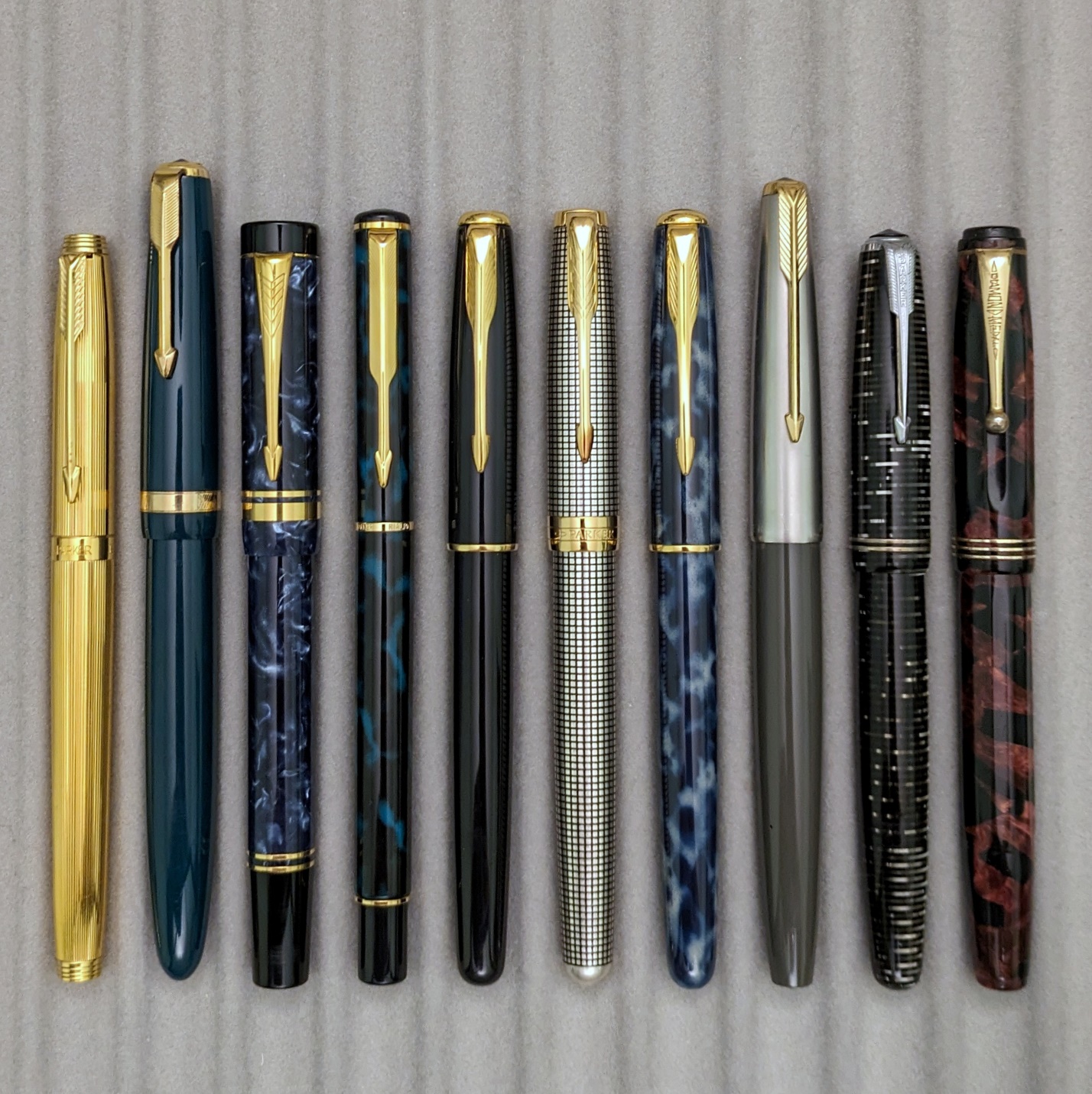 27) 75
28) Duofold Maxima
29) Duofold International
30) Rialto
31-33) Sonnet
34) VP
35) Vacumatic Junior
36) Diamond Medal (not a Parker by name, but they made this pen)
Some more outstanding writers here. Vacumatics are the best looking pens anyone has ever made in my opinion.
Yeah, that's my wheelhouse with three dozen pens between Pilot and Parker. I love Pilot's utter reliability. I love the expanse of Parker's history. I love that you can take pens made 50+ years ago from either brand and fill them with a cartridge you buy today. I could live solely with pens from Pilot and Parker and be entirely content.
Classic American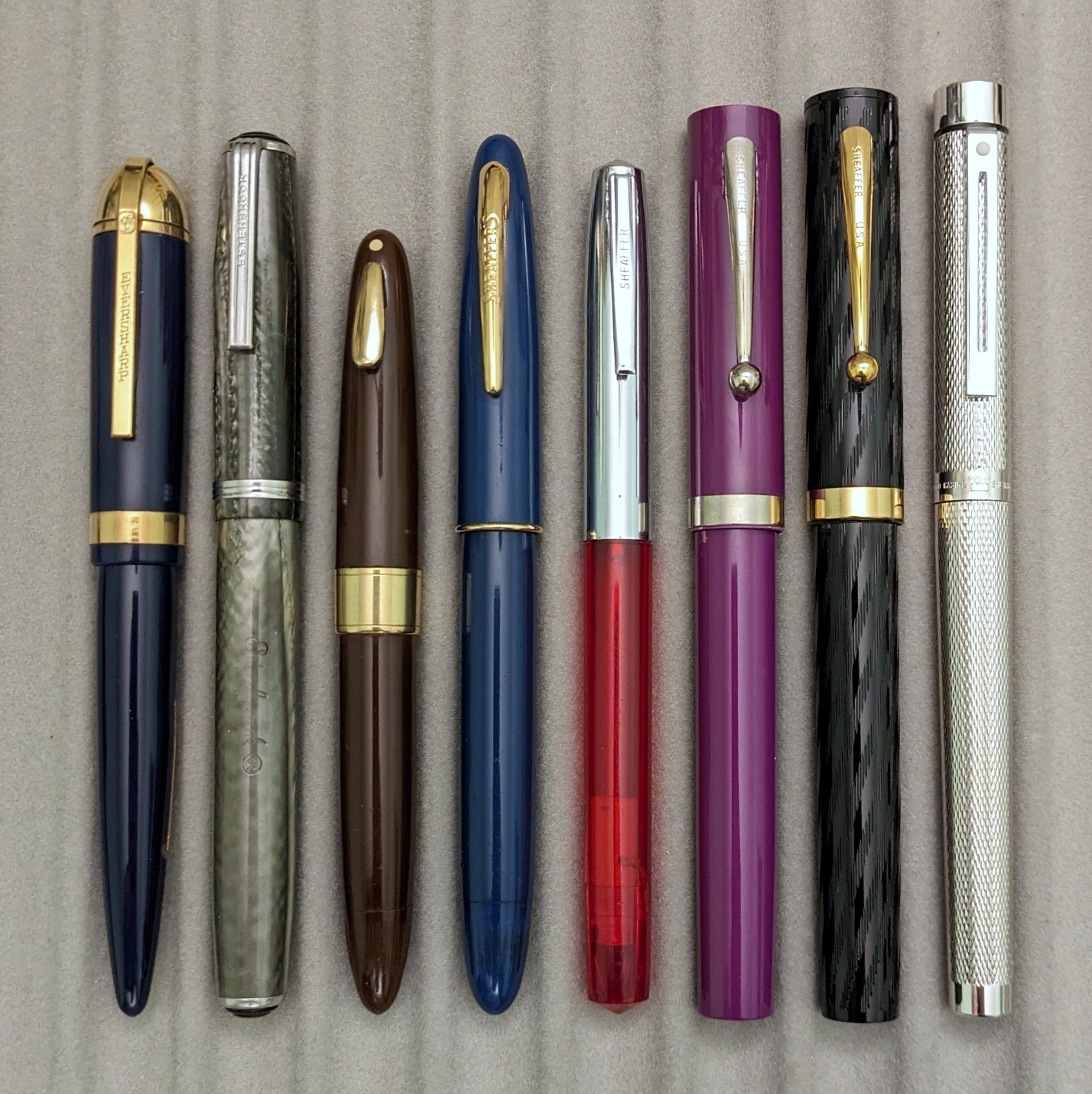 37) Wahl Eversharp Skyline
38) Esterbrook J
39) Sheaffer Valiant Tuckaway
40) Sheaffer Craftsman
41) Sheaffer School Pen
42) Sheaffer No Nonsense
43) Sheaffer Old Timer
44) Sheaffer Targa
Sheaffer is a brand that has drawn more of my interest in the past few years. I think an old White Dot Balance with a Lifetime nib is still somewhere in my future. Maybe a Snorkel of some kind. The Skyline and J are great writers and classic designs that I would recommend everyone try at some point.
Ciao Italia, Merhaba Türkiye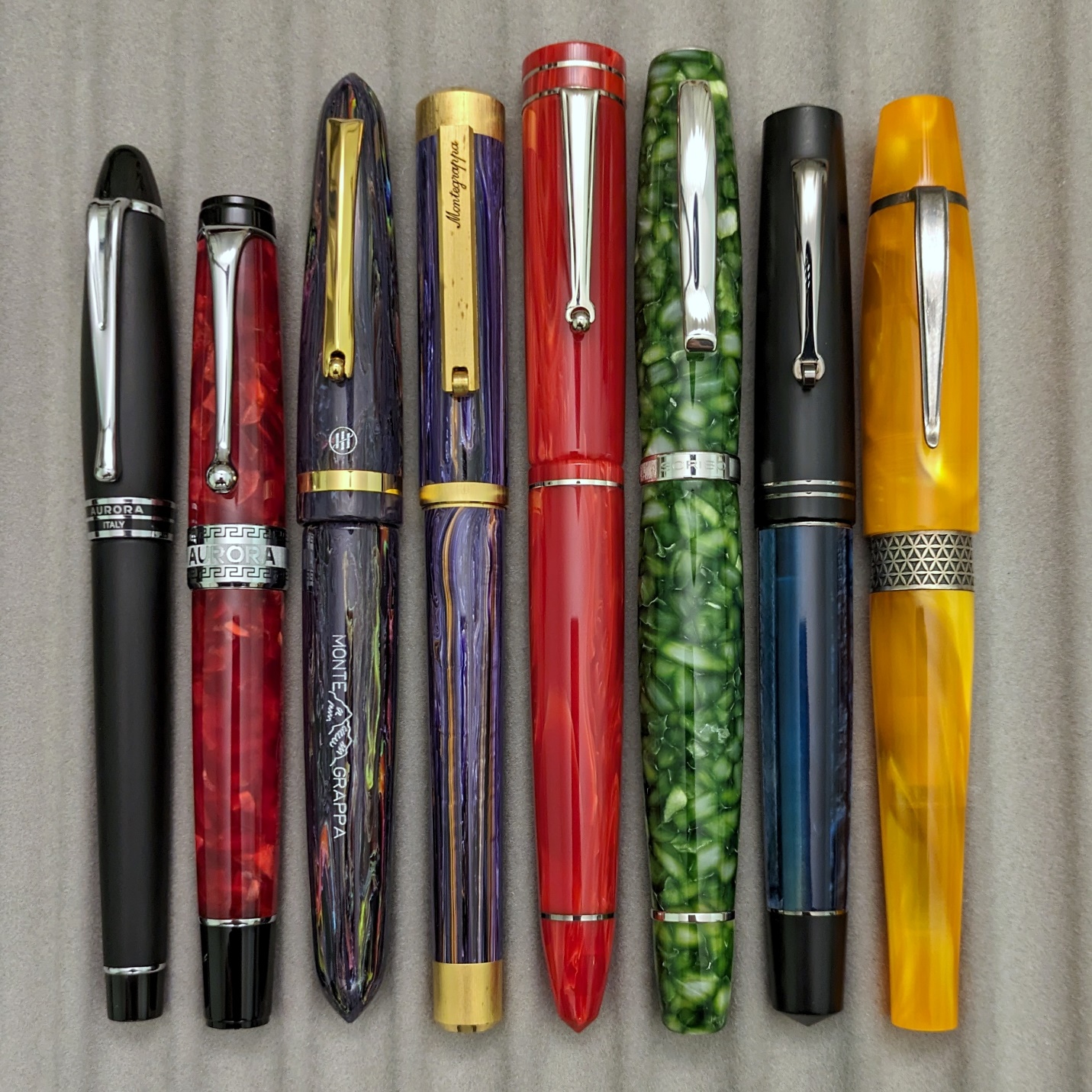 45) Aurora Ipsilon
46) Aurora Optima
47) Montegrappa Venetia
48) Montegrappa Zero
49) Delta Write Balance
50) Scribo La Dotta
51) Leonardo Momento Zero
52) Kilk Orient
A colorful bunch. I must send the Optima for some nib tuning. It's a great pen that I have let languish due to a relatively minor issue. I should pick one of the Montegrappas to keep and let the other one go. The Delta deserves a nib upgrade. Scribo and Leonardo are perfect as they sit. Will Visconti ever find its way back here? The right Homo Sapiens at the right price could make a case.
Modern American
53) Schon DSGN Pocket 6
54) Franklin-Christoph 20p
55) Franklin-Christoph 45
56) Franklin-Christoph 65
57) Spoke Design Icon
58) Karas Fountain K
59) Edison Brockton
60) Newton Prospector
All pens from modern independent American makers. The interchangeability of nibs, whether it be Jowo or Bock, adds a lot of value for me. More clipless pens here than the other groups. Those aren't my normal preference but with F-C and Schon there isn't always a choice in that regard. I will say if Ian ever makes a full-size clipped fountain pen with a push-to-post cap I am all over it. The Prospector is something apart from the rest of my pens with unique design and artisanship.
Sailor and Platinum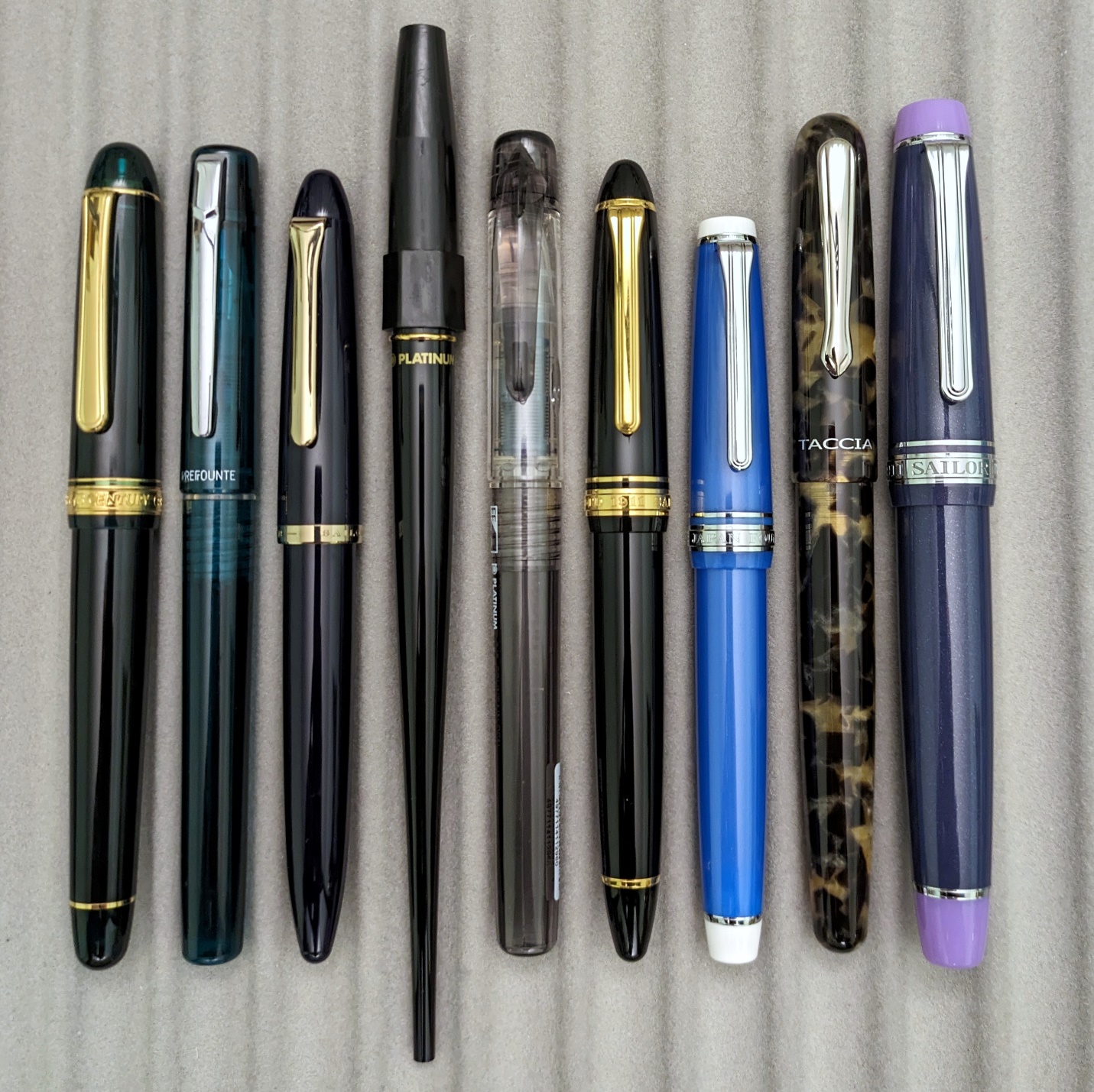 61) Platinum 3776
62) Platinum Prefounte
63) Sailor Fude de Mannen
64) Platinum Desk Pen
65) Platinum Preppy
66) Sailor 1911S
67) Sailor Pro Gear Slim
68) Taccia Spectrum (Sailor-made nib)
69) Sailor Pro Gear King of Pen
Wide variety of writers in this group. Big nibs like the 3776 coarse and music nibs on the Pro Gear Slim and Taccia. Finer, more precise nibs on the Desk Pen, 1911S, Preppy and Prefounte. The Fude can do both, or something in between. It might be the most line variation bang for your buck you can get in a factory-made pen. The KoP is an absolute top of the line writer. The 1911S is a candidate to move on.
Füllfederhalter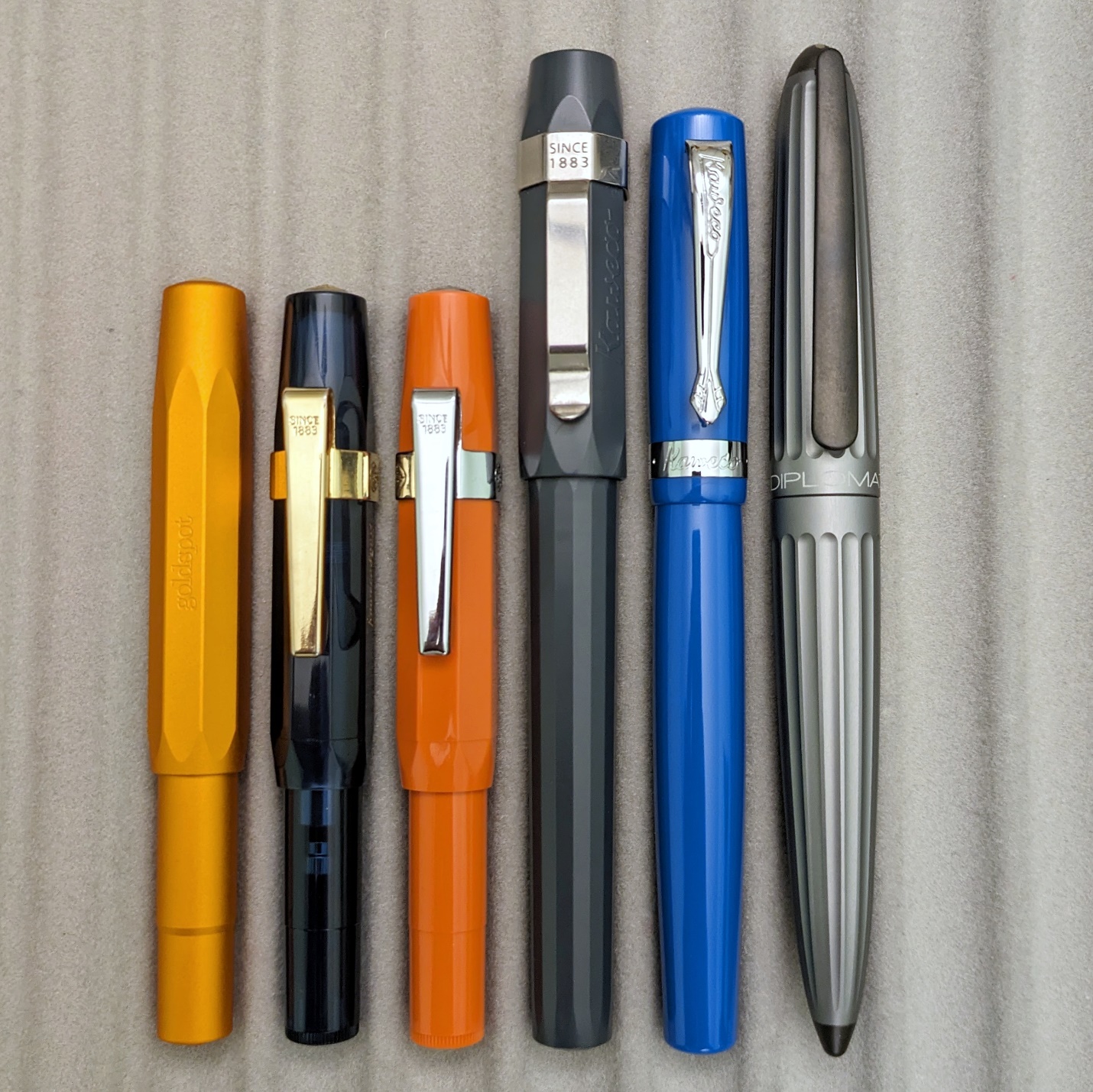 70) Kaweco Al-Sport
71-72) Kaweco Sport
73) Kaweco Perkeo
74) Kaweco Student
75) Diplomat Aero
The Sport is a pen that will always be in my collection one way or another. I've gone through maybe seven of them in total and these are what I have now. Among them, the red plastic is probably redundant. I like the Student a lot but its grip is more slippery than I'd like. The Aero is a great writer and the capping action is as satisfying as you've heard.
Zweiter Teil
76) Lamy Safari
77) Lamy Vista
78) Lamy Studio
79) Lamy 2000
80) Montblanc 144R
81) Graf von Faber-Castell Guilloche
The Vista is a special pen for me. I've tried other Safari colors but nothing else has the same appeal as the demonstrator in this model. The matte violet version is cool but I don't think I need to keep it any longer. The 2000 needs no explanation. I like the 144R because it's cartridge/converter and a great writer. The Guilloche is just a few months old but I love its combination of style and performance.
Odd Couple
82) Teranishi Guitar
83) Mabie Todd Cygnet Stylograph
Two newcomers that didn't fit neatly in other groupings. The Guitar is a very nice pen for the money, whoever might make it. The Cygnet is a different kind of fountain pen. I wouldn't have figured it to write as well as it does, but it works a treat.
Bags Packed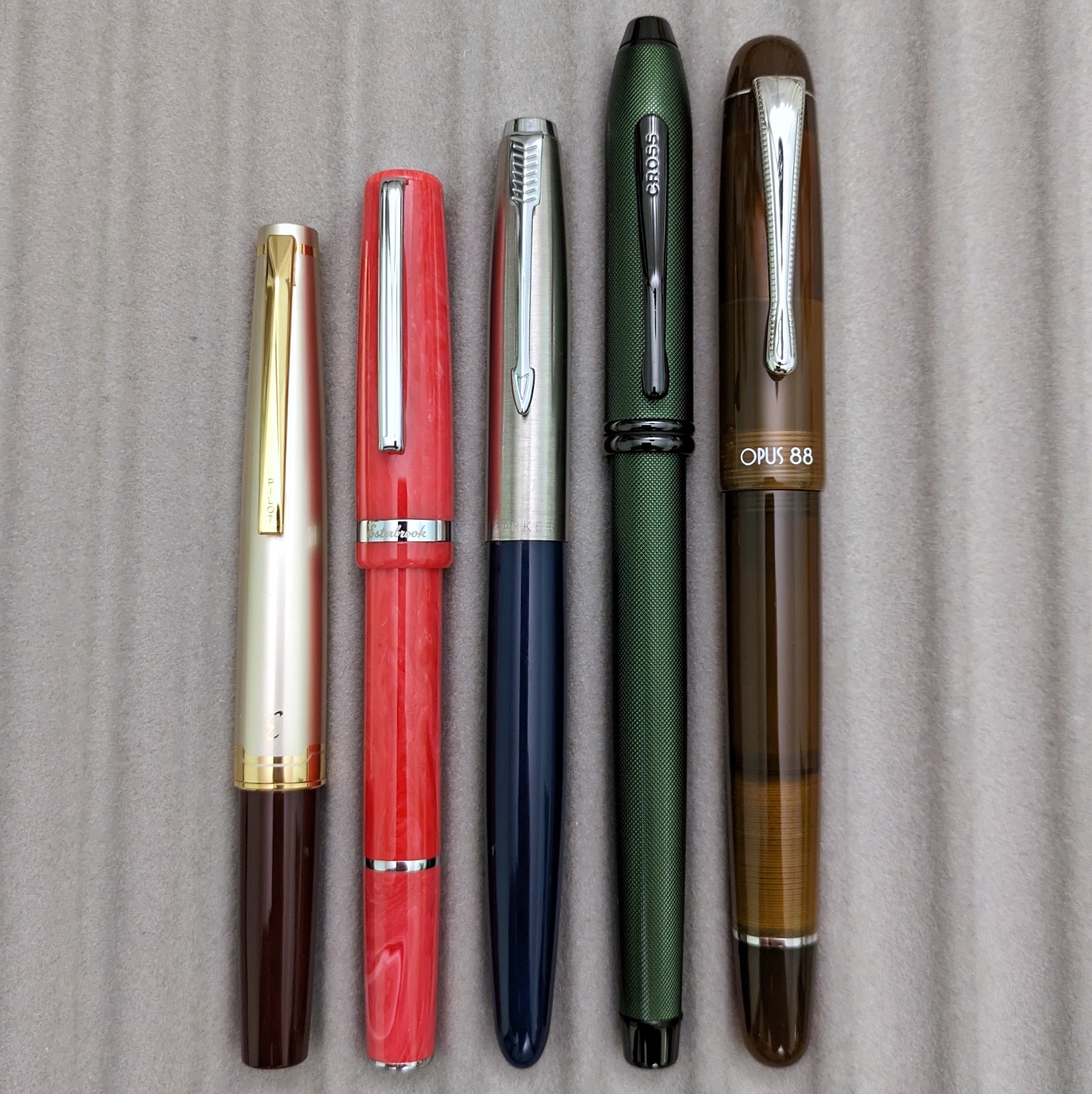 a) Pilot E95S
b) Esterbrook JR
c) Parker Super 21
d) Cross Townsend
e) Opus 88 Picnic
These are pens I've had set aside because I know I won't be keeping them. Not sure how I'll do that (sell/trade/gift/donate) but they need to go to a place they will be used.
So, there we have it. 83 pens, plus the outgoing handful. I can take 4 right off the top. There are another 2 or 3 I could talk myself into releasing without much concern. Past that, there are several pens that should get some nib investment to provide the writing experience I want. I mentioned in the past that I should focus on getting the most out of what's already here instead of bringing in more new faces. I haven't done that. No reason for the inaction other than laziness. If a pen sits unused because I don't like the nib then what's the difference if it leaves for 2-3 months to be improved?
Now 8 years immersed in the hobby, I feel I have come into a good place of knowing what suits me and what doesn't. I have learned to see that the initial emotional reaction to a given pen can often be incomplete or misleading. Truth bears itself out over time. Ideally, we will have the patience to get to that truth. Sometimes we don't. Other times the truth shifts in our minds. I've accepted that's okay.
I know I tend to want to try at least one example of many different pens. I would find more value in 100 distinct pens than 20 similar versions of the 5 best pens. Exposure to variety helps drive knowledge and appreciation.
What are the next areas I'm looking at?
In keeping with the ideas above, one part of me wants to see if a flagship Pelikan lights my fire. Another part of me is quite annoyed with their pricing practices and doesn't want to bother.
Urushi and maki-e have a very strong aesthetic draw. The options seem endless, whether it's Namiki, Nakaya, Tamenuri Studio, or another maker. Some are subtle, others very dynamic. It's easy to feel swayed by the way such pens are talked about. There's a lot to know regarding the different techniques. I want to spend some time wading into that pool so I have a better understanding of the what, why, and how behind them.
What do you see in the collection I've assembled?
My use of Italian, Turkish, and German came via Google Translate. Hopefully they make sense in the context I intended.
---
Date
8 November 2023
---
---