What's What 7/16-7/22
Changes, changes. A little bit of new stuff, more of revisiting old stuff.
Inked Right Now
Kilk Orient with J. Herbin Bleu Azur

Esterbrook J & Osmiroid Italic Nib with J. Herbin Rouge Grenat

Pilot Prera with Anderillium Shoebill Stork Grey

Pilot Decimo with Pilot Blue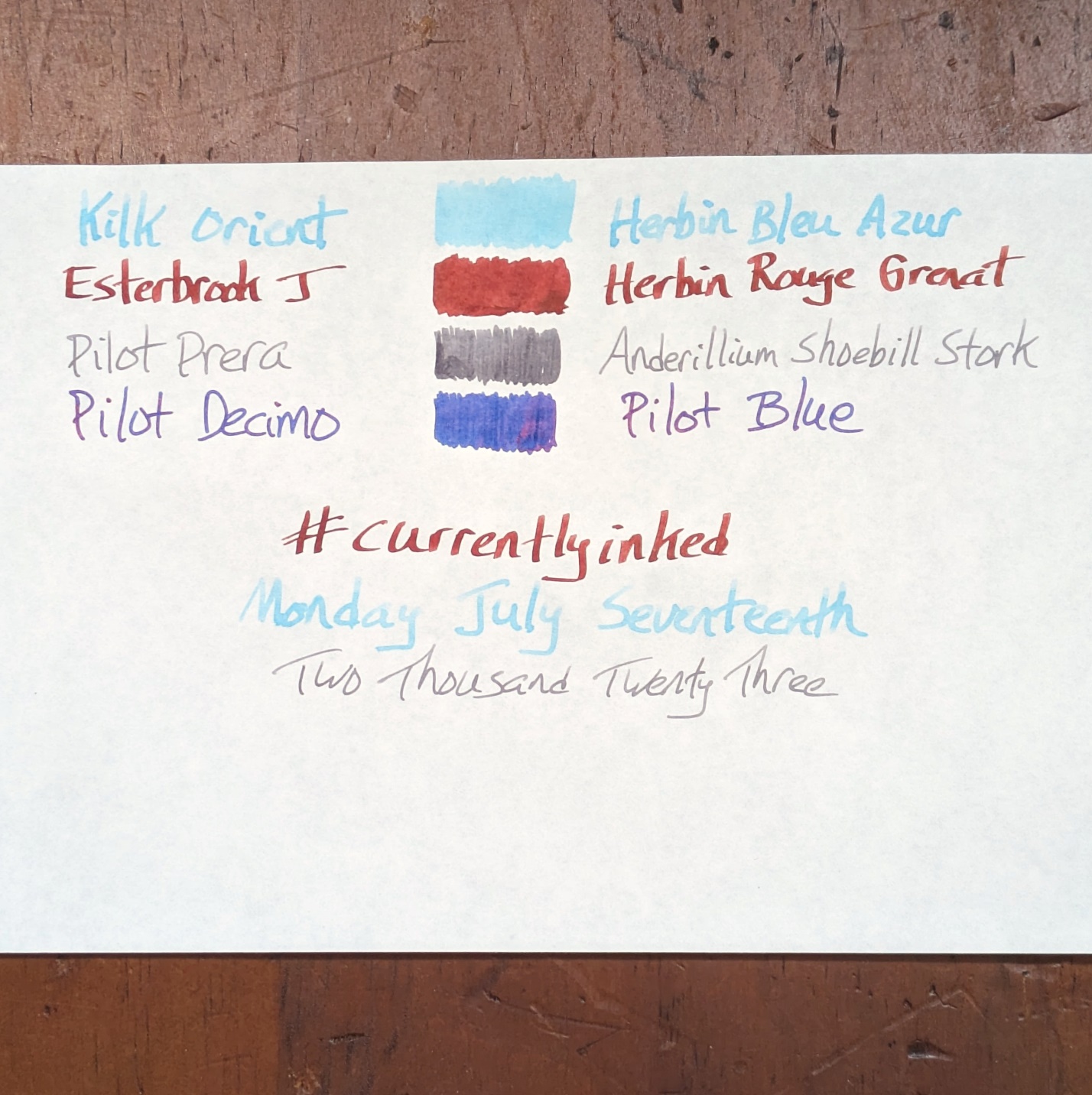 Gone from last week: Sheaffer Old Timer, Parker Rialto, Delta Write Balance. Enjoyed them all, look forward to seeing them again.
Speaking of seeing things again, that's where we are with the current roster. They're all pens that I had not used for a bit, or maybe for a long time. Getting reacquainted with the stuff you already own is some of the best advice ever given regarding a pen collection. Brad Dowdy said it a handful of times in the last few months and each time I heard him I took it more to heart.
A few weeks ago I picked a handful of pens and moved them to the front of my top desk drawer. These are the pens topping the "haven't used in a while" list. The Kilk was one and popped because of the McLaren resurgence at the British Grand Prix. The Prera and Esterbrook were there too. The Decimo is never too far from having been used but I'd gone about 5 weeks without one. That's a relative eternity for me, so in it comes.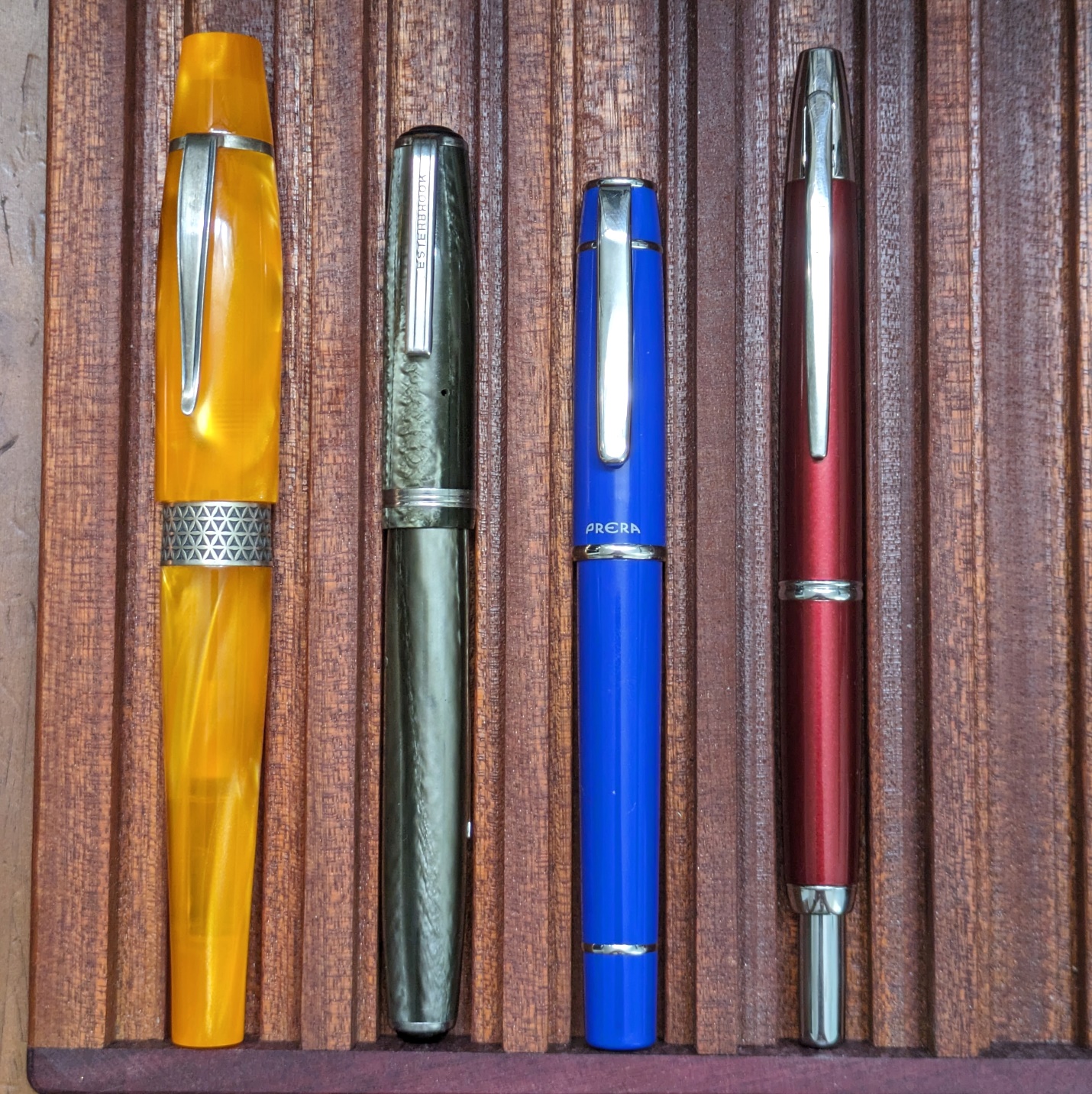 The Kilk is such a comfortable pen to use. Light and curvy, easy to use posted as well. The nib is a Bock double broad. I find it needs the right ink to be a real BB. Bleu Azur is a thin ink and so it needs some more pressure to get a consistent thick line on the page. Not a lot of added pressure, but enough to make writing slower and more deliberate. It has the benefit of letting one appreciate the ink as it flows and shifts. I think I want to send this pen out for a nib grind but am not sure what to get.
Using the old Esterbrook J again was the final nail in the modern JR's coffin. The J is just a better pen for me. It fills and flushes faster and easier than the JR. Original replacement nibs are still out in the wild to find, and by good fortune I have a set of Osmiroid italic nibs that fit the J. These are very thin and untipped so they're sensitive to rotation taking you out of the sweet spot, but my natural writing posture just meshes well with them so I can write at a normal speed and have no issues. Rouge Grenat looks quite nice with this nib, though I notice it only takes 15-20 seconds to dry up if left uncapped.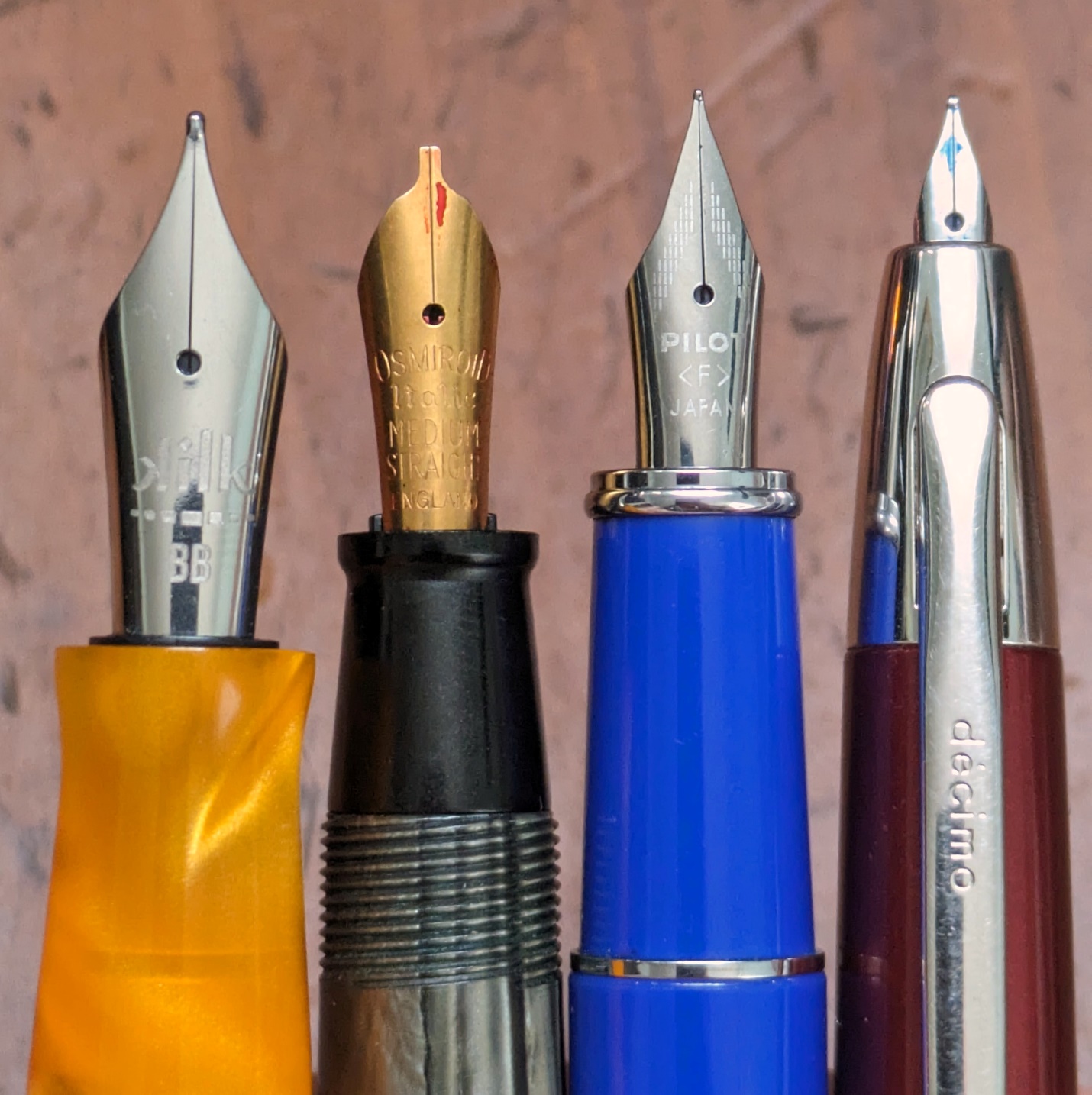 The Prera is not the Metropolitan to me but it's certainly a lifetime member in the Super Dependable Pilot EDC Pen Club. (That's a sticker/patch idea. Hmmm.) I wanted another work pen option besides the Decimo and needed to give the new Anderillium ink a test platform, so that's where this combo came from. I tried the fine italic nib first but switched to a standard fine because that's a better match for the various papers I can encounter at work. This is my first time using Anderillium and the grey is a nice performer. It has very good readability in a line this small. Not much in the way of shading but that's fine. It's also much more of a true grey (is there such a thing?) compared to the Fuyu-syogun from a little while back, which has significant blue/purple tones to it.
Lastly, the Decimo. I never need a reason to ink this pen.
Incoming
I ordered the Anderillium ink and some accessories from Amarillo Stationery (check them out, cool stuff) but that order had zero pens. Still holding the line but there was no shortage of temptation on Virtual Pen Show.
Thinking About
Another reconnection with something important. Last fall I took a trip to Portsmouth, New Hampshire. At a place called Book and Bar I browsed books and had the best turkey sandwich of my life. One of the books I bought was this…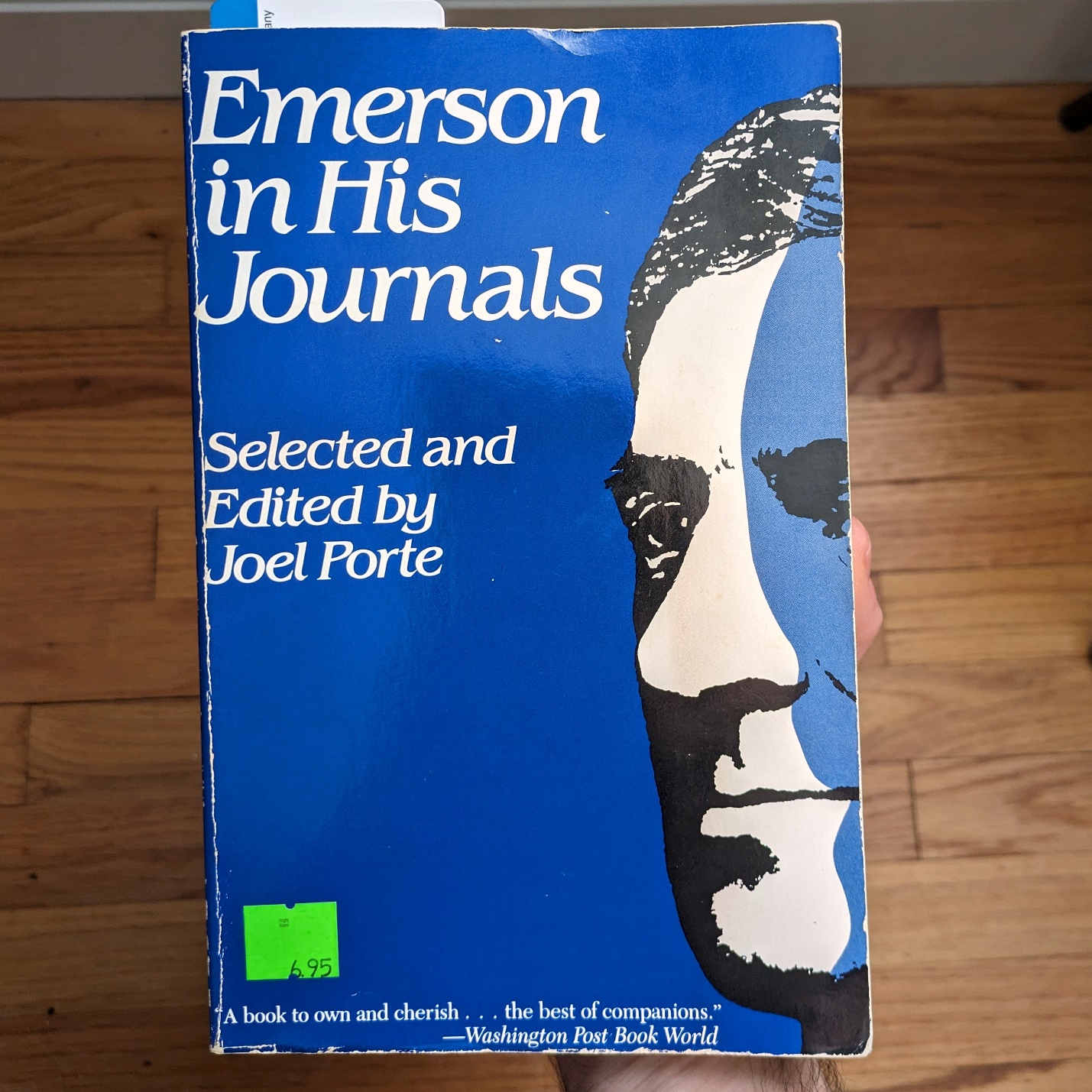 Best $6.95 I ever spent.
I've liked Emerson since first reading him in high school. He's a writer I can always come back to and find new things to explore and think about with works I've already covered. But this selection of his journal entries, some 500 pages worth, is a wonder. Even his most brief and casual observations of daily life can strike a note in me so clear that the echo never truly leaves. I got into the habit of reading through the book and copying down certain passages that I found relevant or interesting but that had fallen off for some months. I picked it up again today and within six or seven pages of reading I had more than a page of copied passages in my notebook.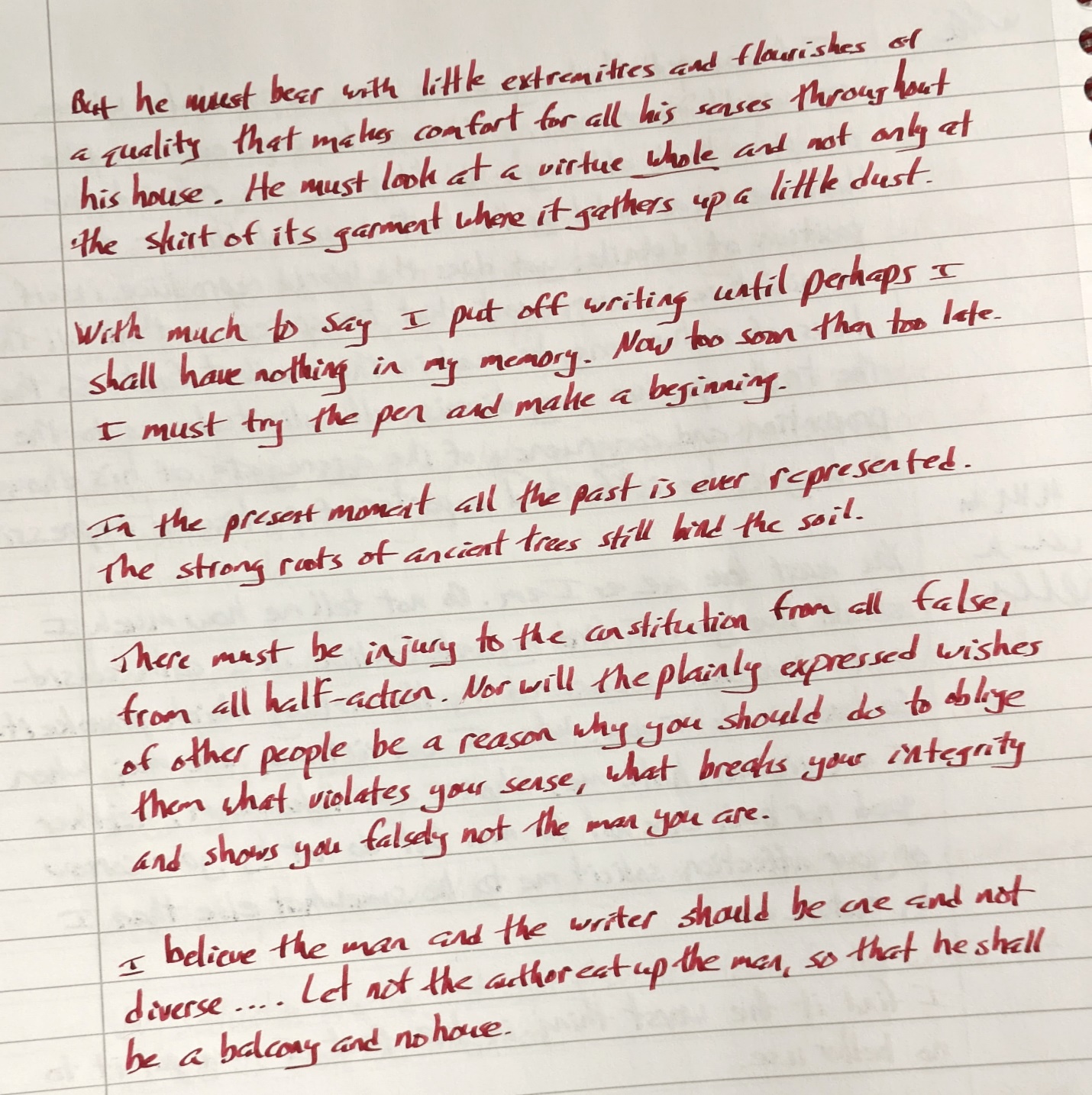 Emerson journal entries copied. Esterbrook J, Osmiroid italic nib, J. Herbin Rouge Grenat ink.
Among the items I took down were several that spoke directly to my feelings about why I'm doing this entire blog in the first place.
I like not to have the day hurry away under me whilst I sit at my desk; I wish not reveries; I like to taste my time and spread myself through all the hour.

In life all finding is not the thing we sought, but something else.

I believe the man and the writer should be one and not diverse…. Let not the author eat up the man, so that he shall be a balcony and no house.

With much to say I put off writing until perhaps I shall have nothing in my memory. Now too soon then too late. I must try the pen and make a beginning.
This is where it can all connect — the love of this author, the love of pen on paper, the memory, and the vision that the words create within you.
Until next time.
---
Date
17 July 2023
---
---