What's What 8/27-9/2
eBay arrivals, figuring out Callifolio a bit more, and the generosity of others.
Inked Right Now
Platinum Desk Pen with Sheaffer Purple

Pilot Decimo with Callifolio Gris de Payne

Pilot Custom 912 with Montblanc UNICEF

Pilot Quatro with Colorverse Delicious Sleep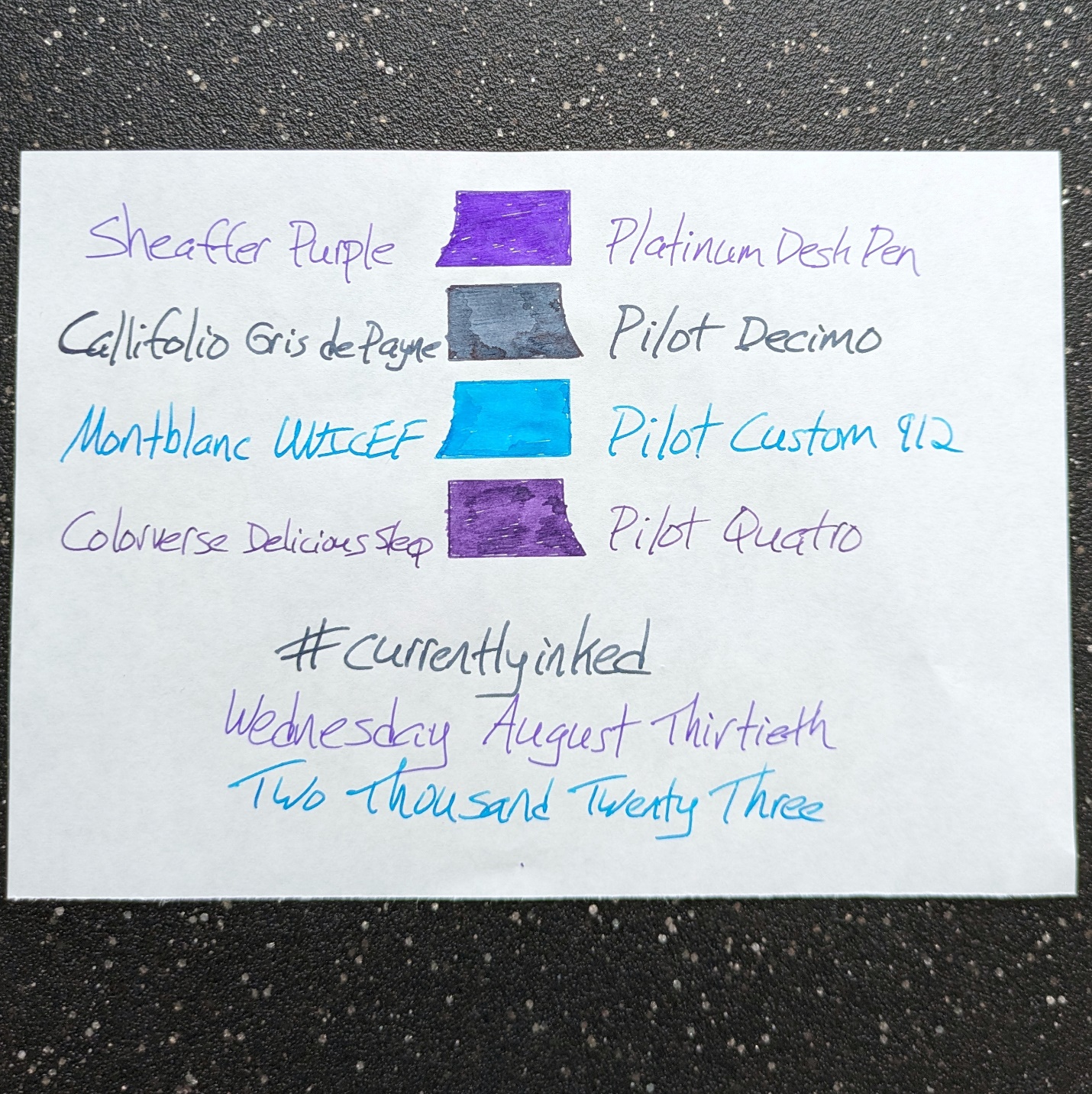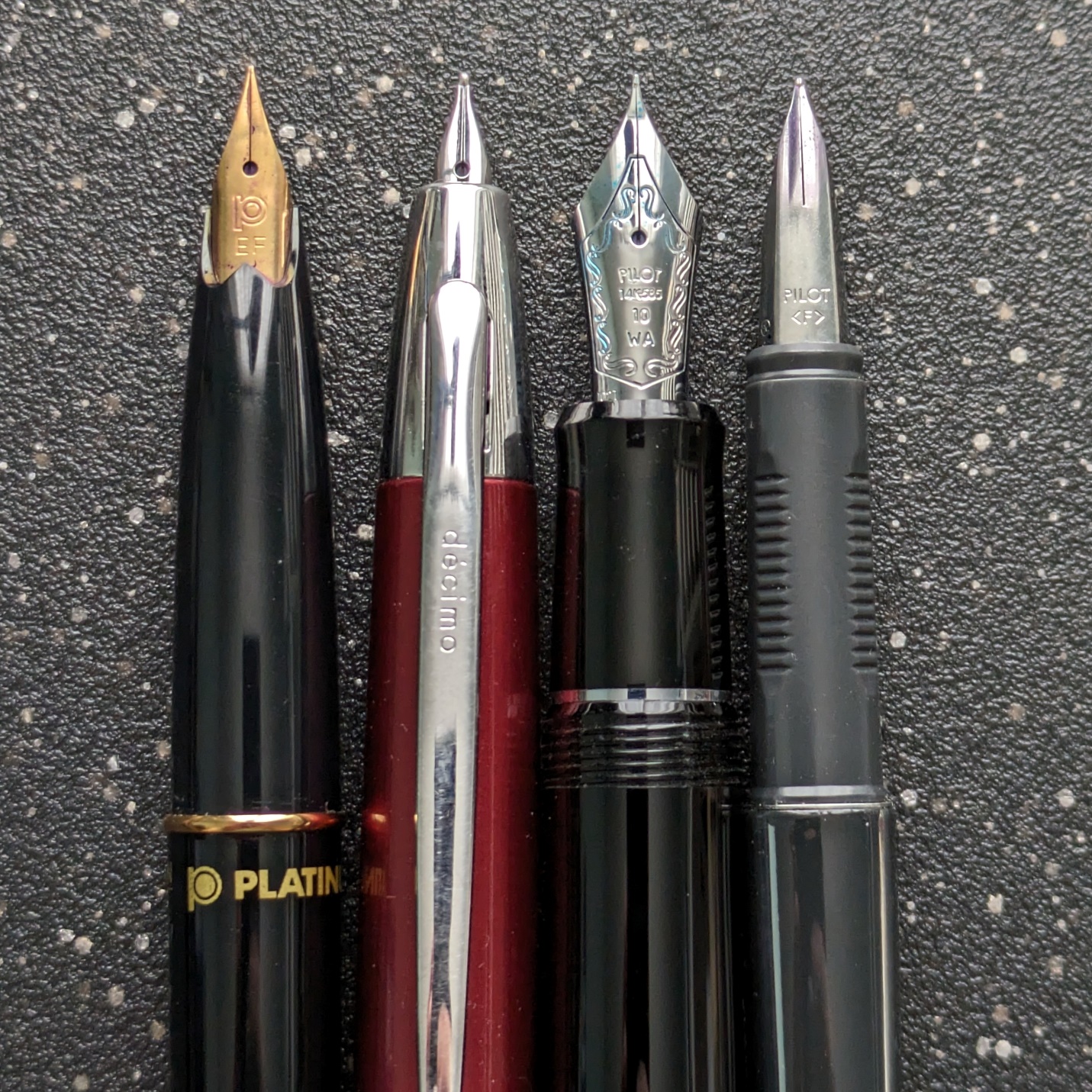 Gone from last week: Sailor Fude de Mannen, Franklin-Christoph 20p, and the GvFC Guilloche.
The Platinum Desk Pen continues to scritch along and make neat lines on even the lousiest paper. The 912 does the same, but without the scritch and all the smooth. I don't have much experience with the old Sheaffer Triumph nibs with the turned-up point, but I would figure the Pilot Waverly is the closest you can come on a modern production pen.
I changed nibs on the Decimo from fine to medium because I wanted to coax more out of the Gris de Payne fill. The medium nib's bigger line draws more ink to the page and has less of the not-so-flowy feeling, so that's good. However, it hard starts if it sits for more than half a day, which the fine nib did not do. I never had a hard start issue with the ink in the Scribo, but that's a piston-fed nib with and ebonite feed that's much larger than the Decimo unit. Still, I can't recall hard starting with any Pilot retractable nib — and I use them frequently — so I think this is revealing what was discussed back when the Callifolio inks first arrived: they have a tendency for running dry compared to the pack. Once I finish this fill on the Decimo I'll get back to the Scribo for the next color in the Callifolio group.
And about the sleek grey number at the end…
New & Exciting
Straight from 1983 it's the Pilot Quatro. This arrived from eBay a few days ago. I'd never seen one in person before but the design has intrigued me for a while. It has a smooth metal body with a squared circle profile.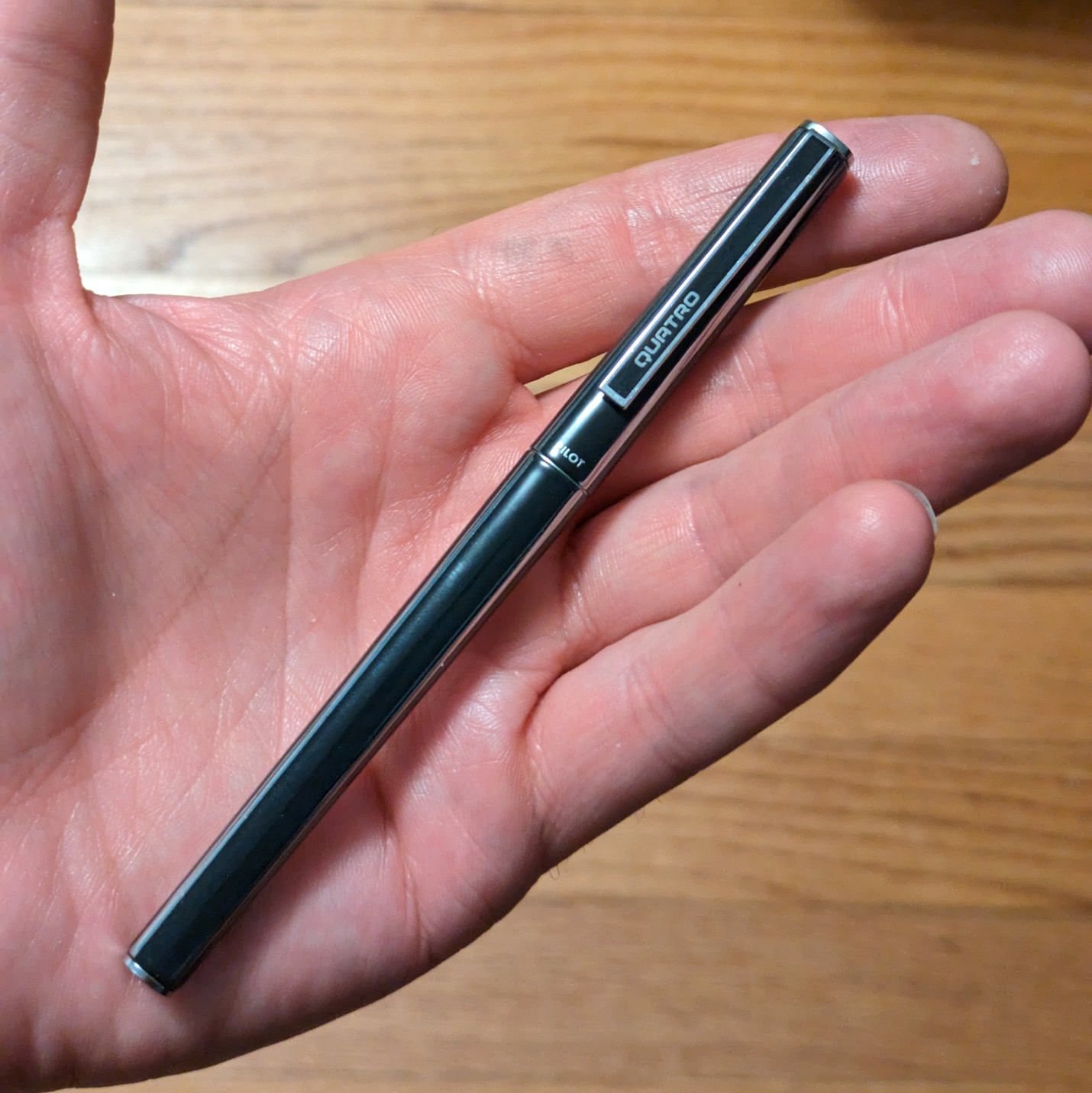 Not as much grip as the Audis of similar name.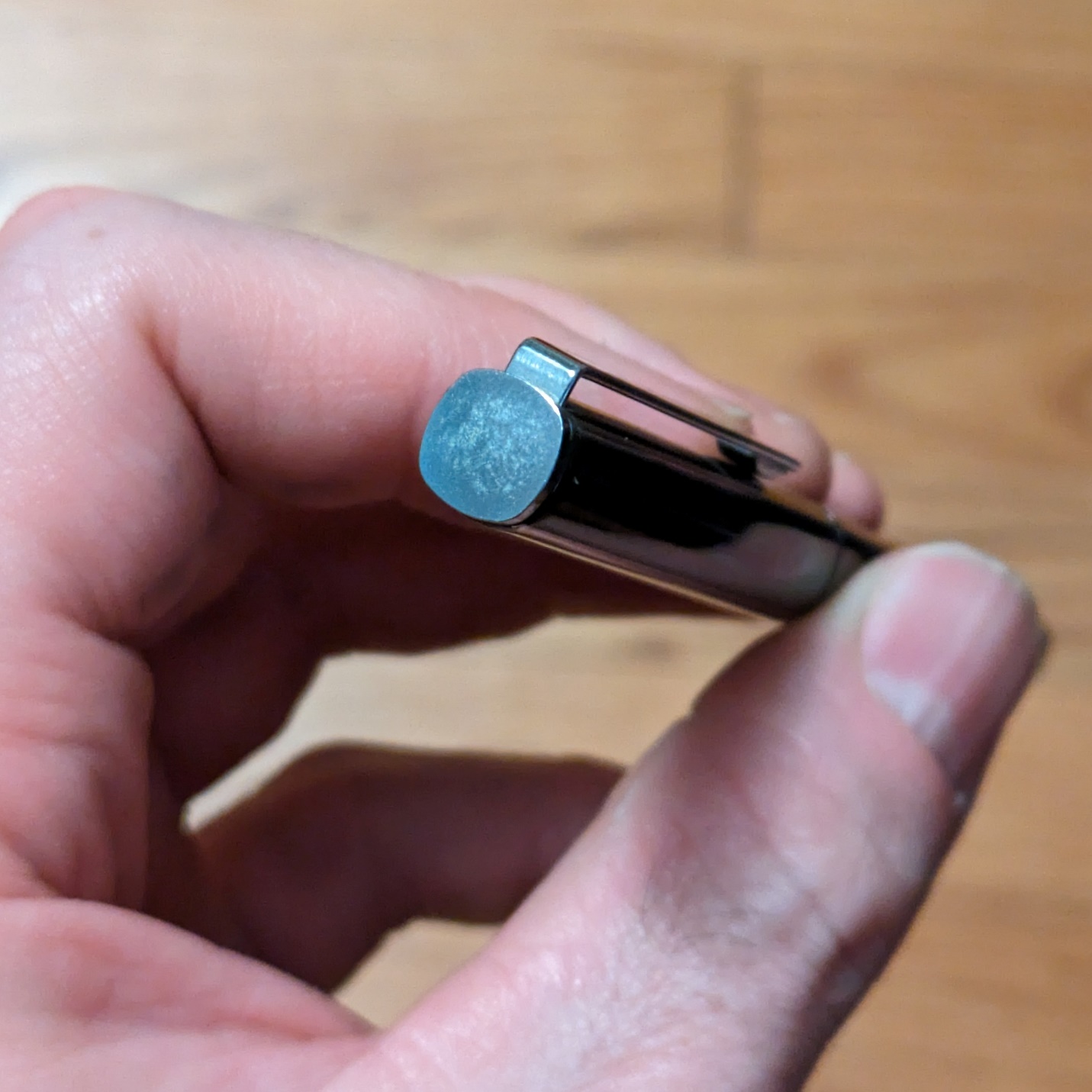 The Quatro's clip resembles the one on the capped Precise models.
The catch is the Quatro is a thin pen. How thin? Look at the grip section compared to a standard size wooden pencil.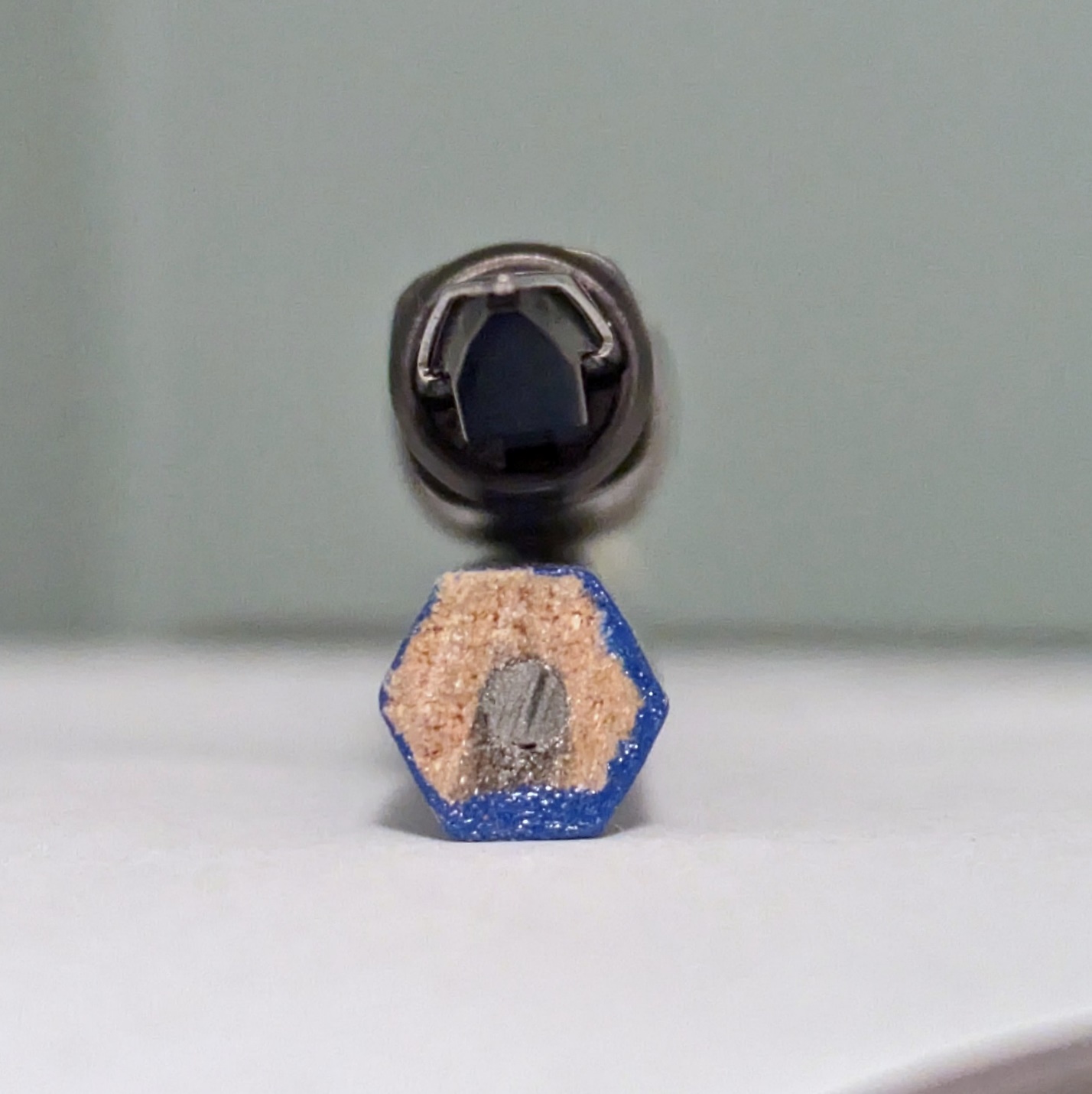 Twiggy looks at that and says "Hmm, kinda skinny."
That's about 5/16" diameter. It's this close to being too thin but I can use it. It's been short writing so far, things like work notes. I've not tried to write a whole page with it yet but I anticipate it could cause some hand fatigue. The nib is excellent. Nearly as fine as the Platinum EF but smoother on the page. The pen has more heft than you'd expect from its slim stature. The cap posts securely, though it noticeably backweights the pen. The posted cap can rest comfortably in the web of my thumb but it feels easier to write without posting.
We'll see what further use reveals about the Quatro's suitability for my stable.
Also coming from eBay were two pen sets, each with a fountain pen and a ballpoint.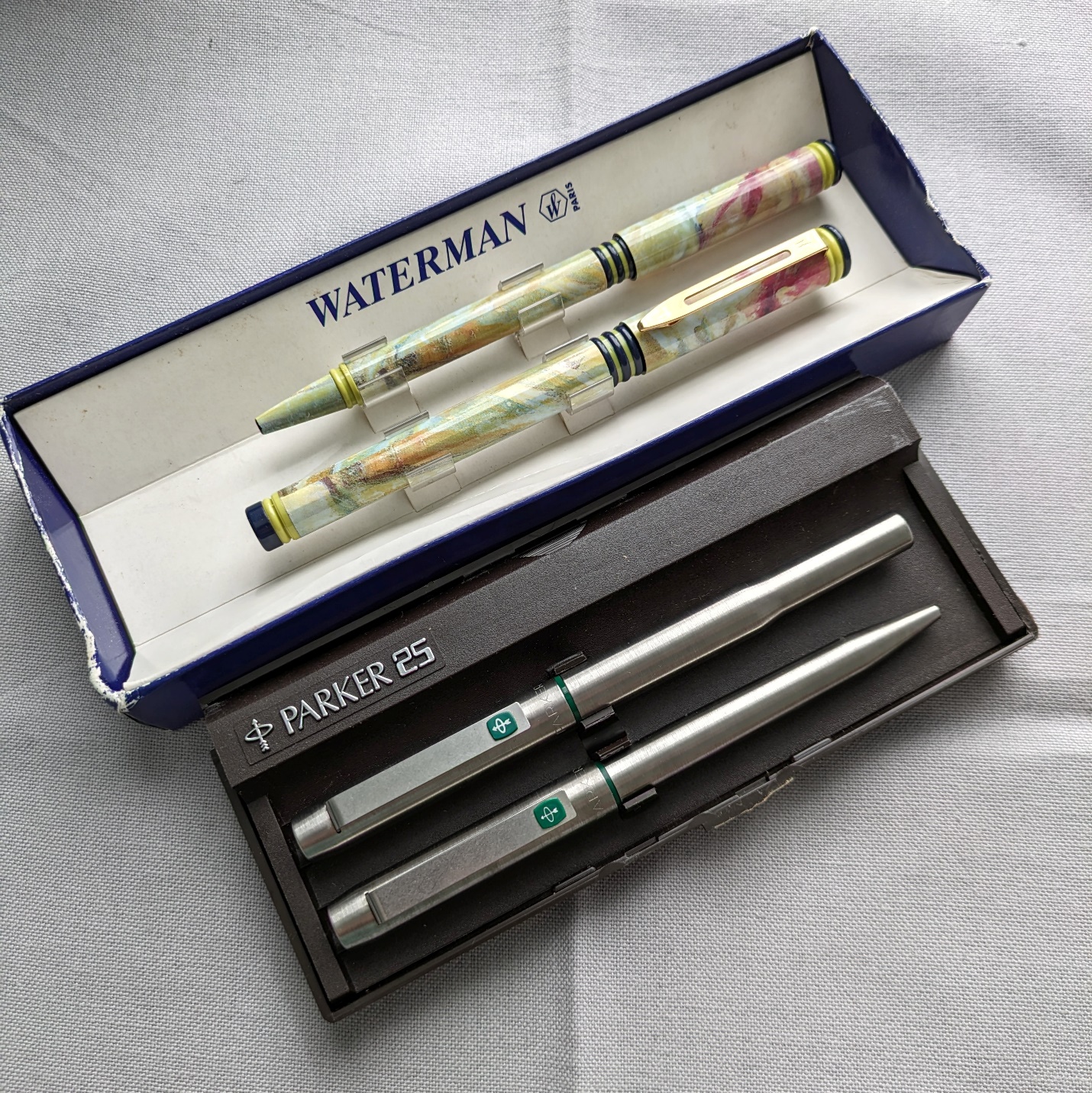 I already have a Parker 25 and I love how it's different from every other Parker I own. The Westminster style type used for the "25" on the case is quite nostalgic and in line with the model's aim of a new, modern look when it was introduced in the mid-1970s. This 25 also has a green section, which sparked some extra interest for me. I'm soaking the section now to clean it out. I put a Japanese Parker-style refill with a needle tip in the ballpoint body and it's ready to go. The cap actuation has a positive feel with good spring.
I don't know anything about the Waterman set. The bodies are very light, almost delicate. The fountain pen section showed no evidence of ink when I ran some water through it so it may never have been used. The nib slit is cut well off center so one tine doesn't have much tip to work with. I loaded some Robert Oster Pen Addict Fire on Fire (ROPAFOF for the acronym lover in all of us) in an empty cartridge and the nib writes nicely. The Waterman ballpoint cartridge is dead and I don't have any spares. I'll stop by Staples at some point to see what they may have before I poke around online.
Best part of this whole package is that it was another one of Shawn Newton's sales to support his scholarship fund.
Thinking About
Last Saturday I was the recipient of kind generosity from a pen friend on Instagram. They sent me a very nice letter and an assortment of stationery goodness, some of which is shown below.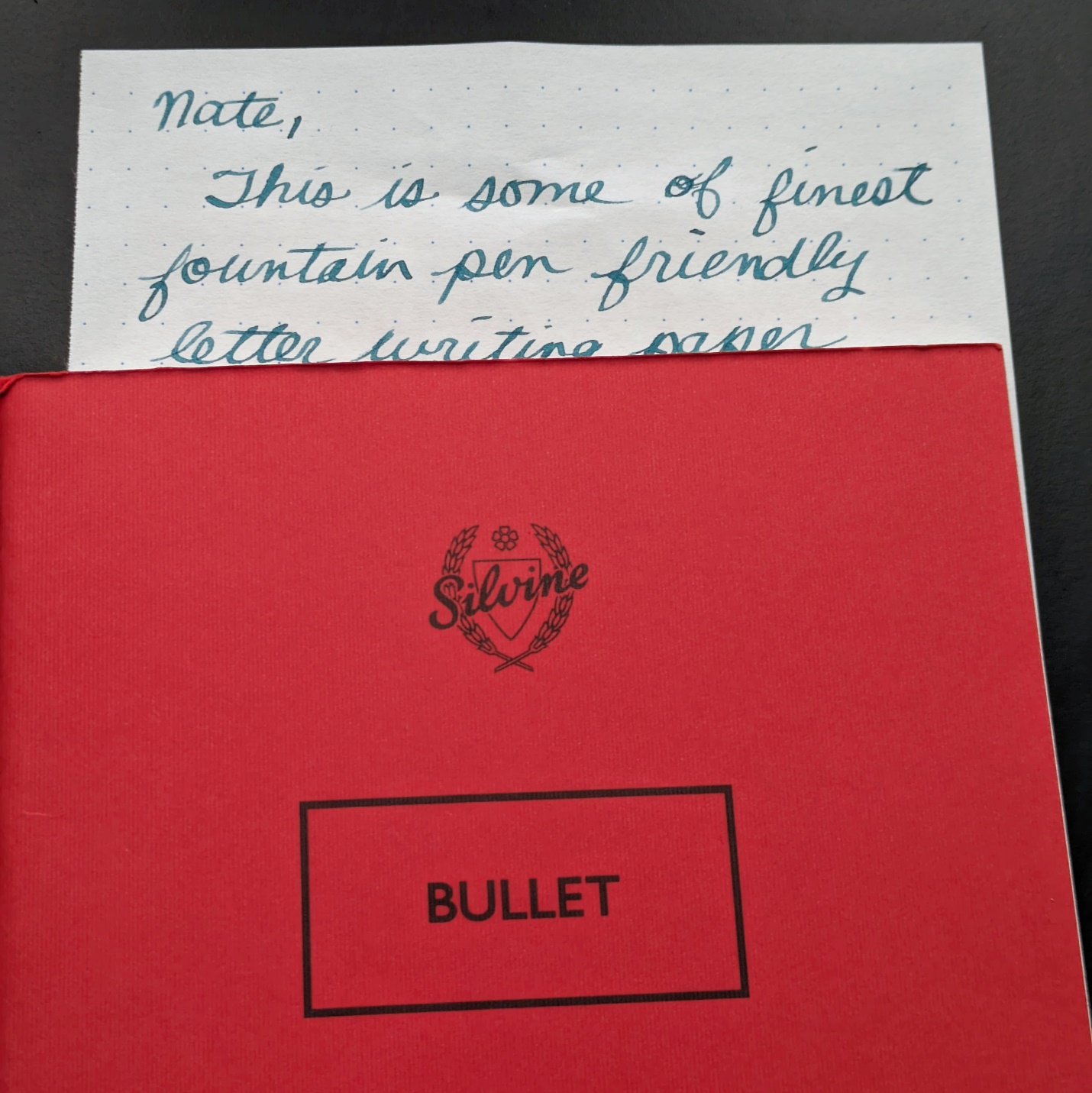 A Silvine notebook. I've never used this brand but always heard good things about the paper. I like the classic, understated cover.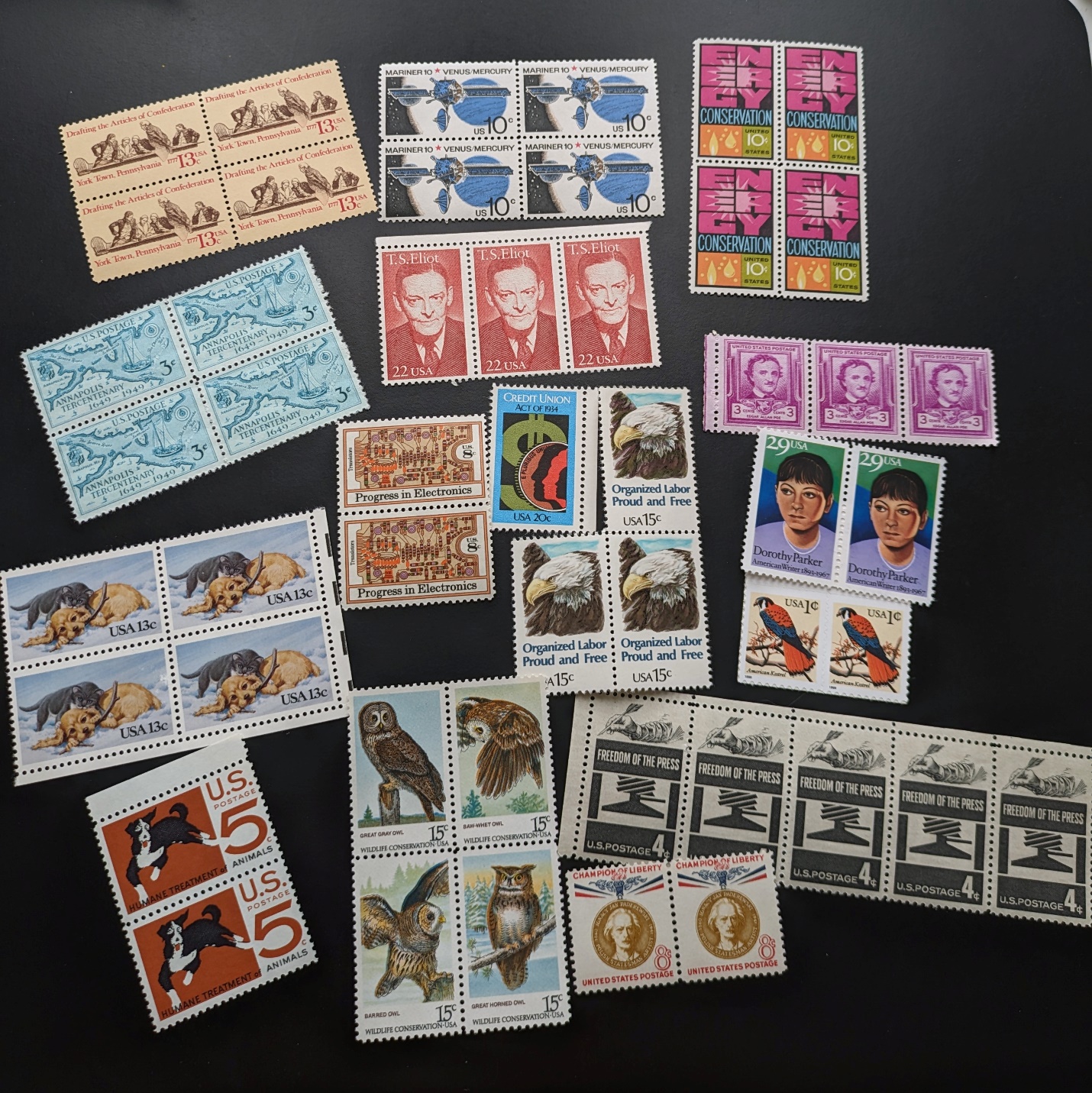 A great assortment of older stamps. Good for mailing and admiring. The inclusion of T.S. Eliot and Edgar Allan Poe is right up my street.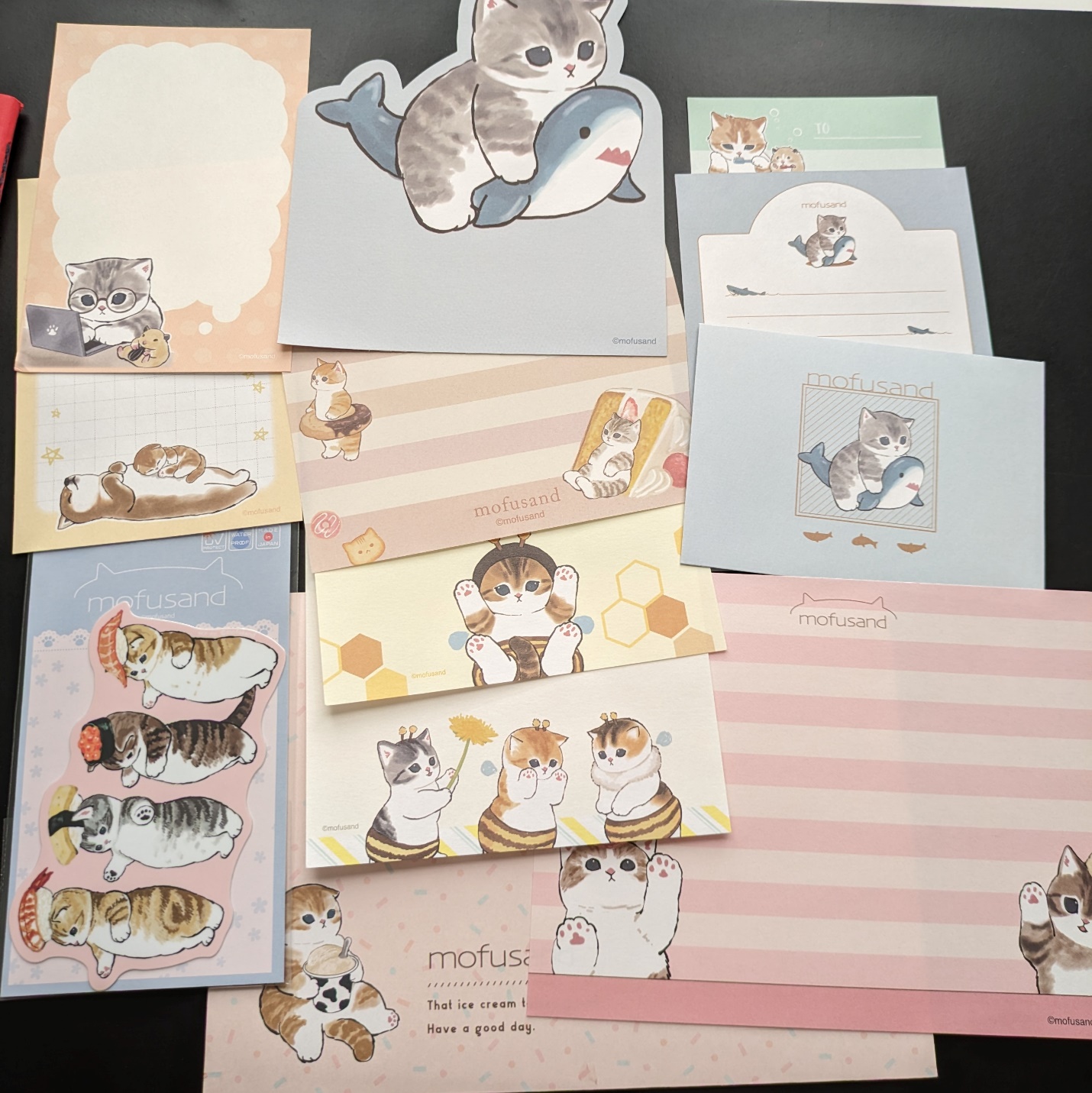 Mofusand = adorable cats doing adorable things.
This package of fun and the thought behind it made my day, which had been rather a rough one at work. Thank you LaDonna for a reminder of why I started writing here in the first place — we should share the things we love with others.
---
Date
30 August 2023
---
---